Navy Veteran Returns to Texarkana College to Start a New Career in Nursing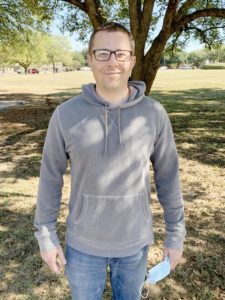 Texarkana College's nursing student, Navy Veteran Spencer Roberts, is starting over after retiring from the military and is pursuing a fulfilling career in healthcare.  Roberts said upon retirement, he returned to his hometown of Texarkana to raise his family and settle in on the next chapter of his life. However, he found the job market limited for opportunities with his background.
"I chose to return to Texarkana College to earn a credential in a field with career growth and opportunity," said Roberts. "I already have a bachelor's degree in Biology from Texas A&M University-Texarkana, but there are very few opportunities for me to use it here. I looked into earning a nursing degree and found that graduates from TC's nursing programs are in high demand and are able to quickly find jobs. I will now have more options and am excited about a career that will allow me to combine my prior experience and education with my passion for exercise and a healthy lifestyle."
Roberts said he is grateful for TC's Veteran's services staff that helped him utilize his military benefits and apply his prior college credits toward his new goal.
"I am using my military education benefits from the Montgomery GI Bill and the Texas Hazlewood Act to help pay for my return to college," said Roberts. "TC was the only college locally that was not going to make me retake any of my prerequisites for the nursing program. I was able to utilize my courses from my undergraduate biology degree and this has helped me out a lot."
The future is bright with opportunities and options for Roberts who said he feels comfortable at TC as a returning student and appreciates the expertise and knowledge of the faculty and staff.
"When trying to decide where to go to return to college, I knew that TC's faculty was experienced and cared about student success above all else," said Roberts. "I took classes at TC years ago and remember how much I enjoyed learning from the faculty who are first-class educators in their fields. TC is a place where any student can gain knowledge to succeed without worrying about going into a lot of debt. I am very happy with my experience as a returning student who is starting over in a new career path."
Texarkana College's enrollment services and financial aid staff help Veteran students and military dependents plan their best path toward success by optimizing military education benefits. For more information or to get started on the registration process for Spring 2021, call 903-823-3012 to schedule an appointment with an advisor or visit TC online at https://www.texarkanacollege.edu/financial-aid/veterans/.
---
Related to Featured, News, Paying for College
Tagged with Veterans