Upcoming Financial Aid Refund Dates
Financial Aid Office – Financial Aid Disbursement Date (grants, scholarships, and 1st half of loans) – September 21, 2022
Student Accounts Office – Financial Aid Anticipated Refund Date – October 4, 2022
Financial Aid Office – Financial Aid Disbursement Date (2nd half of loans) – October 19, 2022
Student Accounts Office – Financial Aid Anticipated Refund Date – November 1, 2022
About Financial Aid Refunds
Disbursement is not the same as a refund.
All Pell grants, other grants, and scholarships will be disbursed in full on 2/21/22.
Student loans will be disbursed in two installments: ½ on 3/4/22 and the other ½ on 4/4/22.
Some students may not receive a refund on 3/4/22 if the first ½ of their loan is not enough to cover all charges.
The Financial Aid Office and Student Account Office will not provide refund amounts to students via phone or in person.
The Student Accounts Office cannot give students an exact date of the refund.
Please make sure you have made your Refund Choice in myTC.
Paper checks will be mailed to students that have not finalized a refund choice (mailed to the legal address on file at Texarkana College).
To be eligible for a refund, students must officially drop individual courses or completely withdraw from the College by the deadline in the Refund Schedule. Students may find the specific dates for the Refund Schedule online for each term. Specific provision of the Texas Administrative Code, Title 19, Part I, Chapter 21, Subchapter A, Rule 21.5 "Refund of Tuition and Fees at Public Community/Junior and Technical Colleges," governs the refund schedule. Only the Texas Legislature or the Texas Higher Education Coordinating Board, authorized by the Legislature, can alter this schedule.
Certain fees are not refundable. Please check with the Student Accounts Office for specific fees. A class day is defined as any day which classes are held at the College – not just the particular class you are enrolled in and have dropped – (classes are normally Monday through Friday).
The College will process refunds only after completion of all other registration responsibilities.
| | |
| --- | --- |
| 100% refund | Prior to the first class day (less $15 matriculation fee) |
| 70% refund | First through fifteenth class day |
| 25% refund | Sixteenth through twentieth class day |
Please note that the Official "Last Day to Drop" is not the same as dropping a class and being eligible for a refund. Contact the Student Accounts Office at 903-823-3331 for dates applicable to your semester and drop date to see if you might be eligible for a refund. Dates and percentages vary depending on the length of the semester.
NOTE: If you are on the Installment Payment Plan and have not made all installments, your refund may apply to any outstanding payments.
All students will have to make a refund choice.
You will make your choice by logging into your myTC. You have two choices when you log in.
Have your refund go to your own personal bank account;
Have your refund go to your new myTCmoney card issued by Herring Bank.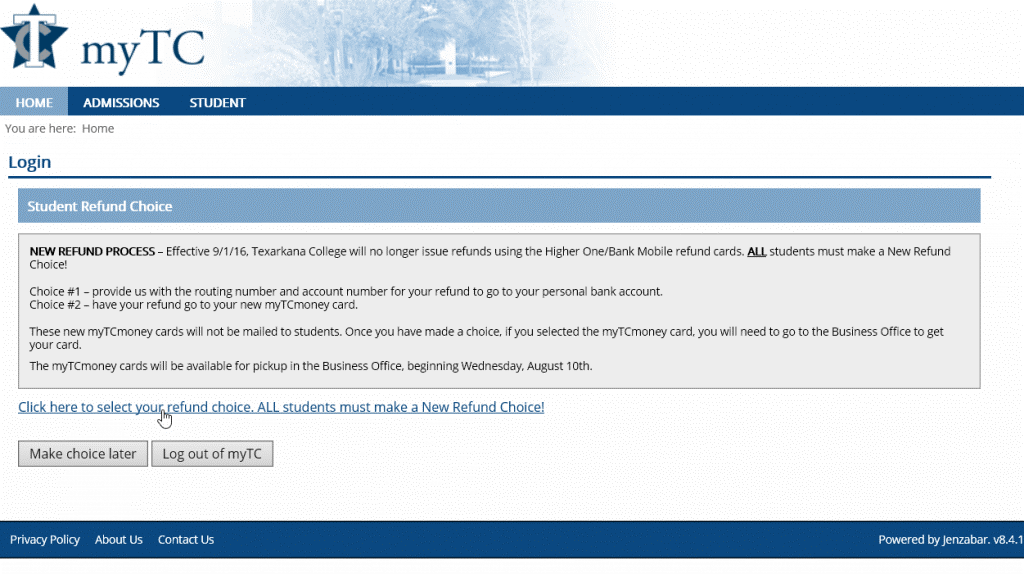 Choice #1 – have your refund go to your own personal bank account; or Choice #2 – have your refund go to your new myTCmoney card issued by Herring Bank.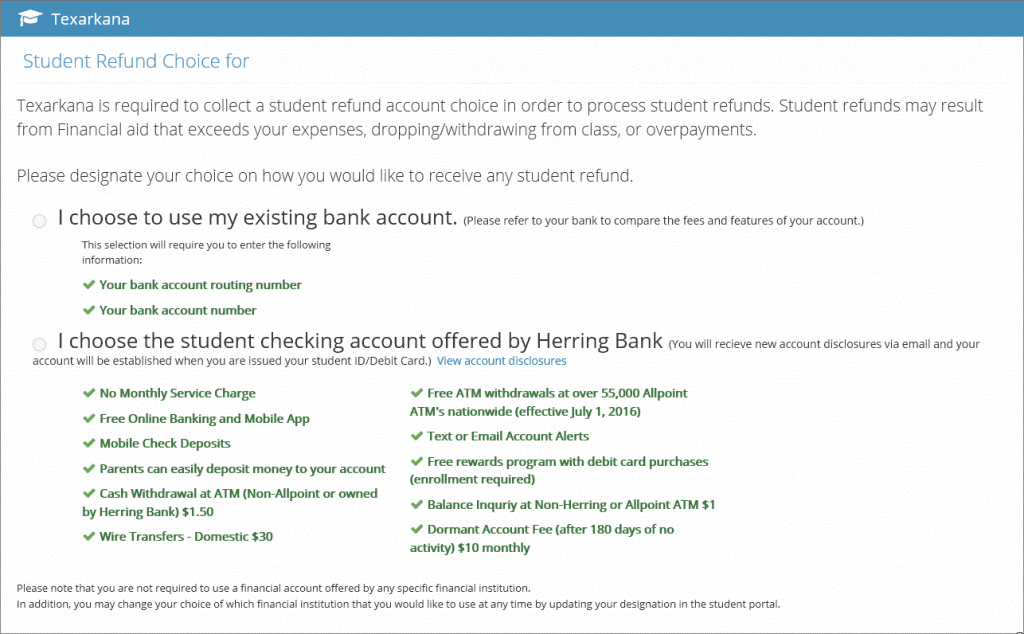 If you choose the student checking account offered by Herring Bank; your student refund card will be mailed to you (the address on file with Texarkana College). Please make sure you keep your address current and if you move, please notify Herring Bank and the Enrollment Services Office at Texarkana College.
Contract Disclosures
Unlike grant aid, Texarkana College disburses all student loans in two payments per semester rather than just one. Students will receive refunds from the first half of their loans a little over a month after school begins. Refunds for the second half of student loans will occur shortly after midterm.
Grant and scholarship aid disbursements will not be affected by this change.

Example: Student A
$2000 Total loans for semester
| | | |
| --- | --- | --- |
| | | |
| | $1000 | Disbursement One |
| – | $700 | Charges for Semester |
| = | $300 | Net Refund |
| | $1,000 | Disbursement Two |
| – | $0 | Remaining charges |
| = | $1,000 | Net Refund |
Example: Student B
$2000 Total loans for semester
| | | |
| --- | --- | --- |
| | | |
| | $1000 | Disbursement One |
| – | $1,200 | Charges for Semester |
| = | $0 | Net Refund |
| | $1,000 | Disbursement Two |
| – | $200 | Remaining charges |
| = | $800 | Net Refund |