Request Transcript
For access to your records and completed classes, you'll need to request a transcript.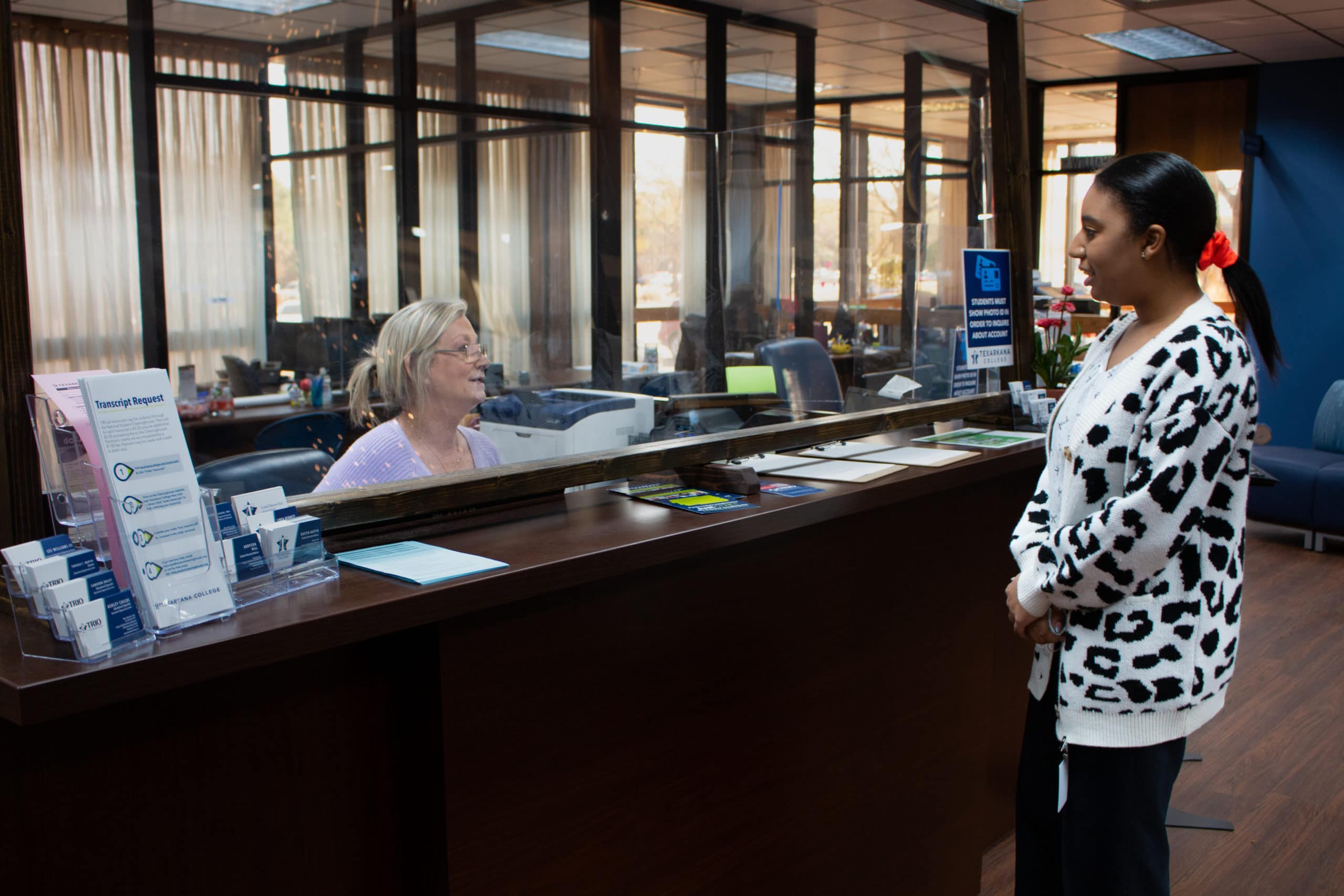 Transcripts from Texarkana College
Current students may download unofficial transcripts from the Student tab on myTC. You may also contact the Texarkana College Registrar's office at Registrar@TexarkanaCollege.edu or 903-823-3012.
Unofficial vs Official Transcript
An official transcript is typically required by other colleges, universities, or educational institutions requiring your academic records for registration purposes. The official transcript is ordered online through National Student Clearinghouse and once paid for, can be sent officially sealed to any school or entity.
An unofficial transcript is available for free on a student or alumni's profile online in myTC. Unofficial transcripts may suffice for some external colleges and universities, but these transcripts are not officially sealed and may not be accepted. Be sure to contact the university, organization, or entity that is requiring your transcript to ensure you provide the correct transcript for their needs.
How to Order Your Official Transcript
Official transcripts for current or former students must be ordered through the National Student Clearinghouse. The cost for each transcript is $5.00 plus an additional $2.50 processing fee to the Clearinghouse. Payment must be made with credit or debit card via the Clearinghouse order process. Multiple delivery options, including electronic PDF, are available – for an additional fee of $1.00.
Transcript requests are processed in the order that they are received and are normally processed within 48 business hours of receipt of the request.  However, during peak registration periods processing may be extended due to the high volume of requests being received.
To order an official transcript, follow this link: https://tsorder.studentclearinghouse.org/school/select and then click on enter the school you want to request your transcript from.
Type in and select Texarkana College from the drop-down menu options, and click the green continue button.
After you select TC and click continue, another page should come up with colored and highlighted information for your review. At the bottom of that page should be a green button that says Order Transcripts, click on that.
Insert your personal information and student identification information as prompted (to the best of your ability) and click continue.
Click on Who are you sending your transcript to and select:

the type of organization you are sharing this transcript with (college/university, education organization, employer, yourself, etc.)
the college, employer, or organization you are sending your transcript to and click continue

Specify when you want your transcript processed and choose a location & delivery method, and select that you have read the terms and conditions & submit.
Review the cost of your transcript and click continue (you will not be charged yet)
Review your transcript order details and ensure that all the given information is correct, and then click continue (you will not be charged yet)
Read the consent form, sign in the box electronically, and click accept signature and then continue (you will not be charged yet)
On the Payment Details page, insert your payment method and billing information and confirm the total fees for your transcript order. Click Submit Order to make the payment and officially order your transcript.
Check your associated email for a confirmation and to access details on the status of your transcript order.
For Assistance Ordering an Official Transcript, contact
National Student Clearinghouse
How to Access Your Unofficial Transcript
Log in to your myTC account.
Find your Student tab and click on it. (if you don't see your Student tab, click on the top left logo to open the tabs bar).
Find the Unofficial Transcript tab on the left side bar or on the bottom right of the webpage, and click on it.
For trouble logging in to myTC account, contact the Service Desk at 903-823-3030 or by email at support@texarkanacollege.edu.
Frequently Asked Questions
The transcripts will be mailed to the exact address, provided by the student, that is listed on the National Student Clearinghouse request form. You will need to contact your receiving school and verify what address to put on the request. Please note, most schools have different addresses for first time in college (undergraduate), transfer students, and graduate students.
The fastest way is electronically. Please check with your receiving school to ensure they accept electronic transcripts. If they do, please verify the email address with your receiving school prior to making the request. Please note, there is an additional fee to request electronic delivery service.
Yes, if the receiving institutions will accept electronic transcripts. Please verify with your receiving school prior to making the request.
After a request has been entered through the National Student Clearinghouse and the transcripts have been processed, TC will release transcripts to the student or to anyone with whom the student has authorized on the request form. The person picking up the transcripts MUST have a photo ID with them and present it to college officials when retrieving the transcripts. Not all schools will accept official transcripts released to students in person as an official transcript at their institution. Please verify this stipulation with your receiving school.
IMPORTANT: If you wish to have your transcript picked up by another individual you must submit a written statement that specifically states you give permission to Texarkana College to release your transcript to a third party who must be named in the statement. This statement must also include your actual signature. Emails will not suffice for this permission. The written permission statement should be uploaded and submitted with the transcript request.
If there is a flag on your student records that indicates a Business Office Hold or a Financial Aid Hold, you must first contact the department issuing the hold to resolve the problem and notify the Registrar's Office that the hold has been resolved. If a student has not forwarded their official transcripts from high school or previous college to TC prior to the transcript request there will be a hold on their account.
Students with access to myTC can print an unofficial transcript from their student portal. If a student cannot access the student portal (due to lost or forgotten login, prior years in attendance, etc…) but still has their student ID and needs assistance with a password, please contact the Service Desk. If they are not able to access this, you will need to then go through the clearinghouse system to obtain an official transcript.
(A Transient student is seeking a degree from another institution but wants to take classes that will transfer. For example- a student seeking a degree from a four-year university who is home for the summer and wishes to take summer school classes.)
Transient students are still responsible for completing a transcript request through the National Student Clearinghouse. As long as a student is flagged as a transient student, TC will send an official copy of a student's transcript without having received an official transcript from the student's host institution. **Please note- a student must apply via the ApplyTexas website and indicate they are a Transient Student before enrolling in TC for this purpose.
The student will be notified via email or text message by the National Student Clearinghouse of the status of their request. The normal processing time is 48 hours except during peak registration periods.