Billing & Payments
See how easy and in-expensive it can be to attend Texarkana College.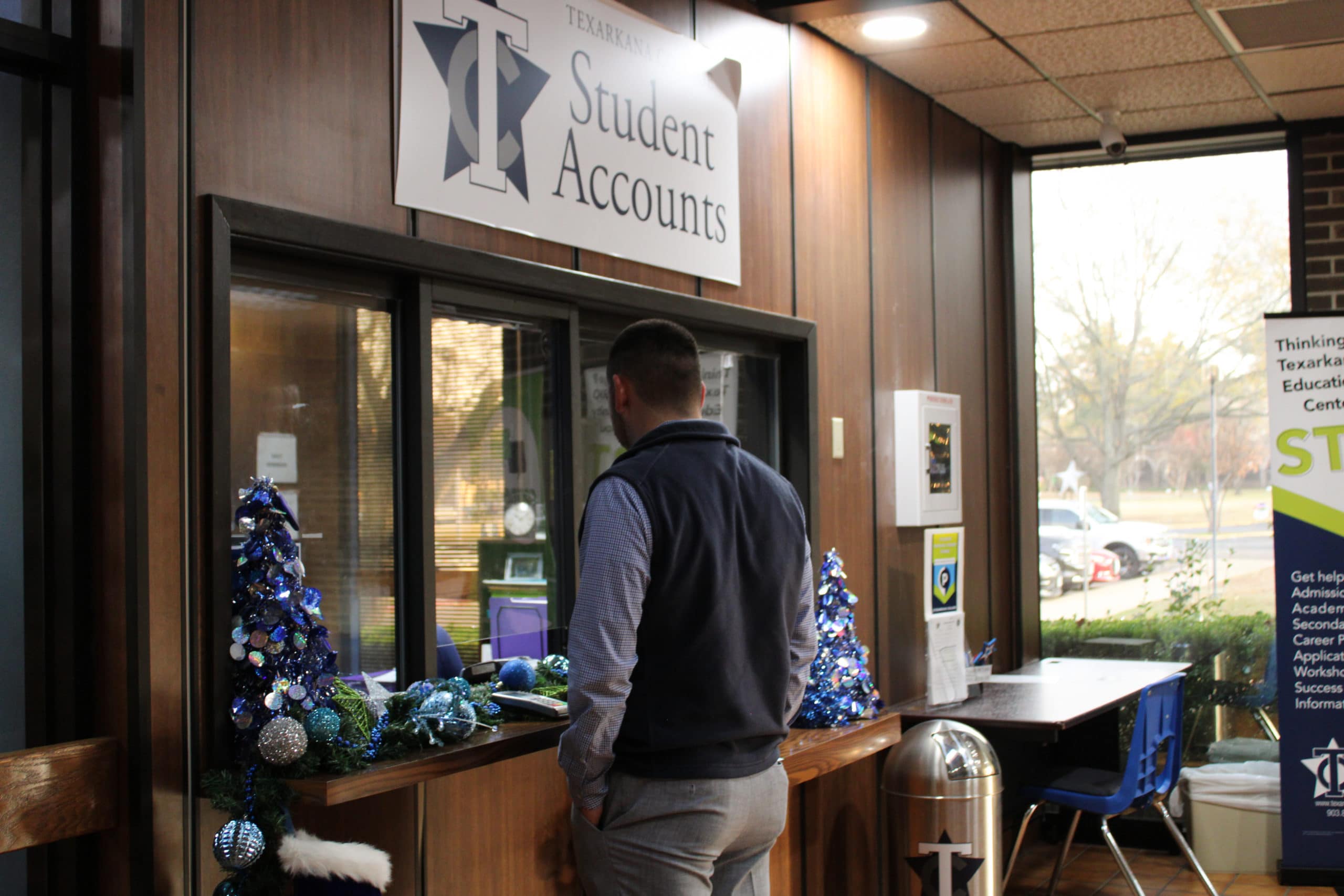 Payment Deadlines
You must pay any outstanding balance by the payment deadline if:
You have not yet received and accepted a financial aid award offer.
Your registration bill exceeds your financial aid award offer.
You do not qualify for financial aid.
Payment is due once you register for classes.
Payment deadlines may be different for each part of term.
For example, if you are taking a 16-week class, the payment deadline might be one date. If you are also taking a class that does not start until later in the semester, those classes may have a different payment deadline.
It is important to note that Texarkana College does not mail bills or tuition/fee statements. We encourage you to pay in full or set up a payment plan immediately to avoid missing a payment deadline. You will be dropped from classes if not paid by the deadline.
Payment Options
Texarkana College accepts payments by cash, checks, credit cards (American Express, Discover, Mastercard, and Visa), money orders (U.S.) and cashier checks drawn from U.S. banks.
Full account payment can be made by phone at 903-823-3331.
Payments can be made Monday-Thursday 8am-5pm; Fridays 8am-4pm
You can pay your full account balance in-person in the Student Accounts Office downstairs in the Nelson Administration Building. Payment plans are not available to be paid in-person.
Payments can be made Monday-Thursday 8am-5pm; Fridays 8am-4pm
Texarkana College's payment plan can help if you are unable to pay your full tuition or if your financial aid is not enough to pay your full tuition by the payment deadline. Payment plans are all done online from the myTC Student tab, Billing and Payments page, and require a down payment plus the $30 fee.
Steps to Set Up a Payment Plan:
Go to my.texarkanacollege.edu (myTC portal)
Log in and go to the Student tab
Select Billing and Payments from the menu
Look for the Setup a Payment Plan heading
Click My Account Balances to update your account balance
Select the Year and Term from the dropdown
Click Setup a Payment Plan
If you are already enrolled in a payment plan for the current semester, you can manage that plan by going to Manage Your Plan. Remember, you must have a payment plan setup to access this site. For your security, there is two-step verification process. Verification information will be emailed to the email address you provided during the set-up process. You must have a valid email address AND you must have access to that email account. A single-use code will be emailed to you and must be entered to complete the verification process.
Exemptions and Waivers
Exemptions and Waivers allow special groups of Texas residents or nonresidents to pay less tuition and/or fees. You must meet the specific requirement to receive the exemption/waiver, including academic requirements. Please contact the Business Office for more information about exemptions/waivers available to Texarkana College students. If you have already submitted documentation to the Business Office for your exemption/waiver, please notify the Business Office each semester when you register so that the exemption can be placed on your student account for the new term.
Veterans Benefits
Please see our Veterans Benefits Specialist located in the Financial Aid Office before registering for classes. Financial Aid is located within the Nelson Administration Building on campus or can be contacted at 903-823-3267 or by email at financial.aid@texarkanacollege.edu.
Third Party
If your tuition/fees will be paid by a third party (for example, some other agency, your employer, or a government agency), be sure they complete the referral/document before the payment deadline.
Texarkana College must approve all third-party referrals.
Before the payment deadline, confirm with your third-party counselor that your request has been approved and sent to Texarkana College.
You are responsible to pay for any amount not covered by the third party.
Third party referrals/documents must specify how much will be paid and what classes/items (books, tools, kits, supplies, etc.)
External Scholarships
Private organizations including businesses, churches, civic groups, and clubs make scholarships available to deserving students. Scholarship checks must be mailed or brought to the Texarkana College Business Office, 2500 North Robison Road, Texarkana, TX 75599 prior to the payment deadline. Scholarships checks will be accepted after the payment deadline for those students that have already made payment in full on their account (payment plan, financial aid or cash/check/credit card/debit card).
Financial Aid
It is important to confirm your anticipated financial aid has been placed on your Student Account and that the amount of aid is more than your owe Texarkana College for tuition/fees.
It is your responsibility to ensure your tuition and fees are paid in full by your payment deadline. If you have NOT been offered and accepted aid to cover the full tuition and fees by your payment deadline, then you may be dropped from classes.
Non-Payment
Delinquent installment agreements, unpaid returned checks, outstanding balances and financial aid adjustments will be sent to a third-party agency for collection. The student will be responsible for all collection costs and attorney fees.
Texas Education Code 54.007(2)(d): "A student who fails to make full payment of tuition and mandatory fees, including any incidental fees, by the due date may be prohibited from registering for classes until payment is made. A student who fails to make payment prior to the end of the semester or term may be denied credit for the work done that semester or term."