TC Nursing Program Offers an Opportunity to Start Over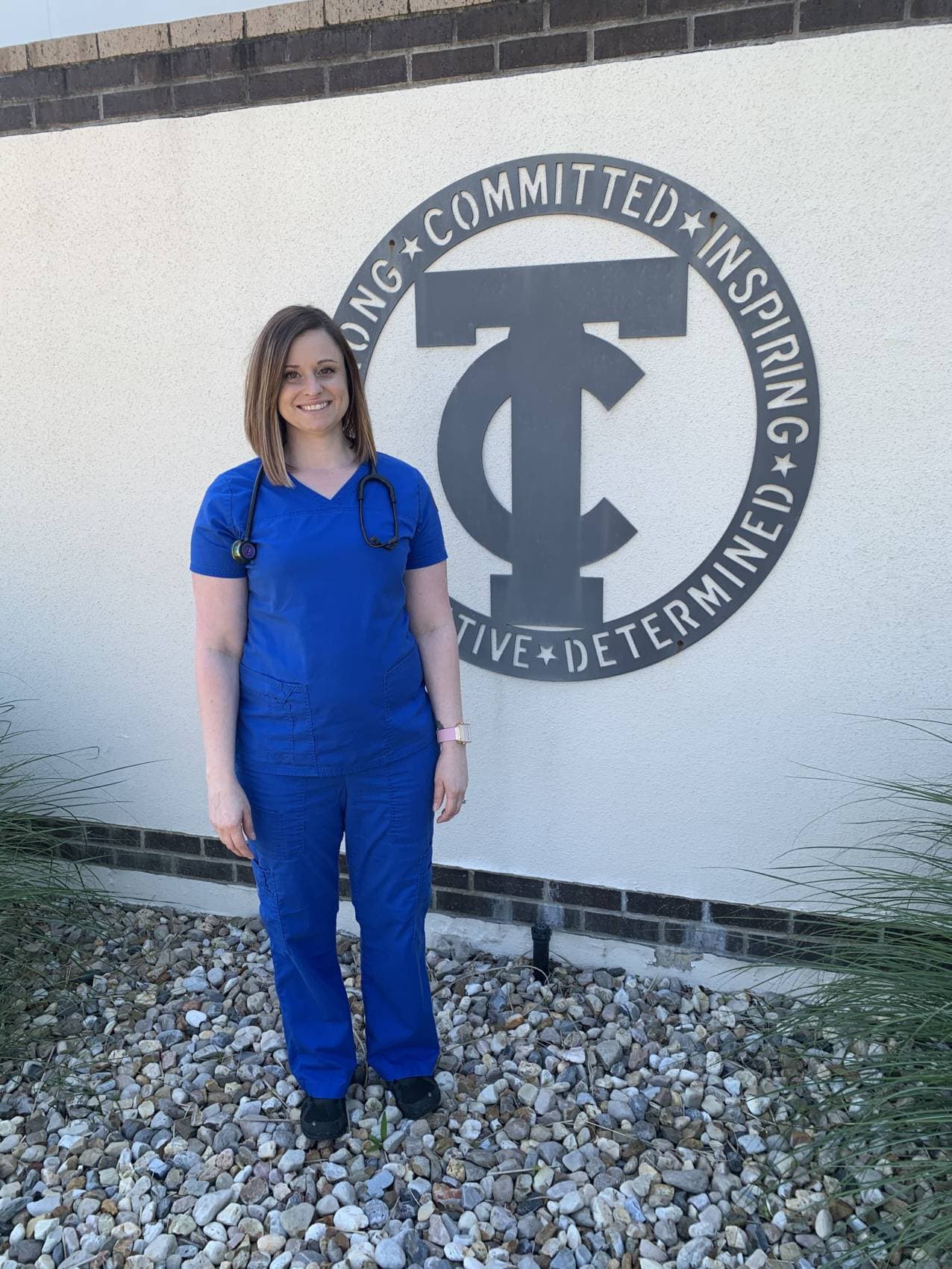 Shannon Howell had a different path to school, one that many Texarkana College students share: the path of starting over. After graduating high school, she started a family and raised her children. She started college in 2004 before having her youngest child, but she put college on hold to care for her children.
Fast forward to 2017. Shannon decided she wanted to go back to school to be a better role model for her children, and she turned to TC for help. She considered a few career options, but once she attended a nursing information session and saw first–hand how caring and helpful the nursing instructors were, she knew she wanted to become a nurse.
"Go to the information session," Shannon said. "Talk to instructors and advisors, because they will help you find what's best for you. They are there to help you figure it out."
Shannon lost her mother to cancer three years ago. She said seeing how the hospice nurses took such good care of her mother really made an impact on her. And she had the benefit of family support. Her dad encouraged her on her path to a nursing degree, and her aunt set a fantastic example by starting her career as an LVN and working her way up to becoming a nurse practitioner.
She said her friends who were graduates of the TC nursing program spoke very highly of it. As Shannon is coming up on her last few weeks of the program, she has nothing but positive things to say about it.
"It's cool to see how they set these scary goals at the beginning and how we have worked through them and been able to see that we overcome what seemed daunting at first," she said.
Shannon attributes her ability to overcome these daunting goals to the quality teaching by the nursing instructors, the support of her kids and incredible husband, and the friends she made along the way.
"The instructors not only help with classwork, but also help in personal life as well," Shannon said. "They are more than just teachers. They are friends."
She said that on the particularly difficult principles or skills, the instructors would work one-on-one with each student to help ensure that they mastered the skill.
"I didn't know anyone going into the program, but quickly made friends in class. We helped and pushed each other," she said.
The Patterson Health Sciences building is filled with the latest technology and medical simulation labs to help students practice their nursing skills in a top-notch learning environment. Shannon said she was particularly impressed by the quality of the training technology for the nursing program.
"The technology in the simulation lab is awesome," she said. "It is a big help and really makes a big difference in learning skills. The equipment is really neat to work with. The way the mannequins are like real people, with eyes blinking and everything, it is so interactive. It makes it almost like the real world and helps you become confident in your abilities as a nurse."
As Shannon prepares to graduate, she said she is looking forward to the many job opportunities available to nurses.
"By being in the program, I learned that there are many areas of opportunity within the field of nursing that I hadn't known existed before," she said.
With the loss of her mother and the significant impact from the hospice nurses that cared for her, Shannon said she is interested in working in hospice and mental health nursing after graduation.
Like many TC students, Shannon's journey to a nursing degree didn't start right out of high school. Whether you're a new high school graduate or you've spent time working and raising a family, a nursing degree at Texarkana College can help you build a health care career you can be proud of. And if you're ready to get started, there's no need to wait—you can start taking nursing prerequisites this summer!
To learn more about TC's nursing programs, go to texarkanacollege.edu/nursingschool or contact health sciences advisor Karen Holt at karen.holt@texarkanacollege.edu or 903-823-3351.
---
Related to Academic Spotlight, College Wide, Featured, Nursing