TC Dean Offers Unique Music Lessons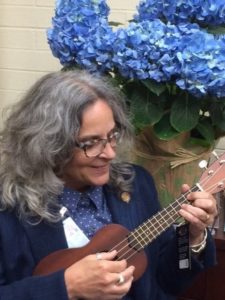 The ukulele garnered nation-wide interest recently as a 12-year-old ukulele player was chosen as the winner of America's Got Talent in 2016. As interest in the unique four-stringed instrument peaks, Dr. Catherine Howard, Texarkana College's Dean of STEM (Science, Technology, Engineering and Math), is sharing her ukulele skills with the community in a fun, noncredit class offered through TC's Community & Business Education Center.
Howard said she has enjoyed getting the chance to teach one of her favorite pastimes to citizens in the Texarkana area. As a child, she learned to play guitar. As she grew up she began to play with bluegrass groups until, at age 18, she developed an inner ear disease. The disease left her deaf in one ear and with only 20 percent hearing ability in the other ear.
Frustrated by her inability to properly tune a guitar, Howard quit playing the instrument for 20 years. About nine years ago, Dr. Howard's daughter suggested she learn to play the ukulele, so they learned together. Because ukes can be tuned using vibration instead of sound, Howard was able to play despite her hearing loss.
"Not only did I get to share the experience of learning to play the ukulele with my daughter, I was able to learn a pastime that I truly enjoy," she said. "I can play confidently without stressing about tuning. It's therapeutic for me, and it's something you just can't play without smiling."
Now, Howard is excited to share her love for the bright, upbeat instrument with others.
In the fall of 2016 Dr. Howard offered her first ukulele class at TC. The first class had students from ages 45 to 80. These students learned 21 songs and four chords in just six classes. Her next class, Uke Can Do It, begins Jan. 31. Students ages 12-80 have already registered, and space is still available for anyone interested in learning to play. To participate in the class, students must purchase a ukulele of their own. Howard recommends a few brands that can be purchased through Amazon for a median price of $50.
"Really invest in a uke," said Howard. "Of course, you can get one that is a toy, but a ukulele made with quality materials will not be warped in the heat and can last you a long time."
Howard hopes to bring her love of the ukulele to the people of Texarkana and possibly start a ukulele group, much like one she already participates in out of Dallas. Ukulele classes offered this spring at TC are Uke Can Do It! Introduction to Ukulele starting January 31 and Uke Can Do More: Beginning Ukulele 2 beginning March 21. These six-week classes are fun for all ages
"There's just something about the ukulele that makes people happy," Howard said. "It makes music accessible to everyone."
Registration for classes is available through the TC Community and Business Education Center online portal at http://ce.texarkanacollege.edu. Interested persons may contact the Center located in the Nelson Administration Building, 2500 N. Robison Road, Texarkana, Texas or call (903) 823-3270.
---
Related to Campus Life, College Wide, Community, Employee Spotlight, Featured, News, Press Releases