Students Build Confidence and Skills Through TC Art Classes
A quote from the famous Spanish painter Pablo Picasso says, "The purpose of art is washing the dust of daily life off our souls." For many students at Texarkana College, this rings true for them too.
"The watercolor class was a big stress reliever for me out of all the other classes I took," TC Graduate Shena Crawford said. "I didn't even know I had it in me to paint until Mrs. (Valerie) Owens brought it out. Sometimes all it takes is that one person to challenge you."
Crawford is just one of many students who have their work hanging in the Stilwell Humanities lobby as part of the annual Spring Art Exhibit at TC. She is currently working on her Bachelor of Applied Arts and Sciences (BAAS) at Texas A&M University – Texarkana.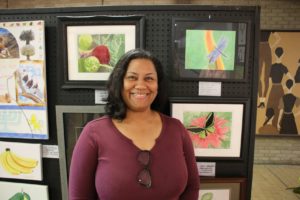 Crawford's watercolor pieces titled Tranquility and Summer Figs went on display at the 17th annual Regional Celebration of African American Artists exhibit in February at the Texarkana Regional Arts and Humanities Council (TRAHC) Center.
"I'm a nurse right now, but art is really just an outlet for me where I can release the worries of the day," Crawford said. "When I heard that I was going to have my work displayed at the Texarkana Regional Arts Center, I was just speechless."
For student Maggie Lopez, the past year at TC has been an "aha" moment.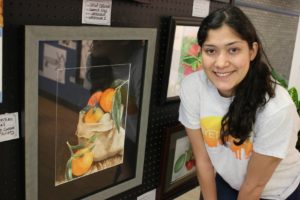 "It has all started to make sense to me," Lopez explained. "Mrs. (Mary Jane) Johnson and Mrs. Owen have helped me grow artistically and as a person. They've opened my mind to new things that I didn't think I could do."
Her work hanging at the Spring Art Exhibit includes paintings titled Dreamy Contrast and Gunny Full of Oranges.
"I love painting still life," Lopez said. "I usually search the internet and grab a concept I'm interested in and then make it my own."
Lopez will graduate from TC this summer and said she plans to transfer to the Fay Jones School of Architecture and Design in Fayetteville, Arkansas.
Like Lopez and Crawford, student Estella Ramage said she has learned a lot from her instructors, and they encouraged her to pick up the paintbrush again.
"I had put it down for a long time, and since coming back here, I feel like I have grown so much in my artistic ability," Ramage said.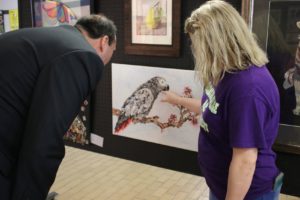 She plans to transfer to Southern Arkansas University to work on her Bachelor of Fine Arts in studio art to make her dream of becoming a professional artist reality.
"I find inspiration from everything around me," Ramage said. "My grandmother was an artist and she always told me that I'd never see the world the same once I got into art. She was right because I'm always looking at things thinking of how I can get those colors to show up on a canvas."
Many of her works hanging at the Spring Art Exhibit are of her favorite animals— birds. She found inspiration for her piece Anna's Pheebie from her very own African Grey Parrot, Pheebie.
"I used watercolor, ink, scrapbook paper, and decorative tape for that piece," Ramage explained. "Birds are just so unique. Gaining their trust is an accomplishment. You really have to work for their love, it's not free."
Ramage said she is most proud of her painting titled The Front Door because it's the first painting of a person she has ever done.
"My daughter is the subject of this painting. Her name is Adahlee and she's five," Ramage said. "It was a simple photo, but it really came to life on canvas."
While some people may think they're not cut out to be an artist, these students agree after taking art classes at TC, everyone has it in them to become one.
"You've just got to go for it and keep your eyes open to see the world differently," Ramage said.
The Spring Art Exhibit is open to the public in the Stilwell Humanities Building lobby until Wednesday, April 24.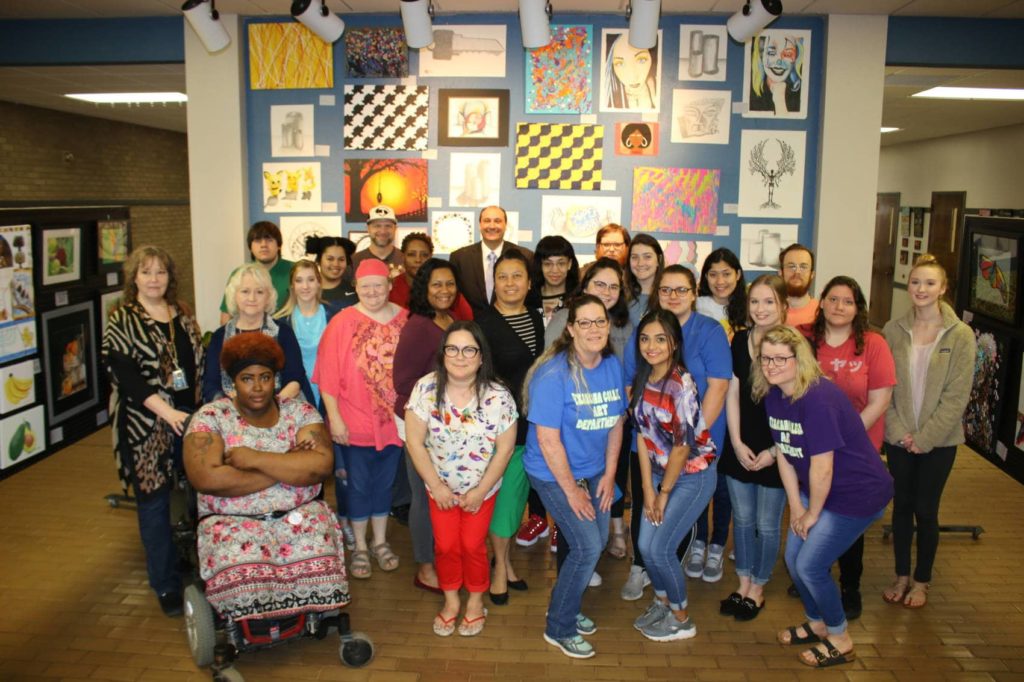 ---
Related to #TXsuccess, Campus Life, College Wide, Community, Featured, Press Releases