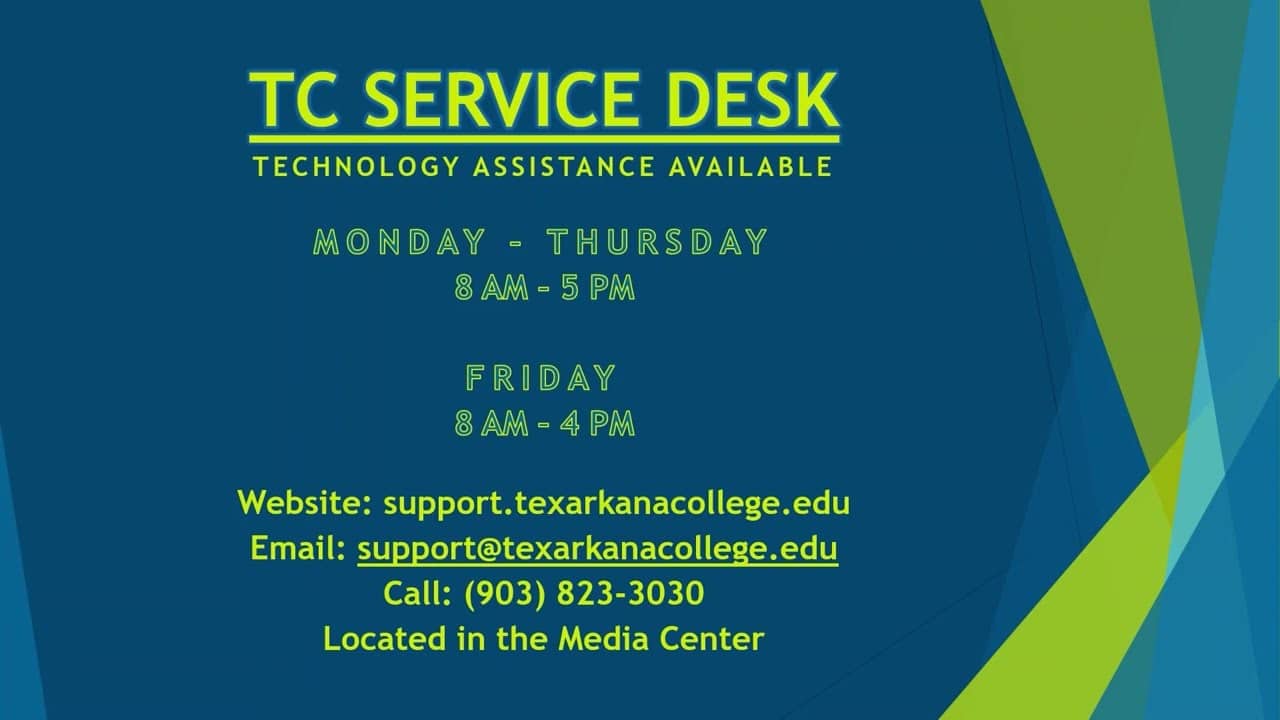 watch
Follow along as Emaly House guides you through using the Service Desk.
This session will cover the TC service desk.
We are open for technology assistance Monday through Thursday, 8:00 AM to 5:00 PM and on Friday from 8:00 AM to 4:00 PM.
You can visit our website at support.texarkanacollege.edu or you can e-mail us at support@texarkanacollege.edu and a ticket will be created. You can also call us at 903-823-3030 or you can come see us in person at the service desk window. We are located on the 1st floor of the Media Center building.
To access the services portal you can go to support.texarkanacollege.edu or from the main Texarkana College website. You can click the current student tab and Scroll down to the service desk link.
At the login page, enter your full Texarkana College e-mail address. This should be your username @ texarkanacollege.edu. Hit next and enter your TC password.
Once you get logged into the service portal, if you're having any technical issues, you can click the report problem button and a new ticket window will open. Provide as much information about the issue you're having, and once you're done, click create.
Your ticket will be assigned and an agent will reach out to you.
Back on the home page you can also find solutions. This will take you to our knowledge base articles with helpful how-tos and solutions that might help you.
You can also click the downloads link. This will take you to a page with information about free or reduced process software for students. Finally, we have our system status, every Friday morning from 12:00 AM to 7:00 AM. We have scheduled maintenance. We display a banner on my TC during this time, but you can also check the status of TC Resources by clicking the system status button.
This concludes our session on the service portal. If you have any issues, please give us a call at 903-823-3030.