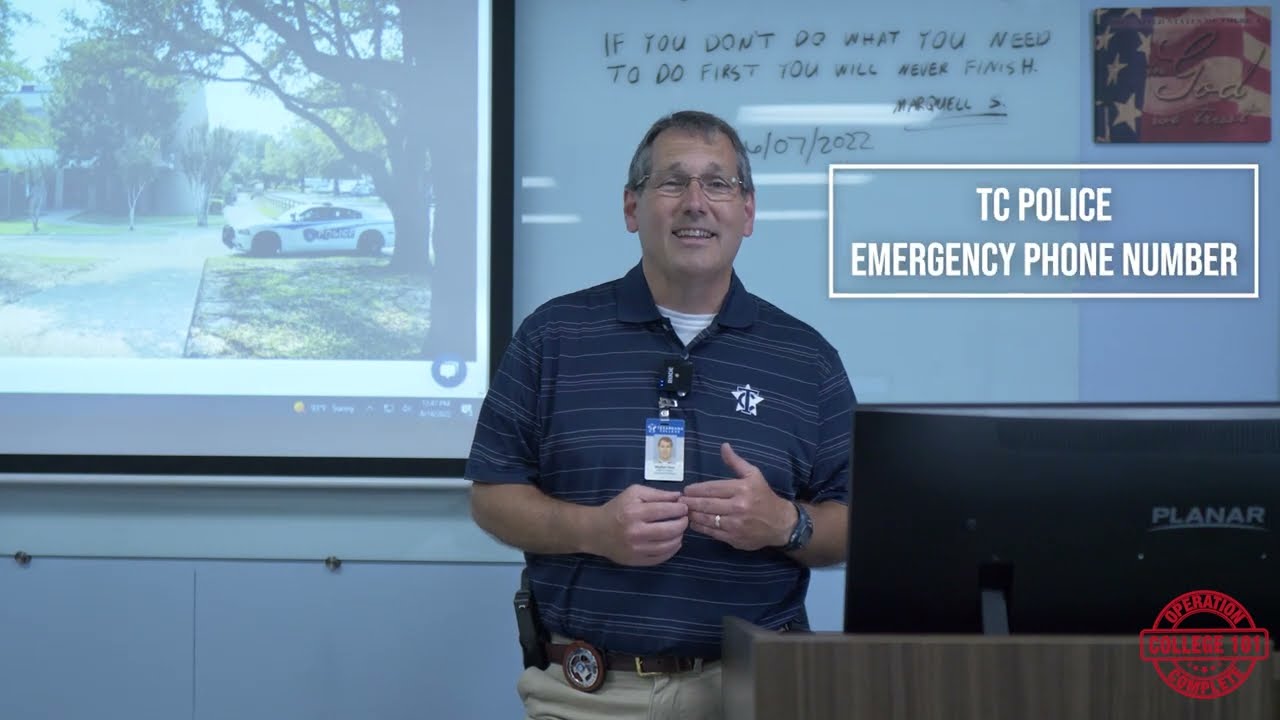 watch
Chief Stephen Gass discusses the Texarkana College Police Department and safety on campus.
Hello, my name is Steven Gas and I'm the chief of police for the Texarkana College Police Department. I'd like to welcome you to Texarkana College and really glad you chose to be a part of our TC family. As a part of our family, we really want to make sure that we work together to keep our campus. All of our faculty, all of our students and staff safe and that that really requires us all working together and so there are several things that I wanted to briefly talk to you about today to help us do that.
First of all, is your name tag. We do ask you that.
Where name tag you keep it with you so that we can identify you quickly as a TC student if need be.
Another thing that's very, very important that we ask you to do is have a parking permit on your car. Texarkana College's unique in that we don't require you to get a new parking permit every semester or every school year. Once you apply and you've already paid for it, so you might as well get it for your car once you apply for the parking permit and it's issued, that will be the parking permit for you.
While you're here at TC, and even if you transfer off to the local university, and when you come back to maybe go to the library or something, it can still be used. This is the way that we can identify your car as belonging on our campus. Also, in the unfortunate incident, if somebody accidentally hits your car or damages it, this is a way that we can contact you in your class and let you know. But we ask that you get the permit again. You can place it on your car and once it is there, it is designed to last several years and you won't have to do it a second time.
If you do need a second permit, we can take care of that also, but what's really important is that we do understand campus safety.
State of Texas does allow the concealed carry of a handgun by people who are licensed to carry in the state of Texas or have a concealed carry permit with the state that is reciprocal to Texas. So understand that it is permissible if you're licensed to carry to have a concealed handgun on your person, but what that means is it must be on your person. That means it must be readily accessible to you. It cannot be in a purse. It cannot be in a backpack that you're not holding in your possession.
And it must be concealed. It cannot be visible to any person, and that also includes if it's visible through a shirt or something like that. If you lean over just the imprint, and so it must be completely concealed, and if you have any questions, we are more than happy to discuss that with you. But I understand that is for handguns only. For licensed to carry individuals. Those are permitted.
But we really want to make sure that we keep our campus safe and that does involve making sure that doors are shut at all times.
And we have the ability to secure our campus instantaneously in an emergency if we need to.
I encourage you as others have to sign up for rave for emergency notifications.
But just to clear if you see something, say something you know, be a part of the TC family. And if you notice something unusual, please don't be afraid to call. We do ask that you save our Texarkana College Police Department emergency number in your phone so that you can call us if you need something. And that number is 903-823-3330. That's 903-823-3330 and make sure and save that. Obviously you can also call 911 and Texarkana TX Police Department and TC Police Department work very closely together and they could respond also, but they're going to refer you back to us also. So 911, call our number in the case of a medical emergency.
What we ask that you do is call 911 so that an ambulance can be in route and then also have somebody else call our emergency number because our officers are on scene and can respond very quickly. Also lock the doors. You know when you come into a building. Make sure you close the door. If you see a door has been blocked open, you know move it out of the way so that it can be closed. That's very, very important to us here at Texarkana College that exterior doors remain closed at all times.
The last thing I want to talk to you about is our philosophy and what we train. Everybody that either is a student here or works with. It's going to college and that is the run hide fight.
We will be introduced here to a video here in just a second, but what we want, all of our TC family to do is to understand that you must make a decision of what to do in an emergency and what we follow is run, hide and fight first. If you're able to run, run OK and that goes for somebody who is licensed to carry again, we ask for you to first run, run, call us, notify us of the emergency, our officers will be here on campus. Our officers will respond and I'm very proud of our Police Department. We have a very well trained, experienced Police Department here on campus. If you're not able to run hide but understand that is a second option, run if you can, and the third is to fight. And so I ask you to please pay attention to the video for run, hide fight.
You can also access all of these on our Texarkana College website. Under the Department of Public Safety, that's where you can find reports for our campus. But also the videos that will also that you can share with your family to understand this, but welcome.
I'm glad you're here really want you to be successful and so let us help you be successful and thank you again and have a good day.