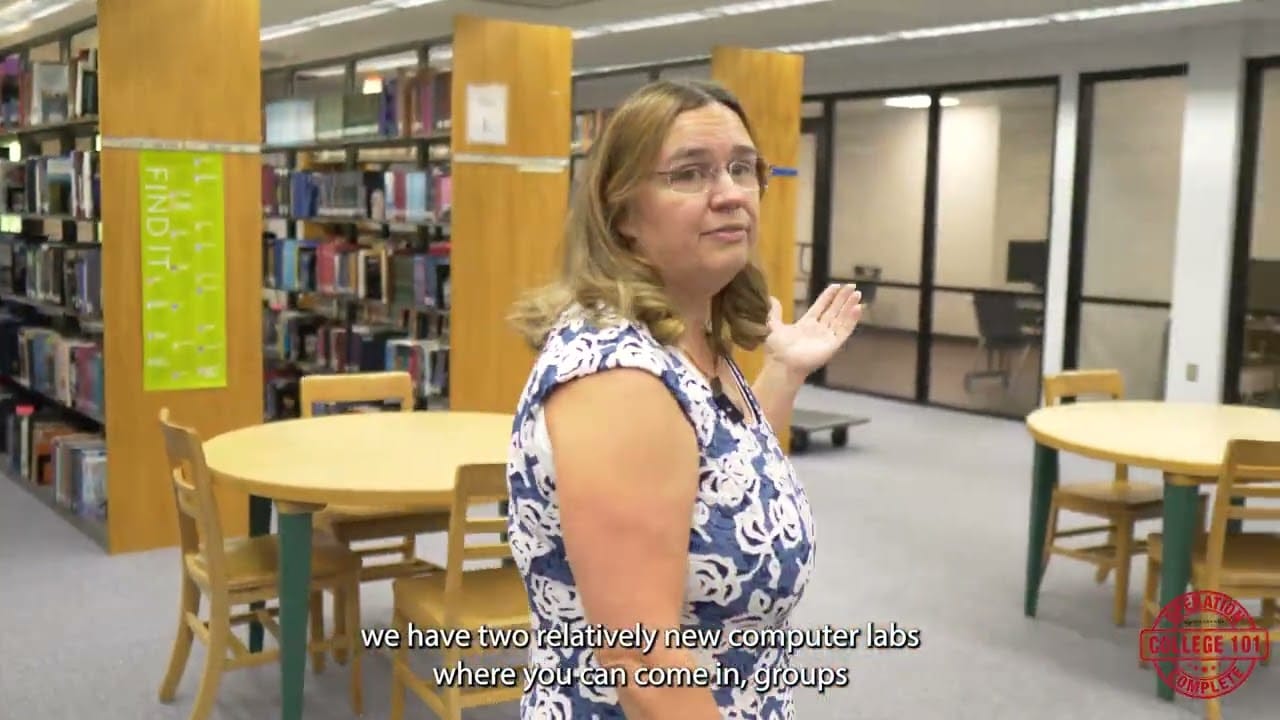 watch
Join Dr. Tonja Mackey for a tour of Academic Commons and the services found within.
Hi, I'm Tonya Mackey and I'm the Dean of the library and learning support.
So I'm standing here in your academic comments and people often ask what is an academic Commons? Well, an academic Commons is just like a common area on campus where all students, faculty and staff can come to meet, collaborate, study, work on group projects, play games, just whatever they want to do to get together on campus. So this is your spot to be when you're not in class.
So I'm standing here in front of our front information desk. This is your first stop in this building. If you don't know where to go because the staff members at this desk can tell you exactly where every area in the building is so that you can find the services that you need behind. This desk is also our self-service coffee bar that will be opening up again in the fall, so make sure you come in and get your coffee in the morning. It's $1.25 a cup, so we're we're your first stop.
On campus and your last stop in campus in between all of your classes.
So there's about five different areas in the academic Commons.
We have the tutoring center. We have the library, we have the testing center. We have two of our campus trio programs and the Office of Disability Services, and we also have our Texas A&M Transfer Center.
What you see here is the first floor of the library. This is a great place if you have group projects to work on. It's an area that you don't have to stay as quiet as in as you.
Typically would in a library so that you can work on those group projects, collaborate with your professors with your fellow students, and just come in and have a little downtime in between classes.
Hey, the 1st floor of the library is also where you will find current magazines and journals. If you like to browse through magazines and also our current bestsellers that we order. If you like to leisure read so the 2nd floor of the library is where we have our print book collection, we have over 43,000 books that you can access through our online catalog or just come up here and browse to see what we have in front of our book selection we have two relatively new computer labs where you can come in groups can reserve them. Your professors sometimes reserve them for demonstrations. And then there's also library workshops held in them.
And also on the 2nd floor of the library you'll find our tutoring center. We have tutors on staff here who tutor in English, math sciences. Their schedules are posted every semester so that you'll know what subject tutors are available when. There's also several different resources over here that you have access to. We have all of the models that they have in the biology building.
If you need to use them over here, we have them. We have a computer open computer lab here with people who can help you with your Microsoft Office projects or just any other classroom projects that you have and we also have printing available.
The testing center is an area that several of you will need to know where is so it is on the 1st floor of the academic Commons on the Tucker St side.
Directly across from the testing center is our Texas A&M Transfer Center, TX A&M advisor Caitlin Sloan is has her office over here and she is willing and ready to help students at any time. They're ready to transfer to Texas A&M or really any other college she's willing to help students with that process. As soon as you have declared your major started as a student at TCC, I would recommend that you start talking to Caitlin.
So that you know where you're going, what your next steps are when you graduate from Texarkana College.