Industrial Maintenance Program Helps Local Student Prepare for Dream Job as an Aviation Mechanic
Do You Like to Work with Mechanical Things? TC's Industrial Maintenance Program Provides Skills Training That Leads to Rewarding Careers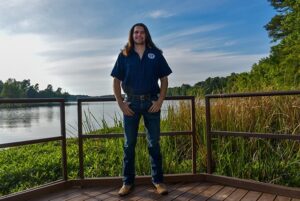 Texarkana College's Industrial Maintenance student, Spencer Eaton, likes to work with his hands and is always tinkering with mechanical things. He is not one to sit at a desk all day long and work at a computer. Knowing this about himself, he found the Industrial Maintenance program at TC to be a perfect fit for his personality and a career path. Receiving TC's Presidential Scholarship made it possible for Eaton to earn his degree tuition free.
"I was going to go straight into the military after high school graduation but the opportunity I was offered to go to TC on the Presidential Scholarship allowed me to first earn my associate degree before enlisting," said Eaton. "The Industrial Maintenance program was my best bet on finding a program that fit my interests."
Eaton said the Presidential Scholarship allowed him to get a start on training he needs to become an aviation mechanic.
"Without the scholarship, I would have likely enlisted in the military to become a mechanic," said Eaton. "I wasn't interested in going off to a big university or technical school, but TC's program allowed me to stay close to home and earn a degree before going off to the military. My goal is to join the Air Force and become an aviation mechanic. Then, I plan to go for a bachelor's degree in aviation mechanics and spend my career working in the Air Force as an officer."
Eaton can already see how beneficial the tangible skills from his Industrial Maintenance classes will be throughout his career.
"The Industrial Maintenance program is incredibly versatile," said Eaton. "I am learning hands-on skills to do many different things that could transfer to a variety of different career paths or trades that have stable job security. I like that in this field you get to work on things all day, and as a career, I will get paid really well to do it."
TC's Industrial Maintenance program is often referred to as multi-craft and prepares students to be very competitive when searching for jobs with mechanical industries.
"There's a lot of jobs out there for people who are trained in multi-craft because they know how to do many different types of jobs," Eaton said. "However, the company only has one employee to pay who knows how to do it all. They would rather hire one person who can do many different jobs than three different people."
The versatile curriculum has fit right in with Eaton's mechanical interests.
"The program so far has definitely prepared me for working as a mechanic, mostly by teaching the skills unique for diagnosing different problems in a system. This is especially helpful in learning various types of systems and understanding the basics of most all mechanical devices. We get to work on rotameters that measure water or different types of water pressures. We also get to program all kinds of different things to turn on lights or re-wire receptacles and things like that. We have even learned how to tie different types of knots for lifting and hoisting bigger items. I've enjoyed it a lot so far."
Eaton said the TC Industrial Maintenance Instructors play a big role in helping students learn relevant and valuable mechanical skills.
"Thomas Holt, TC's main Industrial Maintenance instructor, is very wise to be such a young instructor. Mr. Martinez is a great instructor too. He's very good at talking to students and helping you out."
Eaton encourages high school seniors to apply for TC's Presidential Scholarship and to take full advantage of all the resources that are available to them.
"At TC, there are lots of people willing to help you do what it takes to be successful," Eaton said. "I encourage anyone to look to TC to find the help you need financially, academically, or just life in general. I hope others will accept the help that is being offered- it has really helped me."
For more information about applying for TC's Presidential Scholarship or to enroll for the Spring 2021 semester, please visit www.texarkanacollege.edu. Academic advisors are available by appointment to help you get started, please call 903-823-3012 to schedule a time to meet.
---
Related to #TXsuccess, Betty & Buddy Ledwell Workforce Training Center, Featured, Press Releases