AEP Foundation Awards $100,000 Grant to Texarkana College's Industrial Training Programs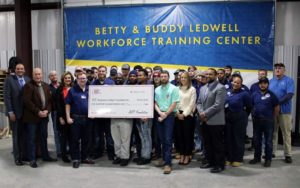 Texarkana College received a $100,000 grant today from the American Electric Power Foundation to fund the purchase of advanced manufacturing equipment to train students enrolled in TC's industrial maintenance, electronics and instrumentation technology programs. TC President Dr. Jason Smith said the training opportunities provided by the grant will help local businesses and industries fill open positions with students who complete TC's technical programs.
"We are extremely grateful to the AEP Foundation for their support of TC's technical education programs that provide essential training for students to meet regional workforce needs," Smith said. "A lot of research was put into determining the training needs of local businesses and industries and how TC can align curriculum to meet emerging jobs within our region. The equipment purchased through grant funds will give TC students the opportunity to train on state-of-the-art modules that directly correlate to real-world technical jobs."
Smith said TC's goal is to give students access to training that helps them land jobs within our region.
"It is paramount that we consider the demand for a particular skill when we look to expand training programs at TC," Smith said. "Our industry partners tell us that there are jobs in our region waiting to be filled by people with these particular skill sets. The technical training provided for students through our industrial maintenance, instrumentation and electronics technology programs is vital to the economic sustainability of our region by providing a skilled workforce our industrial partners need. Having the training equipment available to our community will also help recruit new industry to the Texarkana area."
Jennifer Harland, External Affairs Manager for AEP Southwestern Electric Power Company, said providing grants to entities that are working to strengthen the economy of the areas where they provide services is a priority to their foundation.
"The AEP Foundation focuses on improving lives through education, especially in the areas of science, technology, engineering and math," said Harland. "When TC's grant request was reviewed, we saw a perfect opportunity to provide needed funds to a program that is making a huge impact on regional economic development. The new training equipment provides the technical training needed for our community to build a pipeline of skilled workers to support growth in regional business and industry today and in the future."
TC will purchase four training modules with the grant funds including a "pick and place station" using vacuum technology and liner slide units; a "joining station" implementing network technology and gripper technology; a "distribution station" teaching about a semi-rotary actuator and a suction gripper; and, a "sorting station" using color identification to sort work pieces on a conveyor system. Grant funds will also allow for the purchase of software modules and accessories to support training sessions.
Brandon Washington, Dean of Workforce and Community and Business Education, said students can expect to gain experience that transfers directly into high-demand jobs in the area.
"Students trained on the advanced manufacturing equipment will develop applied skills that were previously taught only in theory," Washington said. "The new learning labs will measure the students' skill level and will build confidence and experience to land jobs with higher pay and opportunities for career advancement."
Washington said the training allows TC to respond to regional economic growth.
"We are so excited to offer this training to our community and we thank AEP Foundation for responding to this critical need for our regional businesses and industries," Washington said. "The future is bright for regional economic growth and TC is ready to respond with employers' training needs. Together with AEP's help, we are redefining the future of our students and developing innovative solutions that grow our community and improve lives."
---
Related to #TXsuccess, Betty & Buddy Ledwell Workforce Training Center, Featured, Press Releases, TC Foundation