Vicky and Mike Sandefur pledge $60,000 for West End students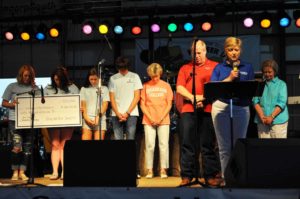 At a check presentation on Friday, August 14, New Boston residents Vicky and Mike Sandefur made a commitment of $60,000 to the Texarkana College Foundation to support the College's Presidential Scholarship opportunities for students from Bowie County's West End. The presentation took place at the New Boston Pioneer Days Festival main pavilion at 8 p.m., preceding an 8:30 p.m. concert featuring the Soul Tones.
Vicky Sandefur, who served as a local pastor with United Methodist Church, along with her husband, Mike Sandefur, an investment manager of commercial real estate, timber and land development, are dedicated to the advancement of our community by providing resources that enable students to reach their potential through affordable access to higher education.
"We're proud to help our current Presidential Scholars from the West End, and we're excited about encouraging students from this area to pursue their higher education at Texarkana College," Mike Sandefur said.
The Presidential Scholarship Program, paid for by the TC Foundation, allows top graduating high school seniors to attend Texarkana College tuition free for two years. Of the 88 Presidential Scholars for the 2015 school year, 36 are from West End schools. Current Presidential Scholars from the West End joined the Sandefurs on stage during Friday's presentation.
Mike Sandefur is currently serving on the Texarkana College Foundation Board after a four-year term as President of the Texarkana College Board of Trustees. His contributions include leading the college to a successful annexation of Bowie County and, along with his family, the establishment of the Cindy Cook Sandefur Tennis Center at TC, named after his late wife.
For additional information about the Texarkana College Foundation or to make a donation, please visit the TC Foundation website.
---
Related to College Wide, Community, Featured, Honors College, News, Press Releases, TC Foundation