TC students receive etiquette instruction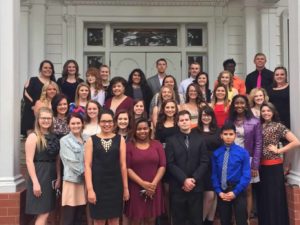 Finely honed etiquette skills can take you far in both business and personal settings, and a group of 39 Texarkana College students received a thorough primer at an etiquette dinner at the Texarkana Country Club on April 12th.
This is the second year that Cory Arcak, Director at the MSC LT Jordan Institute of Texas A&M University, has conducted an instructional etiquette dinner for Texarkana College students. These dinners bring professionals and students together to familiarize students with fine dining conduct. This year, TC students also learned about the interview process and discussed their career goals with local professionals stationed at each table. Community members in attendance included Marilyn and Fred Markham, Connor Patman, Betty Grace, Ron Mills, Sandra Shambarger, and Mike Malone. The dinner was sponsored by Fred Markham and the Texas Pioneer Foundation.
"I cannot thank TC and Mr. [Fred] Markham enough for this experience," said McKenzie Madill, a TC scholarship recipient. "This is an incredible opportunity to practice our etiquette skills with business people from our community."
Katie Andrus, Director of Texarkana College Foundation, said Markham and the Texas Pioneer Foundation have been very supportive of the TC Honors College since it began two years ago.
"It is such a pleasure to meet the young leaders at Texarkana College," Markham said. "Investing in this experience for them is a proud moment for the Texas Pioneer Foundation."
Texarkana College is proud to offer these and other opportunities to exceptional students. The Presidential Scholarship, available to the top 15% of high school seniors who meet certain academic requirements, covers the full cost of Texarkana College for two years or 60 credit hours. Presidential Scholars are eligible to apply to join TC Honors College.
For additional information or to make a donation, please contact Katie Andrus at (903) 823-3125 katie.andrus@texarkanacollege.edu.
---
Related to College Wide, Featured, Honors College, News, TC Foundation