TC Foundation awards Red River Lumber Construction Technology Scholarship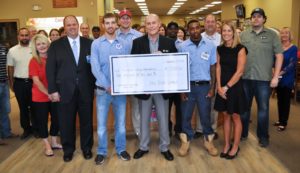 Red River Lumber, along with the Texarkana College Foundation, presented the Red River Lumber Construction Technology Scholarship on Thursday, Sept. 24 in the Design Center at Red River Lumber at 8:30 a.m. Red River Lumber is a locally owned business that provides quality building materials and services in the construction industry.
The recipient, Cullen Smith, is a graduate of Options Academic Alternative High School, where he completed with a 4.0 GPA. Smith will receive $2,000 over two semesters and will also be eligible to apply for an internship with Red River Lumber.
"During his first semester in the construction technology program at Texarkana College he has proven himself to be a hard worker and very deserving of this scholarship," said Casey Boyette, TC construction technology instructor.
Mike Craven, owner of Red River Lumber said he is pleased to offer this scholarship to help Cullen gain his credentials and further his career.
"He is skilled and dedicated to the field of construction technology, and I know he will be a great asset to this industry," Craven said.
For additional information or to make a donation, please contact Katie Andrus at (903) 823-3125 or katie.andrus@texarkanacollege.edu.
---
Related to College Wide, Community, Featured, News, Press Releases, TC Foundation