TC Employees Gain New Perspectives through Poverty Simulation
A new study, Still Hungry and Homeless in College, revealed 36 percent of college students face housing insecurity issues in the United States. More than one-third of them were not able to get enough food in a given month. The study found those numbers increased for community college students with 42 percent feeling food insecure, 51 percent feeling housing insecure and 12 percent were homeless in the last year.
The study defined food insecurity as "the limited or uncertain availability of nutritionally adequate and safe foods, or the ability to acquire such foods in a socially acceptable manner," with the most extreme form accompanied by sensations of hunger. Housing insecurity was defined as "the inability to pay rent or utilities or the need to move frequently."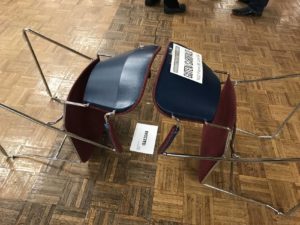 To better understand the difficulties some students may be facing, Texarkana College employees participated in the Community Action Poverty Simulation held in the Truman Arnold Student Center Patman Room.
"We struggle in this region with generational poverty and there's a sense of hopelessness that 'this is just how it is and how it's always going to be,' but institutions like Texarkana College have a unique position to enable people to get out of that cycle of poverty," said April Carl, who helped facilitate the simulation and is currently serving on the board for the Texas Balance of State Continuum of Care for the Texas Homeless Network.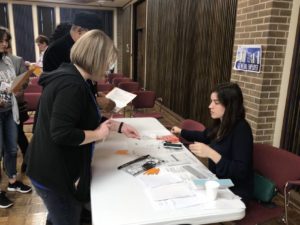 The poverty simulation experience is designed to help participants begin to understand what it might be like to live in a typical low-income family trying to survive from month to month. TC employees assumed the roles of up to 26 different families facing poverty. Each family had a different story. Some were newly unemployed, some were deserted by the "breadwinner," some were homeless, and others were recipients of TANF (Temporary Assistance for Needy Families).
Around the room, tables represented community resources and services for the families. These services included a bank, supercenter, Community Action Agency, employer, utility company, pawnbroker, grocery, social service agency, faith-based agency, payday and title loan facility, mortgage company, school, community health center, and child care center. The task for TC employees was to provide their "families" with basic necessities and shelter during the course of four 15-minute "weeks."
"My role was a 14-year-old girl that helped her parents," said Academic Advisor Kristen Payton. "I was told I had to eat at school at least two or three meals to try to make it because there wasn't always food at home. I made the decision to start babysitting so I could help my family with a little extra money."
Payton said the simulation made her realize some of the students she sees in her office may be facing some difficult situations at home, including children.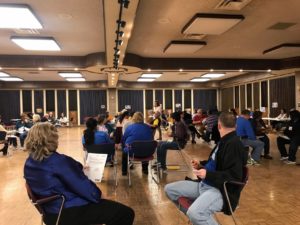 "It's really eye-opening to think about how many people are worried about things that we take for granted like food, water, and shelter," said Payton. "I was so desperate during the simulation. I've learned I need to be more compassionate and considerate of others because you never know what someone else is going through."
During the simulation, Carl said she spoke to a TC employee who was presented with an opportunity to commit a crime in order to make money.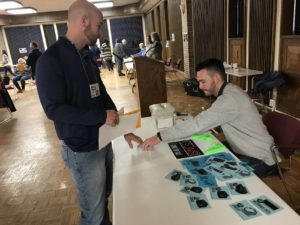 "He talked about what he did in order to survive in knowing he had this family at home that was struggling and starving," explained Carl. "This moment came up for him in the simulation to double their money and triple that money. He told me, in reality, he's got kids that come through his office that have criminal records because of that very reason that has impacted their ability to get financial assistance and they will never be able to get out of poverty because of an opportunity that presented itself to just survive."
Volunteers, who currently live at Randy Sams' Outreach Shelter in Texarkana, were recruited to staff some of the resource tables. After the nearly three-hour simulation, those volunteers shared their story of how they fell into a life of poverty and the decisions they are having to make to be able to get back on their feet.
"It's so important for us at Texarkana College to recognize the need some of our students have," said Amanda Graham, Executive Director of Academic Services. "The only way we can help them is if we can better understand where they are coming from and the struggles they are facing. When they leave TC, we want to see them better off than when they started."
For more information about The Poverty Simulation, click here.
---
Related to Campus Life, College Wide, Community, Featured, Press Releases, Uncategorized