Mentoring Program Established at TC through Support from Texas Pioneer Foundation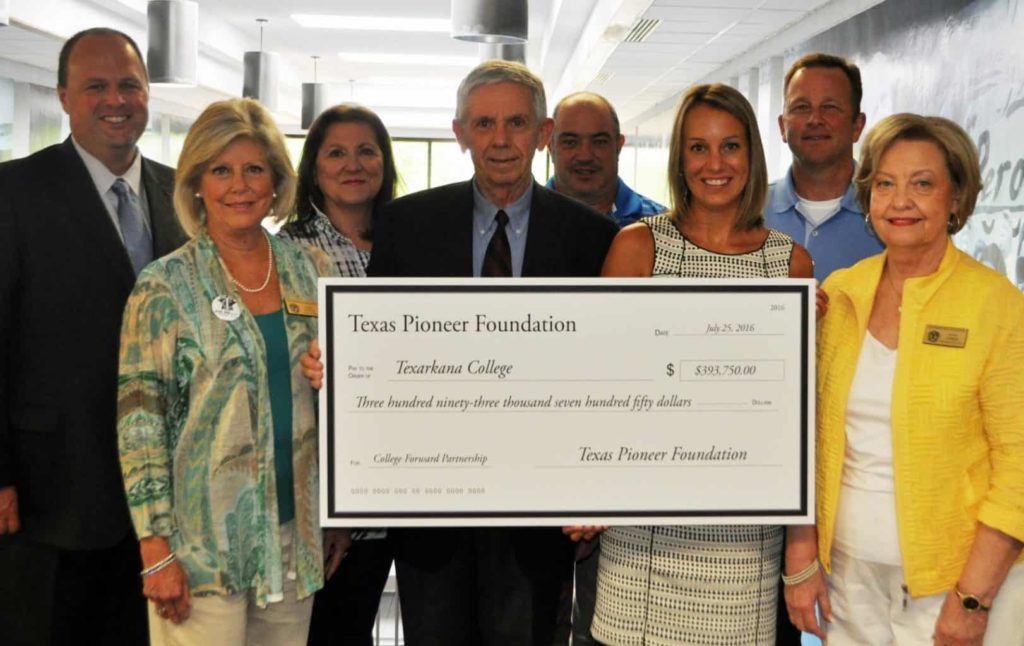 Texarkana College Board of Trustees recognized the Texas Pioneer Foundation today at their regular meeting for their commitment of $393,750 over the next three years to help fund a college mentoring partnership program for underserved students. Through this arrangement, the Austin-based college access and success program, College Forward, will collaborate with TC to provide three on-site coaches to serve approximately 360 students beginning in Fall 2016. The goal of the program is to propel low-income students to collegiate success and a more secure future.
 "The Texas Pioneer Foundation invests in innovative educational programs that improve lives," said TC President James Henry Russell. "We could not be more grateful for the opportunity to expand our reach through this program by providing mentors to area students unfamiliar with college culture. The application and financial aid process required for college admission can be overwhelming, especially if you are trying to navigate the process alone. The benefits of having a mentor guide you through the process will ensure greater access to a brighter future for these students."
In other business, Trustees approved holding two public hearings in Bowie County to discuss the tax rate proposed for adoption on August 22, 2016.
History shows that TC maintains a stable tax rate level falling well below the state average and ranking the lowest among regional peer community college districts. Every year, by State authority, community college districts must establish a tax rate for territories residing within the institution's taxing district. For the last five years, TC has not increased the tax rate.
Currently, TC's taxing district includes all of Bowie County, Texas, with an established tax rate of $0.105267 per $100 of appraised property value. TC's tax revenue amounts to only 17% of the institution's budget, while the typical Texas community college budget is funded 24% by local tax revenue. Out of the 50 community colleges districts in Texas, 42 have a higher rate than TC.
For 2016-2017, TC administration recommends that Trustees consider establishing a tax rate of $.110718 per $100 of appraised property value. This will amount to 43 cents more per month for the average taxpayer with an average market value home of $95,000. In Bowie County, property owners age 65 years or older or who are disabled will not be impacted by the proposed change because taxes on their primary residence are frozen.
During his report, Russell said TC remains the lowest in the region when it comes to tax revenue and one of the lowest in the entire State, and the Texarkana College Board of Trustees is dedicated to keeping it that way.
"We are so grateful for our Bowie County taxpayers who make it possible for TC to continue to offer affordable and attainable higher education opportunities to students wanting to better their lives," said Russell. "We all benefit from a more educated society, which cultivates healthier lifestyles, less crime, and greater economic stability along with economic growth."
Bowie County residents are invited to attend public hearings scheduled for August 8 and August 15 in the Truman Arnold Student Center on TC Campus beginning at 11:30 AM. TC will post notice of the hearings in newspapers and on TC's website at www.texarkanacollege.edu.
###
Photo ID's- (from left to right):
 Texarkana College President, James Henry Russell, TC Trustee Jane Daines, TC Trustee Kaye Ellison, Texas Pioneer Foundation Executive Director Fred Markham, TC Trustee Ernie Cochran, TC Foundation Director Katie Andrus, TC Trustee Ken Reese, and TC Trustee Anne Farris.
---
Related to College Wide, Community, Featured, News, Press Releases, TC Foundation