Workforce Student Hits the Reset Button at TC
For some students, following the traditional path of going straight to college right out of high school isn't a viable option, especially when they're not sure what to do next. That was the case for Texarkana College workforce student Andre Kelley when he graduated from Texas High in 2002.
"I was a salesman of everything; cars, cell phones, insurance," Kelley said. "I was just making a paycheck, but internally I was mad and didn't really know why. I just didn't want to go to work."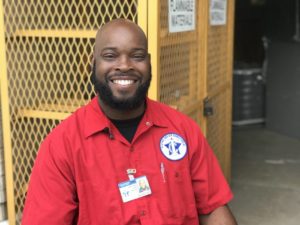 Kelley explained he missed out on a lot of family events and hanging out with friends because he was having to work on the weekends.
"I felt like I needed something that I could be hands-on in, and hitting the books wasn't for me," he said. "When I found out TC had a workforce training program, that was right up my alley."
Kelley started at TC last May and is now less than a month away from obtaining his Air Conditioning/Heating and Refrigeration Technology One-Year Certificate.
"I walked in here not knowing anything about air conditioning, except for you turn it on with a switch and something outside hums and something inside blows," Kelly said. "Now I know all the ins and outs. It's crazy how much you can learn in a year."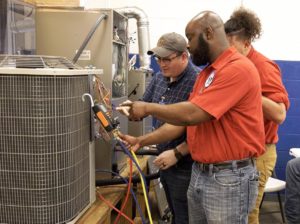 Despite the rocky road traveled to get where he is now, he credits much of his success to TC instructors Matt Lipps and Caleb Maloney.
"I can honestly say it terrified me, and I questioned myself twice to quit," Kelley said. "They motivated me to stay in it and helped guide me through. They let me mess up and make those mistakes so I would know what would happen if I did take the wrong steps. That's one of the reasons I love it now—because I was able to face my fear and go through it."
The past year, Kelley has taken advantage of his time spent on a community college campus by also getting involved in the Black Student Association.
"BSA is probably one of the best things on campus," he said. "We give back and we're involved. I want kids to see that college students range from right out of high school to even some right after they retire. It's the best thing for them to see they don't have to be stuck like I was. They need to know they can always hit the reset button and go."
Kelley will graduate on May 16 and has a five-year plan to work under someone before obtaining his license and then creating his own business.
"I've always dreamed of this, but for me to actually see that I'm on the path to achieving that dream, it's just amazing," he said. "TC is the best place to start because it gets you where you need to be. It's really a family-oriented college that everyone should take a look at getting involved in."
---
Related to #TXsuccess, Campus Life, College Wide, Featured