Women in Construction Week Celebrates Women Who Work in the Construction Industry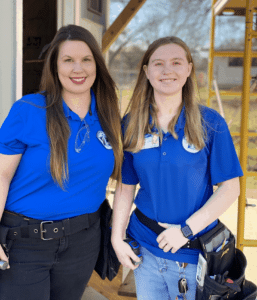 March 1-7 is Women in Construction Week, a special week designated by the Association of Women in Construction to celebrate the women who work in the construction industry.
There are thousands of members of the NAWIC and approximately 1.1 million female workers in the construction industry, making up 9.9% of the industry. Data from the Bureau of Labor Statistics indicates that the projected growth over the next decade will lead to an estimated 801,000 female workers in the construction industry.
Women in Construction Week is not only about recognizing the women currently in the construction industry, but the importance of presenting construction work as a viable career path for women.
"My family thought I was nuts," said Courtney Anderson, a first-semester TC Construction Technology student. "I was like, 'I want to build my own house, and I have to learn somewhere.'"
Anderson said that right out of high school, she started her college journey at a 4-year university. Two years into her chemistry degree, she decided it wasn't the right path for her.
"My dad builds a lot of things in his spare time, and I'm his handy helper," she said. "We've built a deck, torn down a bathroom to convert it into two rooms. I've been helping him since I was as young as I can remember—as soon as I could hold a hammer."
Anderson said she sees being a woman in the male-dominated field of construction as new and different, and she enjoys the hands-on work.
"Being able to see a house from the inside out—it's cool to see the rough carpentry behind a building," she said. "From the outside, you don't get to see the wires and pipes in the walls."
She said she plans to earn an associate of applied science while she's at TC.
"When I graduate, I want to get an internship so I can work with somebody who's experienced and learn from them," she said.
And the work that TC Construction Technology students are doing today may influence future generations of students. That's what drew Bridgett Bennett, a second-semester Construction Technology student, into the program.
"Back in 2011, I saw the CASA playhouses at the mall, and I saw that they were built by TC students," she said. "I really fell in love with them and thought, 'It'd be so awesome to know how to build those.' I'm not from Texarkana, so I didn't know about TC and the construction program before that."
Bennett said she had reservations when she started the program.
"When I first entered this program, I was the only girl in the class, and I was extremely nervous," she said. "I grew up as one of four sisters, so I was more used to being around women. But as weeks went by, it was OK. The other students are nice and respectful. The instructor, Michael Lee, is patient and helpful, and I've really enjoyed having him as an instructor."
Bennett, who has four daughters ranging in age from 5 to 13, said she takes pride in training for a  field that is traditionally associated with men.
"It feels unique," she said. "Like you're doing something special. Not all women choose to do things like this."
She said that before she entered the program, she didn't even know the names of typical construction tools. Now, in her second semester, she has first-hand knowledge of how houses and buildings work.
"The way I look at it is, the inside framework of the house is like the skeleton of the human body," she said. "The electricity is like the brainwaves. The hot and cold water pipes are like blood vessels. HVAC is like breathing. What you see on the outside of the house is like skin."
Bennett will complete her one-year certificate in construction technology in December.
"When I graduate, I can go to work as a helper and work my way up, or maybe become an estimator," she said. "I'm pretty good at math, I've learned in this program."
She said she is also considering starting her own business.
"I'd love to build playhouses and be self-employed, especially while my kids are young," she said.
For Anderson and Bennett, their futures in construction technology are full of possibility.
"We'll see where it takes us," Bennett said.
---
Related to Betty & Buddy Ledwell Workforce Training Center, College Wide, Featured, Press Releases