The Smiling Face of TC: Farrah Washington
When you walk into Texarkana College's Nelson Administration Building, the first smiling face you see belongs to Farrah Washington. Behind that smile is her inspiring story of overcoming obstacles with persistence and dedication, ultimately finding a job she truly enjoys and that gives her the opportunity to encourage and help others do the same.
College wasn't an easy path for Washington. When she started at Texarkana College, she was a single mother raising four children while working part-time.
"I had a teacher here, Alyce Bunting, who had a sign hanging up in her classroom and every time I entered, I read it," Washington said. "It said 'The 3 D's to Education: DESIRE, DEDICATION, AND DISCIPLINE!' I had to make sure to keep those qualities because I had kids looking up to me at home. I wanted to make sure I could pass this on to them to stay focused and achieve their dream of becoming successful."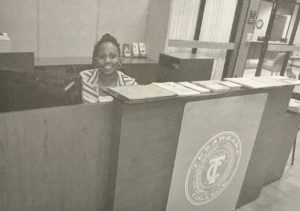 While she pursued her associate degree, Washington worked part-time in the TC President's Office and at the switchboard. When she graduated from TC in 2010 with her associate degree in Early Childhood Education, she began working full time at the TC Welcome Center. She went on to Texas A&M-Texarkana to finish her bachelor's degree in 2012.
"This place is like a second family to me, and the motto 'A great place to start or start over' is the truth no matter your age, life background, or circumstances," Washington said.
From the Welcome Center desk, she watches students during their college journeys, from the day they stop by for a campus tour to the day they pick up their diploma. When she sees students encounter rough patches, she always reminds them of the 3 D's: desire, dedication, and discipline.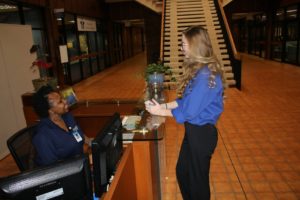 "It's so rewarding to me when a student walks up to my desk full of emotions because they have carried those 3 D's with them to obtain their degree," Washington said. "It's really a blessing to be able to motivate students to be their best."
As TC continues to celebrate Black History Month, Washington said it's important to her because it highlights the struggle black Americans went through in pursuit of equality.
"There is power in our past, and this is a time to uplift the black community," Washington said. "We're moving toward the future in a positive way!"
Washington said she believes now is the time to encourage and inspire all students to work toward their goals.
"The sky is the limit," Washington said. "Don't let anyone tell you differently. You have to want it bad enough to go through it, but the outcome is far better. Always put God first in all that you do!"
---
Related to Alumni, Campus Life, Community, Employee Spotlight, Featured