Texas Students Opting for Quality, Hands-On Instruction at Community Colleges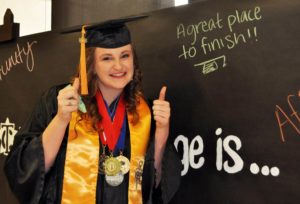 McKenzie Madill wanted to make sure she was more than ready for her university experience.
Madill had every opportunity to attend major four-year institutions straight out of high school. But she chose to use her local community college to provide her with high-quality education while preparing her academically and socially for the challenges she would face at the university level. In fact, this fall, 433 out of approximately 4,200 TC students are first time in college students.
Madill graduated from Texarkana College in May 2016 and started at Texas A&M University-Texarkana this fall to study biology and continue working toward her goal of becoming a physical therapist. She said familiarity, proximity and affordability played pivotal roles in her decision to begin her careers in higher education at the community college level.
"I chose Texarkana College so I could be in a small classroom environment where I could get a little bit more one-on-one time with my professors," she said. "After I received the Presidential Scholarship, it was more affordable to start out at TC."
Madill, a graduate of New Boston High School, is part of a continuing trend as community colleges remain the largest sector of Texas higher education. According to a study by the Texas Higher Education Coordinating Board (THECB), there were 700,892 students enrolled in community colleges statewide during the fall of 2015. That made up 47.1 percent of all higher education students in Texas. The number of students at public universities totaled 619,284 or 41.6 percent.
The THECB also reported 70 percent of all college freshmen and sophomores statewide were enrolled in community colleges for the Fall 2015 semester.
"My overall experience? I've loved TC," Madill said. "It's been everything I imagined it could be and more. I encourage anyone who is a senior and is unsure about what university they would like to attend to go ahead and start at TC. It's affordable, and it's a great place to start."
Another THECB study revealed 74 percent of all bachelor's degree graduates in 2015 attended community colleges. Of those graduates, 35 percent accumulated more than 30 credit hours at community colleges.
More students are finding that community colleges offer lower teacher-to-student ratios and effective support systems to prepare them for four-year universities and beyond.
"I've met a lot of amazing people here," Madill said. "I feel like I've really grown as a person. Graduating from TC was a dream come true for my family and me. I'm the first in my family to graduate and receive a degree, and I will open up the door for many generations to come after me. I think it was the best transition I could have ever asked for. I love TC!"
According to the THECB and Texas Association of Community Colleges Legislative Budget Board, Texas community colleges rank third in the nation in affordability, behind only California and New Mexico. The average tuition and fees for the Fall 2016 semester for full-time students (taking 15 credit hours) living in the Texarkana College taxing district was $1,310.
For students like Madill, the benefits of starting at a community college extend well beyond their years on the college's campus. Before leaving TC, Madill was awarded the Eldridge Scholarship, a TC transfer scholarship worth $3,200 per semester that the recipient can use at any university in Texas.
"I'm very lucky and blessed to have that," she said. "I'm proud to start at TC."
# # #
The #TXsuccess campaign is a collaboration between the Texas Association of Community College Marketers (TACCM) and the Texas Association of Community Colleges (TACC) to showcase the value of Texas community colleges to legislators, policymakers, and communities in Texas.
---
Related to #TXsuccess, Academic Spotlight, College Wide, Community, News, Press Releases