Texarkana College Students Lead the State Through Involvement with Faculty Sponsored Campus Organizations
The Texarkana College Board of Trustees met on Monday, March 27, 2023, for their regular monthly meeting. Action items included discussion and approval of the 2023-2024 faculty contract recommendations for both 9- and 12-month assignments and rank advancements for eligible faculty. Dr. Donna McDaniel, Vice President of Instruction, said TC faculty members go above and beyond their classroom duties to ensure students are successful and engaged on campus.
"When we ask students about their experience at TC, without fail they say they feel like family here," said Dr. McDaniel. "TC faculty members have years of experience and a great depth of knowledge in their fields of study, and they take great pride in sharing their love for their subjects with their students. It makes a huge difference in college students' experiences when professors and faculty members are easily accessible and passionate about their students' success and completion. We have some of the very best instructors in all of higher education right here at TC and our rankings as one of the top five community colleges in the state of Texas for student completion rates prove that students flourish here."
Dr. McDaniel said participation with campus organizations and clubs help enrich students' lives.
"Two of TC's most active campus organizations include Phi Theta Kappa (PTK) International Honor Society and Student Government Association (SGA), said Dr. McDaniel. "These organizations are led by outstanding faculty advisors and provide students with leadership training, networking with community and state leaders, and projects that expand students' awareness of civic opportunities and responsibilities. Both PTK and SGA have had recent success at the state level and have provided travel opportunities for students."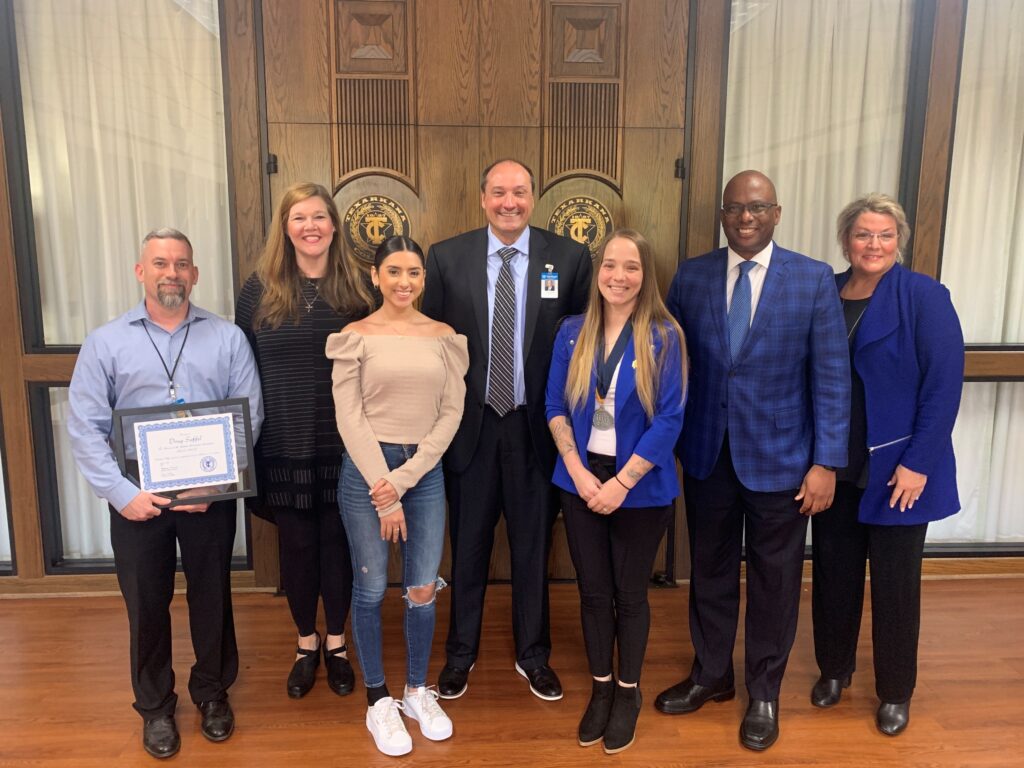 PTK is the official honor society for two-year colleges with almost 1,300 chapters from college campuses in 11 nations. PTK recognizes and encourages academic achievement while providing members with opportunities to grow as scholars and leaders. Dr. Mary Ellen Young, TC's PTK Zeta Sigma Chapter Advisor and Dean of Liberal and Performing Arts & Honors College, has been the Chapter's advisor since 2004.
Earlier this month, Dr. Young traveled with students to Fort Worth to attend the Phi Theta Kappa International Honor Society Texas Regional Convention where they were recognized as a Five Star Chapter, a Texas Top Chapter (18 chapters named as a Texas Top Chapter out of 92 chapters), Honors in Action Award of Distinction, and College Project Award of Merit. Zeta Sigma Chapter President Ashlee Carter received Hall of Honor Award for Chapter Officers, and Ashlee, Martin Haley, Justin Roberts, Angel Watkins, and Andrew White received a Five Star Competitive Edge pin for completing PTK's exclusive online professional development plan. Ashlee Carter, Martin Haley, Justin Roberts, and Andrew White were named to the PTK Texas Region District III Hall of Honor.
Dr. Young said she is proud of TC's chapter officers and members for their hard work and dedication on this year's projects which focused on the PTK Hallmarks of Scholarship, Leadership, Service, and Fellowship.
"Under the direction of chapter president Ashlee Carter, TC's PTK students also completed a five-part series of the Five Star Competitive Edge and presented workshops during the Texas Regional Leadership Conference at the University of Houston and the Texas Regional Convention in Fort Worth," said Dr. Young. "More travel plans are ahead for TC's PTK members who will attend the Phi Theta Kappa International Convention CATALYST 2023 in Columbus, Ohio on April 20-22."
Since 2013, TC's SGA chapter has been sponsored by Doug Saffel, Associate Professor of Government and Social Studies Program Coordinator. Saffel said the TC SGA members have served on statewide leadership committees and met outstanding students from other campuses as part of their experiences with SGA.
"It is SGA's mission to promote benevolence, unity, and teamwork among two-year junior colleges, community colleges, and technical schools," said Saffel. "Our chapter is part of Region 3 and is an affiliate of the Texas Junior College Student Government Association. Our region is composed of 13 student government associations from community colleges spread across East Texas."
TC student delegates attended the Region 3 Student Government Association Spring Conference at Paris Junior College in February. Students attended workshops, collaborated on philanthropic projects, and carried out Region 3 business while practicing civics and learning leadership skills. TC currently holds the Executive Board position of Editor.
Saffel said to help fulfill SGA's mission, the TC chapter steps up to help.
"TC student delegates get hands-on experience in planning and carrying out large projects that will benefit them in their careers and in future leadership roles within the community," said Saffel. "Some of the opportunities include helping to organize regular regional meetings, practicing parliamentary procedure skills, performing unity projects, and annually participating in the TJCSGA state convention. Our TC student delegates will attend the 2023 State Convention in Dallas, April 13-16th."
In other business, TC Trustees approved the 2023-2024 tuition and mandatory fees schedule which reflects no rate increase from the current year. Brad Hoover, Chief Financial Officer, said TC is committed to providing affordable, quality education programs for our students and the communities we serve.
"The amount the college charges for tuition and fees has historically been below many of our peer institutions," said Hoover. "Currently, we are right at the state average for tuition and mandatory fees for public community colleges and our rates are substantially lower than regional universities. At this time, we are not requesting a change to tuition and mandatory fees including Dual Credit fees."
Hoover said enrollment for fall courses will open in April and tuition and fees will remain at the low cost they are now.
---
Related to News, Press Releases