Texarkana College Opens New Workforce Training Center in Honor of Ledwell Family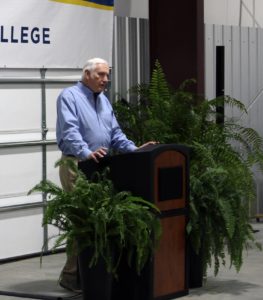 Texarkana College opened its new Workforce Training Center today and dedicated the building in memory of Betty and Buddy Ledwell. The Ledwell family has been a vital part of economic development in this region since establishing their business in 1946. Today, Ledwell serves as one of the area's largest employers, with Steve Ledwell serving as CEO of the company. Ledwell manufactures custom-made trailers, trucks, bodies and parts for the transportation industry, and the company has diversified through the years into meeting the needs of other industrial clients.  TC president James Henry Russell said the Ledwell name in the community is synonymous with excellence, honor and superior work ethic.
"The programs housed in the new Betty and Buddy Ledwell Workforce Training Center prepare students to enter the workplace with skills in industrial maintenance, construction technology, and other in-demand occupations," said Russell. "It is paramount that our students know the importance of having a good work ethic along with having a technical skill— that's what makes a difference between a good employee and a great employee. We are teaching the importance of work ethic at Texarkana College, and our area employers expect that from us. Having the Ledwell name on our new workforce training building sets the standard of excellence we have for students who graduate from our programs."
Russell said students who enroll in these programs can expect to work in classrooms equipped with state-of-the art equipment and to be trained by faculty who have years of experience in the field. TC's workforce training programs have an enrollment of more than 670 students, with close to 100 of these students currently enrolled in either the Industrial Maintenance or Construction Technology courses. Classes are offered during the day and evening.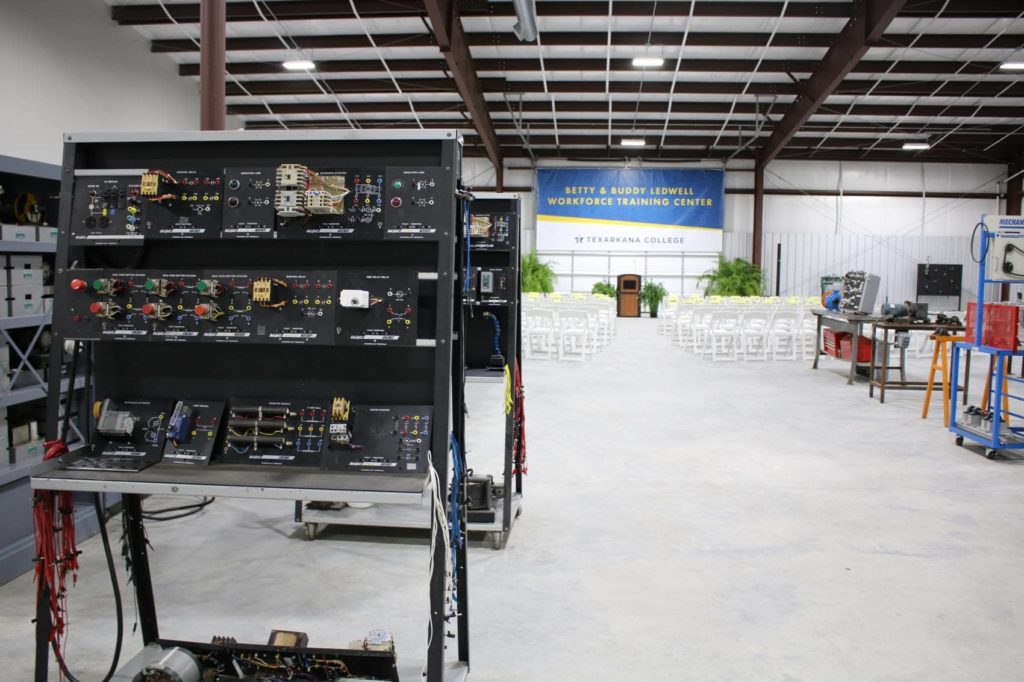 "We have the best training program in our region for students who want to learn from instructors who care about student success and who want to help them find jobs in their field of interest," said Russell. "We have employers contact us every day looking for skilled workers equipped with industry knowledge in the latest trends in manufacturing and construction technology. Our students not only learn from the best and have access to the newest technology, but they also have job opportunities waiting for them when they successfully complete our programs. These jobs are in high demand and come with good pay, benefits, and a better future for themselves and their families. We are so pleased to offer this service to our community to help sustain a skilled workforce and build a stronger regional economic base."
Russell said the 20,000 sq. foot building was built on a modest budget with much of the work done in-house.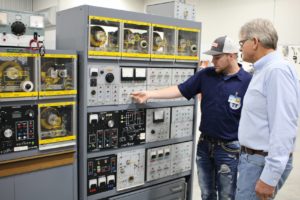 "Mr. Rick Boyette, Texarkana College's Director of Facility Services, served as the general contractor for the project," Russell said. "He and his crew did an outstanding job keeping the cost per square foot at a very low expense for the College. We are so proud of the finished product that features a beautiful timeline mural dedicated to the lifetime achievements and business success of the Ledwell family. We welcome anyone who is interested in seeing the building, the beautiful mural, or meeting any of the instructors who teach the programs, to contact us for a tour."
Registration is now open for the 2019 spring semester at Texarkana College, and students wanting to enroll in the Industrial Maintenance or Construction Technology programs located in the new building should contact TC's Enrollment Services office to make an appointment with an advisor. More information about the programs and how to get started with the enrollment process can be found online at www.texarkanacollege.edu.  Students can make appointments online by calling 903-823-3012.
---
Related to Betty & Buddy Ledwell Workforce Training Center, College Wide, Community, Featured, News, Press Releases