Texarkana College Music Professor Selected as Semi-Finalist for The American Prize in Performing Arts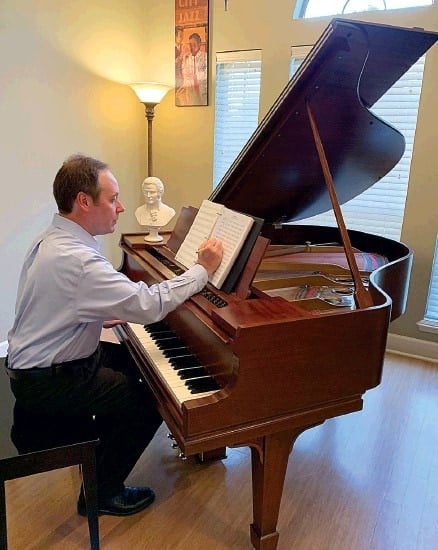 Texarkana College's professor of music, Marc-Andre Bougie, has been selected as a semi-finalist in the Choral Music Division of The American Prize National Nonprofit Competition in the Performing Arts for a requiem he composed during the pandemic. The competition is the nation's most comprehensive series of contests in the classical arts and is designed to evaluate, recognize, and reward the best performers, ensembles, and composers in the United States. Bougie said he is very excited about the selection of his piece as a semi-finalist.
"During the months of quarantine, I found myself in prayer, thought and reflection as to how I could use my background in music composition and performance to help bring about healing and peace during these difficult times," said Bougie. "For years, I wanted to work on a requiem composition but never had the time to gather my thoughts. Last May, the time was afforded to me and once I started the work, I was fully engulfed in the process."
The requiem took Bougie two months to complete, working seven days a week from morning until night.
"It was intense," he said. "Once I get into a composition, I can't get out of it- I have to write it down. It's a feeling that is hard to explain."
Bougie said a requiem is a genre of music historically used during a funeral mass and dates back hundreds of years.
"A requiem was a genre of music established centuries ago in the Roman church," said Bougie. "One of the most famous pieces was composed by Wolfgang Amadeus Mozart, and dozen other composers have been inspired through the years by the ancient prayers and lyrics associated with requiems. This genre reaches back in history to times that were very dark, and, as a composer, I could feel the connection. It really spoke to me to capture the inspiration of these prayers."
Bougie, who is the conductor of the Texarkana Regional Chorale, said the piece was composed to include more than 100 performers. However, to enter the competition, he was able to provide a sample performance from a live rendition performed by 20 performers at Sacred Heart Catholic Church.
"It takes about thirty minutes to perform the entire piece," said Bougie. "It is based on a very long text with a lot of words and prayers set to music. My hope is that by November 2021, the Texarkana Regional Chorale can perform the piece in its entirety. November is a month of remembrance for those who have departed, I hope we can see a large choral group perform in public by that date."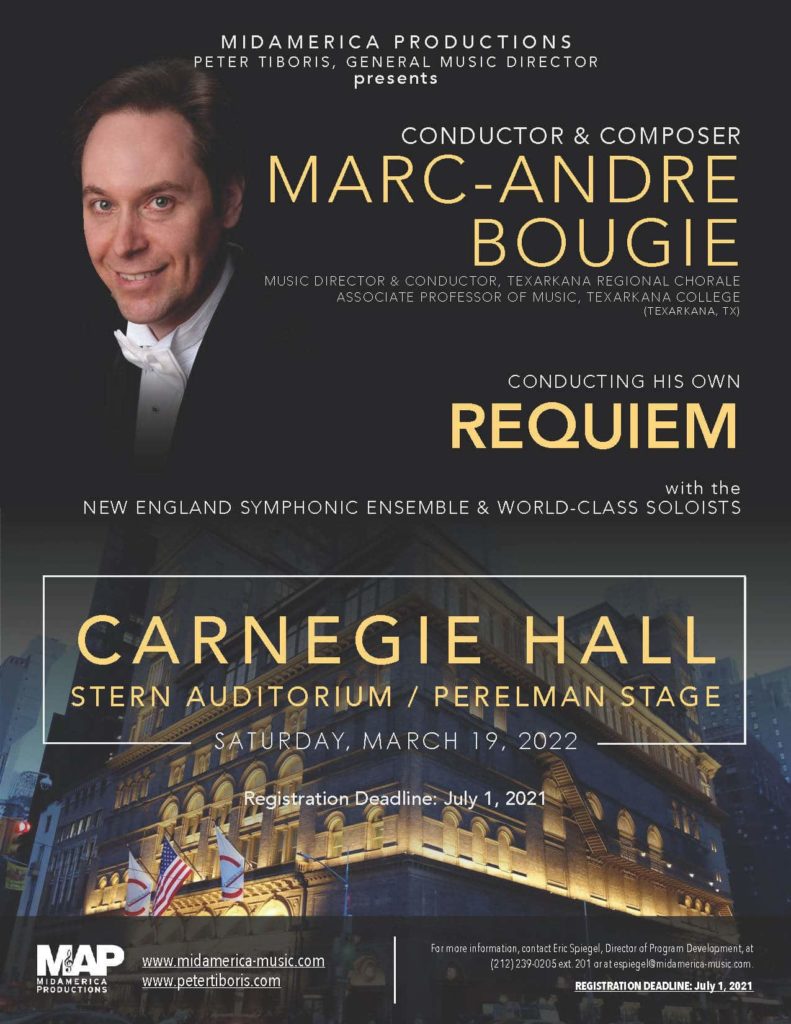 Anticipation about the debut of Bougie's composition has landed him an invitation to perform the piece on the world-famous Carnegie Hall stage in New York City.
"I am so honored for the opportunity to conduct the requiem at Carnegie Hall on March 19, 2022," said Bougie. "This is also a memorable occasion for members of the Texarkana Regional Chorale and Texarkana College music students who will be performing the piece on stage. We be joined by the New England Symphonic Ensemble and also world-class soloists."
Bougie said he is grateful for the chance to represent the Texarkana community on such a large stage.
"I am proud to put our community's name out there!" said Bougie. "We have so much talent here locally and there are excellent student composers at Texarkana College. It is a dream of mine to leave a legacy through music, and to have the opportunity to debut the composition on the Carnegie Hall stage is such a huge honor. My hope is that I can leave behind a piece that will generate a life of its own for generations to come."
The American Prize has attracted thousands of qualified contestants from all fifty states since its founding in 2010. The competition has awarded nearly $100,000 in prizes in all categories and is presented annually in many areas of the performing arts.
The American Prize will be announcing finalists later this spring. More information about this prestigious national competition can be found online at http://www.theamericanprize.org/, or follow the news on Facebook: https://www.facebook.com/pages/The-American-Prize-celebrating-American-excellence-in-the-arts/214320622728 or Twitter: https://twitter.com/americanprize.
---
Related to Featured, News, Press Releases