Student Spotlight: Piper Spaulding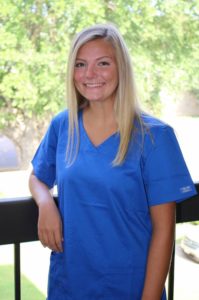 Deciding what to do and where to go in life after graduating high school can be difficult. For 20-year-old Piper Spaulding, who was born and raised in Texarkana, Texas, it only made sense to attend Texarkana College.
"My mom, Kim, is a teacher at Texas High and my dad, Brian, works at Cooper Tire and does H-VAC work. They both obtained certificates/college hours at Texarkana College," said Spaulding. "My maternal grandmother also attended TC."
Spaulding has a brother, Sawyer, who is currently serving in the Air Force and a sister, Hartley, who is an incoming senior at Texas High. They both have also taken dual credit classes.
"I finished high school with 33 college hours, so I was able to start my first year of college as a sophomore," said Spaulding. "TC dual credit classes were extremely affordable, and my parents saved a ton of money."
Experiencing college classes for the first time in a familiar setting, with teachers she already knew, gave Spaulding a peace of mind and the confidence she said she needed to succeed.
"I was comfortable and familiar with what was to be expected of me as a student at TC," said Spaulding. "The dual credit classes laid a steady foundation for my college education."
Spaulding said she knew she wanted a career that was challenging but that also made a difference in people's lives on a daily basis. That's why she chose to go into the nursing program at Texarkana College.
"In the nursing profession, you deal with many aspects of patient care, and I think I will enjoy the varied routine," she said.
Spaulding is on the fast track to achieving her goal because of the opportunity to earn dual credit at TC. It normally takes students at least two years to complete all required courses to apply for the nursing program, but she did it in one.
"I'm already going to start the ADN (Associate Degree Nursing) program, and I'm excited to be a part of it," said Spaulding. "My end goal is to become a family nurse practitioner or work as a nurse practitioner in a dermatologist's office."
When she's not studying or in the classroom, Spaulding said she stays physically and mentally healthy by spending most of her time outdoors.
"I enjoy kayaking and hiking in Arkansas," she said. "I believe a healthy mind promotes a healthy body."
---
Related to #TXsuccess, Academic Spotlight, College Wide, Featured, TC Foundation