Senior art students leave their mark
| By Bobbie J. Player and Joseph Kennedy, TC News Reporters |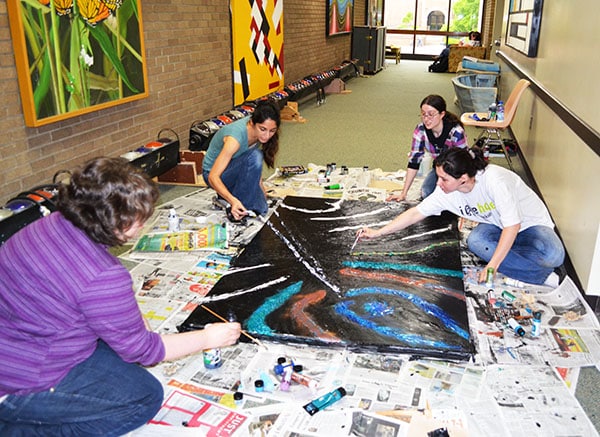 On May 2, five Texarkana College senior art students painted a canvas in the Stilwell Humanities Building, as a desired art project that they selected to do in order to leave their mark on campus.
Bushra Khan, Hannah "Dee" Trahan, Erica Smith, Amanda Harmon, and Hillary Klenk have come together to paint a giant acrylic peacock feather to brighten up the first floor of the Stilwell Humanities Building.
"It is our swan song," says Trahan. "We all wanted a large display to leave here, when I heard the idea I jumped at it."
The students began painting the canvas on May 2. In a few weeks, the painting will be hung on the first floor of the Stilwell Humanities Building.
"This is something I am going to have done every semester," says Valerie Owen, TC Art Instructor. " It teaches the students team work and allows you to see what is in someone else's head."
The piece is 4×6 feet and is an original of group minds and is semi-realistic with an impressionistic overtone.
The art students have said that this experience has helped them grow as both a person and an artist. They have laughed, cried, shared past experiences and have gained a new sense of respect for each other as well as themselves.
---
Related to Uncategorized