Immediate Emergency Notification Policy & Procedures
Upon confirmation of a significant emergency or dangerous situation involving an immediate threat to the health or safety of the Campus Community, Texarkana College authorities will, without delay, distribute an alert of notification to the Campus Community, unless issuing an alert will, in the judgment of first responders, compromise the efforts to assist victims, or contain, respond to or mitigate the emergency.
The following represents the emergency notification procedure:
Confirmation of an incident that threatens the health or safety of the College community is conducted by the Department of Public Safety and/or Facilities Department.
Activation of the emergency notification systems is authorized by the President of the College, Dean of Students, Chief Instructional Officer and/or the Executive Director of Public Safety and Police Services.
A message alerting the College community of the threat is crafted by authorities in the Department of Public Safety Office.
Notification to neighboring institutions, local businesses &/ or the media will be conducted by the Office of Public Relations or designated staff member.
Immediate notification of a threat to the health and /or safety of College members may be distributed to either a segment of the population or the entire campus community, depending on the scope of the threat. The methods of notification may include activation of the Rave Alert, email, or postings within campus buildings and/or the College website.
Students are automatically signed up upon successful completion of the academic registration process at Texarkana College. Faculty and staff are encouraged to sign up and can register for the emergency notification system by visiting Get Rave.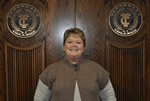 Administrative Assistant Brenda Scurlock has been employed with Texarkana College since May, 2011 after retiring from the Texarkana Texas Police Department with 19 1/2 years of service. During her tenure with TTPD, she served as a clerk-typist for 2 years in the Criminal Investigation Division and 17 1/2 years as the Patrol Division Secretary. She has 2 daughters & 1 son-in-law, 4 grandsons and 1 granddaughter. Her favorite activities are crocheting, reading and spending time with her grandchildren.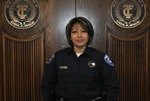 Officer Gisela Altamirano is a veteran officer that began her career with the Texarkana, Texas Police Department. Officer Altamirano attended Texarkana College earning an Associate's degree in behavioral science and subsequently a Bachelor's degree in Psychology from Texas A&M University-Texarkana. Officer Altamirano has worked in various segments of law enforcement including Patrol and Bike Patrol and was promoted to Detective within the Texarkana Police Department. Officer Altamirano specialized in crimes against persons and became the lead investigator on crimes against children and sexual assaults.
Officer Altamirano continued to broaden her law enforcement credentials as she became a Nationally Certified Hostage Negotiator. Officer Altamirano continues to assist local law enforcement agencies in hostage negotiation. Officer Altamirano joined the Texarkana College Department of Public Safety in October of 2010 and received her Master Peace Officer License. Officer Altamirano is fluent in both English and Spanish and is a certified RAD instructor.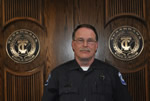 Officer Charles (Chuck) Green started at the Texarkana, Texas Police Department in September, 1985. After graduating from the police academy he was assigned to narcotics and received his training in this field from the Drug Enforcement Agency. After a year in narcotics, he went to Patrol Division where he was appointed as a Field Training Officer. In July 1998 he was promoted to Sergeant and served at that rank until his retirement in October, 2007. During his tenure at Texarkana, Texas Police Department he served in several areas; Narcotics, Patrol, Property, IT, and Narcotics again as a supervisor. He received his Master Certification as a Peace Officer while employed with Texarkana, Texas Police Department.
Officer Vick Thornburg began his law enforcement career in 1990 as a patrol officer for a local police agency.  Thornburg worked for the agency a total of 12.5 years.  Thornburg received extensive training in patrol procedures, property management, case preparation and presentation, as well as working in various segments of law enforcement.  Thornburg has worked for the Bowie County Sheriff Office, for a total of 10 years, starting as a patrol deputy.  He remained in the patrol division for a total of 4 years before taking a lateral transfer to the Criminal Investigation Division.  While in the CID, he received in-depth training in basic criminal investigations to homicide and equivocal death investigation.  Thornburg promoted to the rank of Lieutenant Investigator where he remained until his resignation.
During his tenure in law enforcement, Thornburg spent 10 years as a S.W.A.T. officer and 8 years as a field training officer. He has received his Master Certification as a Peace Officer.
Thornburg is married to Temple Jeanette Thornburg and has a son, Corey Thornburg, and a daughter, Hannah Thornburg.
MEDICAL
Bowie County Health Clinic
(903) 798-3250
Wadley Regional Medical Center
(903) 798-8000
Christus St. Michael Hospital
(903) 614-1000
Healthcore
1-800-4-INTAKE
Healthcore Crisis Line
1-800-832-1009
SERVICES
T-Line (City Bus Transportation)
(903) 794-8883
POP-A-LOCK
(903) 792-4689
Poison Control Center
1-800-222-1222
Domestic Violence Prevention Inc
(903) 794-4000
Rape Crisis Center
(903) 793-4357
Abuse Hotline
1-800-876-4808
Suicide Prevention Hotline
1-800-273-TALK (8255)
LAW ENFORCEMENT
Texarkana College Dept of Public Safety
(903) 798-3330
Texarkana College
(903) 823-3456
Texarkana Texas Police Department
(903) 798-3116
Crime Stoppers
(903) 793-STOP (7867)
Bowie County Sheriff's Office
(903) 798-3149
Texarkana Arkansas Police Department
(903) 798-3130
Miller County Sheriff's Office
(870) 774-3001
Texas Department of Public Safety
(903) 792-5835
Animal Control
(903) 798-3263