HVAC graduate takes full advantage of job security and benefits that come with the field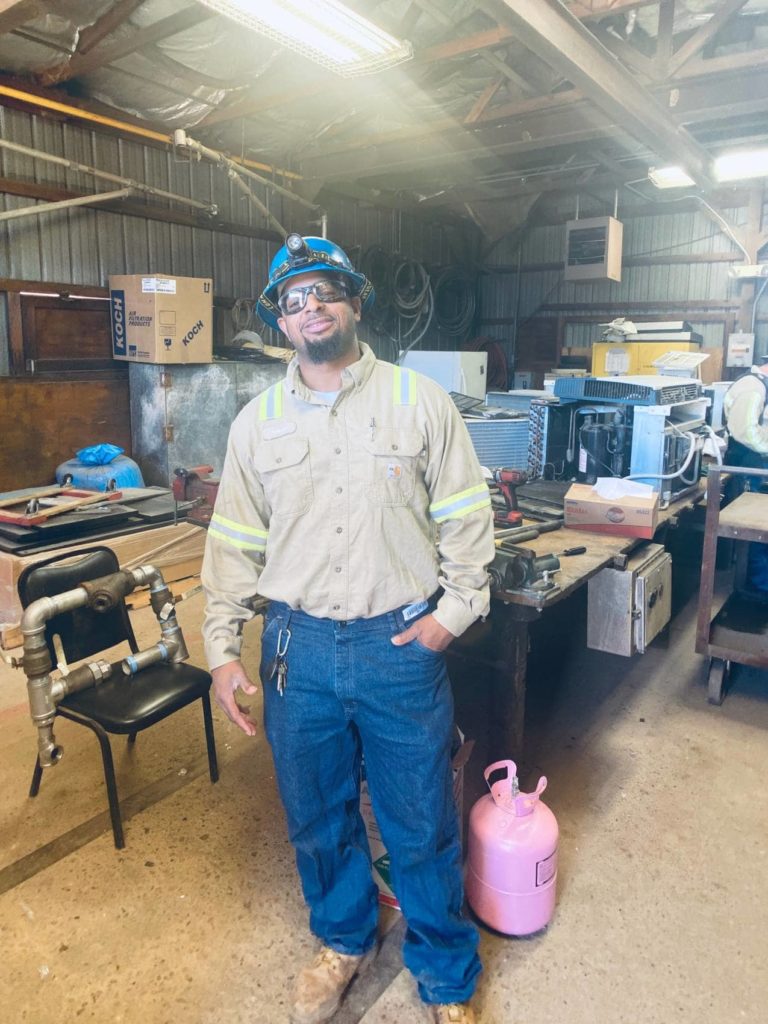 As high school students begin looking at possible jobs or programs to pursue after graduation, there are a variety of factors that play a role in their decisions. Personal skills, salary, job environment, and flexibility, among other variables, are often considered, but sometimes life can present obstacles. A person can end up doing something completely different from what they thought they would be doing. Every path is different. Every person has different circumstances.
For one particular Texarkana College graduate, his path to completion was non-traditional, but it helped him land a secure job with ample benefits to help him provide for his family.
Antwyn Falls, an Atlanta, Texas native, started at TC in 2002, weeks out of high school, in the Electrical Technology program. After attending school for a short amount of time, he decided to take a break and enter the workforce at Lone Star Steel instead.
His job at Lone Star lasted for a few years. Not long after, Lone Star had a round of layoffs, and Antwyn was one of the releases. When they offered to pay for him to go to school, Antwyn's father encouraged him to finish his education with TC, recommending he try the Air Conditioning/Heating and Refrigeration (HVAC) program. His father emphasized the increasing job demand in the HVAC industry and ability to work independently.
Antwyn, intrigued by the idea of security and flexibility, enrolled in the HVAC program with Texarkana College in 2008. He attended the program for a quarter but was then called back to work at Lone Star.
After another few years of being laid off again and doing another job, Antwyn decided to leave. It was at this point again that his father pushed for him to complete what he had started at TC.
In 2014, Antwyn returned to TC's HVAC program, where everything fell into place. Antwyn met Matt Lipps, the current TC HVAC program coordinator, and was motivated by Lipps' teaching style to stay with the program to the finish.
"Matt is a very detailed instructor," Antwyn said. "If a student was willing to put in the work, Lipps was willing to help them learn what they needed to be successful."
Antwyn described how Lipps encouraged students to take advantage of learning hands-on skills in the field, in addition to the classroom, recommending that if students ever found a licensed contractor who could help them work and learn, they should take advantage of the opportunity while submitting their progress for the program.
"Lipps always told us, 'What I'm doing is preparing you to be teachable in the world. Every person you work with is going to have a different method. Our goal here is to give you a base so that you are teachable, no matter who you are with,'" Antwyn said.
Antwyn felt very comfortable learning in this type of environment. He recognized that though the steps of learning may be the same, details would be different depending on where he worked. His instructor enabled him to learn from his mistakes in the classroom, stating, "If you are going to make some mistakes, make them in here, not out on a job site with a boss looking over your shoulder."
The positive learning environment, encouragement from his father, and completion of a one-year certificate in Air Conditioning/Heating & Refrigeration with a universal EPA certification helped Antwyn find a secure job as a Journeyman Electrician, the highest level HVAC electrician, at Graphics Packaging International in Domino, Texas.
"I'm taking care of my family, not just because of Lipps as an instructor and what he taught us in class, but how he cared about me as a person," Antwyn said. "He was both an instructor and a friend, so that was pretty cool."
Antwyn said his trade is important not just for job security, but for financial stability as well. When comparing his one-year certificate in a trade to his wife's four years in school for a bachelor's degree, Antwyn humbly noted that his job is more financially rewarding and secure than his wife's.
"A trade is an awesome thing," Antwyn said. "I know people push for going to school longer, but so many other fields are just so crowded. A job in HVAC can be so lucrative. Whether it's HVAC, construction, or plumbing, just get a trade."
Antwyn said he is enthusiastic about his future in HVAC.
"There's just so much job security, it's crazy," he said.
Based on his own experience in the field, Antwyn encouraged his nephew to enroll in TC's program a year ago. His nephew will graduate with his certificate in HVAC from Texarkana College this spring.
Regardless of the student's path or the state of the economy, trades like Air Conditioning/Heating & Refrigeration will always be a necessity, and Antwyn Falls has made the most of his training in this secure trade.
Learn more about Texarkana College's Air Conditioning/Heating & Refrigeration (HVAC) program.
---
Related to Alumni, College Wide, Featured, News