Bill Moran School of Bladesmithing Moves to Texarkana College's Main Campus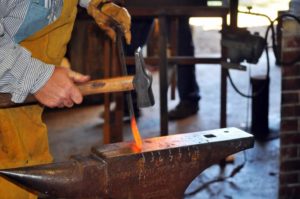 The world's first recognized school of bladesmithing, Texarkana College's Bill Moran School of Bladesmithing, will have a new home beginning July 1, 2019. With support from the American Bladesmith Society (ABS), Texarkana College will move the school to the main college campus in Texarkana located in Bowie County, Texas.
Established in 1988 by TC officials and founding ABS members, TC's Bill Moran School of Bladesmithing has operated in Washington, Arkansas since its inception. Texarkana College President Dr. Jason Smith said the move to TC's main campus will allow the Bill Moran School of Bladesmithing to offer more modern amenities while preserving the school's rich history and proven instructional methods. The Bill Moran School of Bladesmithing will begin offering courses in its new location beginning fall 2019.
"This school is the real deal when it comes to bladesmithing," Smith said. "The curriculum is endorsed by the ABS—the leading authority on knives and blades—and the craft draws people who are looking to make their own knives, either as a hobby or to enhance their own profession. We're excited about the move to TC's main campus because it provides students with greater access to transportation, including an airport, and more options for lodging and dining."
The school is named in honor of Bill Moran, who is known as the father of modern Damascus steel and is credited with reviving the ancient art of bladesmithing. Moran taught the first classes at the Bill Moran School of Bladesmithing and often said taking the two-week introductory course would knock five years off of a beginner bladesmith's learning curve.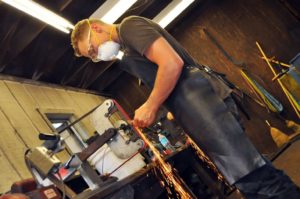 Smith said public interest in bladesmithing has increased recently, partially due to the popular television show Forged in Fire (History Channel, A&E TV Networks, LLC), along with social media outlets and online forums that perpetuate interest among bladesmithing enthusiasts. He said it is common to visit a class and meet people from all corners of the earth who have heard about the Bill Moran School of Bladesmithing and its outstanding instructors.
"People from all across the world, and from all different backgrounds, come here to learn the ancient art of bladesmithing," Smith said. "We've had surgeons from other countries, chefs from Europe, those wanting to design specialized knives for their profession, or those who have a love for the craft—they all want to come to the Bill Moran School to learn from the best. Because our courses are taught by ABS-sanctioned master bladesmiths, the school has the highest reputation for instruction and results."
Smith said bladesmithing courses can last from several days to two weeks at a time depending on the subject matter.
"Course options include introduction to bladesmithing, advanced work in Damascus steel, and handles and guards, among others," Smith said. "There's a course for every level of student, and you can go as far as you like by learning the skills you need to go through the American Bladesmith Society's process of becoming a Journeyman or Master Bladesmith."
For more information, please visit Texarkana College's website at www.texarkanacollege.edu/bladesmithing.
###
---
Related to Bill Moran School of Bladesmithing, College Wide, Community, Featured, News, Press Releases
Tagged with School of Bladesmithing