Alumni of the Month: Mike Beck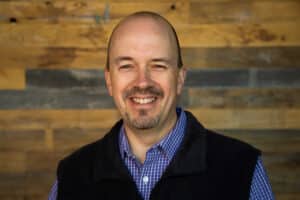 Meet Mike Beck, a Texarkana native who has truly embodied the spirit of service and faith. If you've ever stepped into the First Baptist Church Texarkana, chances are you've met Mike, who serves as the Missions and Senior Adult Pastor. His journey to this role has been a colorful and inspiring one, with Texarkana College playing a significant part.
Mike's journey with TC started way back when he was just 16. Imagine a young Mike setting up chairs, jumping into the nitty-gritty of church operations, and interning in the Student Ministry department – that was his introduction to the First Baptist Church Texarkana. It was a humble beginning that would lay the groundwork for his future.
After graduating from Texas High, Mike took a leap and enrolled at TC in 1987. He reminisces about those years with gratitude, saying, "TC helped me during those transition years while I figured out what I could afford and what I wanted to do. The Lord was still working on me. TC was local and somewhere I could afford to go, without going off to a 4-year university, since I wasn't sure what I wanted to do with my life." Those years were about self-discovery, about exploring where life might take him.
While a student at TC and interning at First Baptist Church Texarkana's Student Ministry, something profound happened, Mike felt a calling toward full-time student ministry. Armed with newfound purpose, he moved on from TC to Ouachita Baptist University, where he graduated in 1992 with a bachelor's degree in Christian Studies.
His journey didn't stop there. He pursued a master's degree in religious education from Southwestern Baptist Theological Seminary in Fort Worth. Over the next 15 years, he would go on to serve in churches across Texas and Arkansas, investing in the lives of countless young people.
In 1998, he returned to his roots at First Baptist Church Texarkana as their student pastor. Soon after, he married Jennifer, and together they embarked on an extraordinary adventure, serving as missionaries in Lisbon, Portugal. Mike was church planting, and Jennifer was teaching English. His engagement in sports ministry, specifically teaching American football, underscored his commitment to connecting with people through various avenues.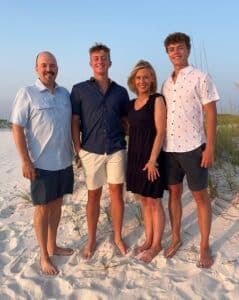 Their path eventually led them back to Texarkana to raise their two sons, Brooks and Landon. Here's where TC re-enters the story, but this time, it's for the next generation. Both Brooks and Landon got a head start on their college education as dual credit students at TC while still in high school. It was a decision Mike is proud of, as he says, "TC is a great place to start working on your education while you figure out what you want. It takes away the pressure to have it all figured out and it takes away the financial burden of a 4-year university." Both boys completed 20-30 credit hours while still in high school.
Mike's journey from a young intern setting up chairs to a devoted pastor and missionary is a testament to the power of faith, growth, and community. His story reminds us that education is a journey, and sometimes, taking that first step at a place like TC can set you on a path beyond what you could have imagined.
---
Related to TC Foundation
Tagged with Alumni of the Month, Nursing