Alumni of the Month: Krystal Lawrence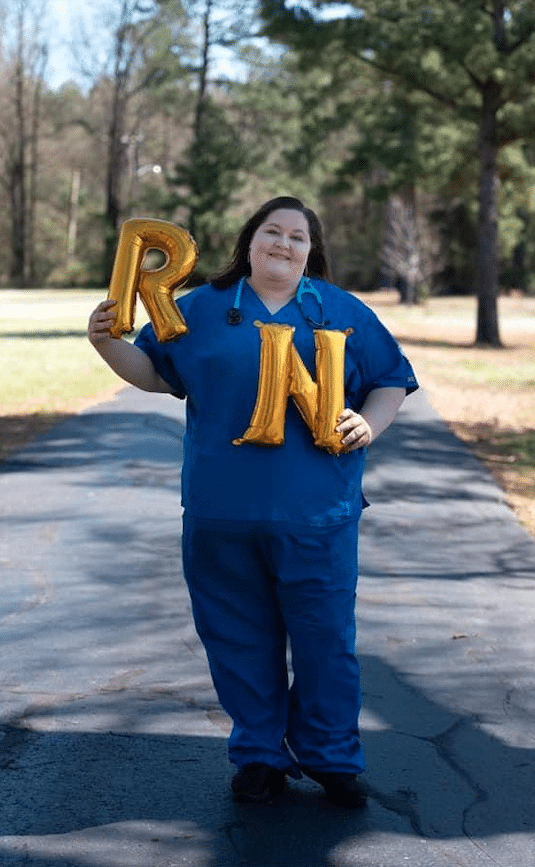 Flashback to 2014. Krystal Lawrence was having dinner at an assisted living facility in Atlanta, TX, where she worked as a medication aide. "My supervisor and I were eating in the dining hall, and she brought up that I should consider going to nursing school," Krystal said. "I laughed and told her I didn't even have my GED and she simply said, 'well go get one.'" It was at this moment that Krystal started to believe that maybe she could go back to school.
Ten years prior to this moment, Krystal had dropped out of high school. "I had a lot of regret about dropping out and self-doubt about enrolling in a GED program, but my husband and son motivated me to create a better life for our family." Krystal channeled this motivation and in 2015, she enrolled in the TC Adult Education GED program and following receiving her GED, she enrolled at TC to take the basics for the nursing program.
Krystal said her experience at TC was nothing short of amazing. "I had the best experience at Texarkana College. Everyone was so helpful and wanted me to succeed. The small class sizes made everything more personal, and if I needed help, the TC library had wonderful resources and tutoring. The culture at TC is commit to complete." Krystal was awarded four scholarships during her time at TC (the faculty association scholarship three years in a row and a nursing scholarship).
Krystal graduated in 2019 with an associate degree in nursing. "My husband, Jason, and I actually graduated from TC together, he received his HVAC certification. I was very proud that our 12-year-old son, Jayden, got to watch both of us graduate at the same time."
Krystal's advice to anyone who wants to go to college is to start. "It doesn't matter how long it's been; you just have to go for what you want to do and pursue your dreams. When you get going and you find that momentum, you feel unstoppable. You find a good spot and realize I can do this; I am enough, I can accomplish everything I want. You just have to START. Fear is a lie. You have to push past that initial fear and go for it."
After graduation, Krystal started working as a nurse in the ICU at St. Michael's. She was first trained to recover post-op open-heart patients in the cardiovascular ICU. Six to seven months in, COVID hit. "It was a crazy time, and there was so much uncertainty and fear. I learned a lot through that experience and believe that it helped me become a better nurse."
Krystal recently joined Dierksen Hospice on the Arkansas side and loves working in the field of hospice. "I believe that this is what I was put on this earth to do. My time in the ICU prepared me for this role, and I recently became the admission nurse at Dierksen." Krystal believes that there is so much good hospice does for their patients and their families.
Krystal's grandparents (James and Bunny), Jason, and Jayden were her biggest supporters throughout her journey. "My grandparents are my biggest support, aside from my husband and son. They helped me when I was going through school. My grandma told me when I was a little girl, 'God don't make no junk. He puts you here for a purpose, and you are going to find that purpose.' I found that purpose."
Krystal was also fortunate to meet a lifelong friend in nursing school, Ginger, and their children are best friends. Krystal wants to get her bachelor's degree and eventually her master's in nursing education. She is finding her way with work and family balance and is excited about what the future holds.
Krystal's story is a testament to the power of perseverance and determination. She overcame self-doubt and fear to pursue her dreams and create a better life for herself and her family. Krystal is now making a difference in the world of nursing, and her story is an inspiration to all who strive to achieve their goals. Her message is clear: Start, push past your fears, and go for it.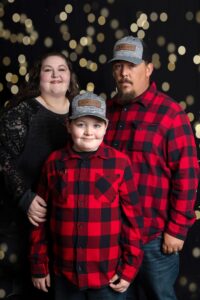 ---
Related to TC Foundation
Tagged with Alumni of the Month, Nursing