Alumni of the Month: Dylan Brackeen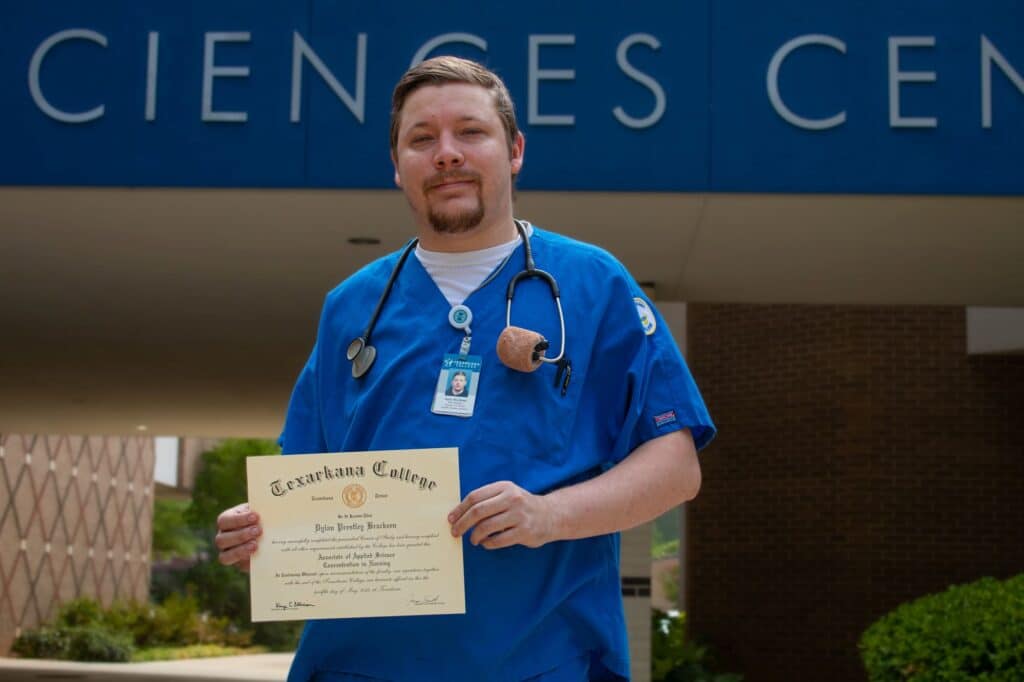 "My degree is a whole different future for me. I have never made a decent wage. Nursing is something I always knew I wanted to do but didn't think was possible. I love medicine, and I love helping people. It has given me a new life. I am currently working at Christus St. Michael's on the Cardiac Floor in PCU. It is exactly where I am meant to be.
My journey at Texarkana College has been different than most. I have enrolled three times at TC, searching for the right career path and taking core courses. My grandma is the one who inspired me to pursue nursing. She was an LVN and worked in a nursing home. Growing up I was always with her, and I remember being very interested in anything she did at work.
When I was accepted into the TC nursing program, I was working full-time, 40-50 hours a week. Finances were a burden, and I was under a lot of stress. My lack of transportation combined with the pandemic made me miss too much school, and I had to drop out two months before graduation.
From the moment I dropped out of the nursing program, my instructors continued to go out of their way to make sure I knew they believed in me. They reached out to me and encouraged me to keep going and to re-enroll. They went above and beyond to help me succeed. The minute I came back, TC faculty and staff made sure I was set for success. I swear they have magical powers or something. They helped me finally believe in myself and that I could do it.
The support and belief TC instructors have for their students is something I have not seen anywhere else. The way the nursing instructors teach you and the way they line up the classes makes you over-prepared to take the National Council Licensure Examination (NCLEX). The pass rate is high at TC for that reason. The NCLEX was the most nerve-racking test I've ever taken. When I found out I passed, it finally hit me that I achieved a huge goal of mine.
I am so glad that I didn't go to a bigger college. The support of Mrs. Shoalmire, Mrs. Duke, Mrs. Colquitt, and all the people I interacted at TC showed complete confidence in the students. At times when I was going into a test thinking I couldn't do it, 12 people were telling me I could. I have attended other higher-ed institutions and there is just something different about TC. I never believed in myself until they told me I could."
---
Related to TC Foundation
Tagged with Alumni of the Month