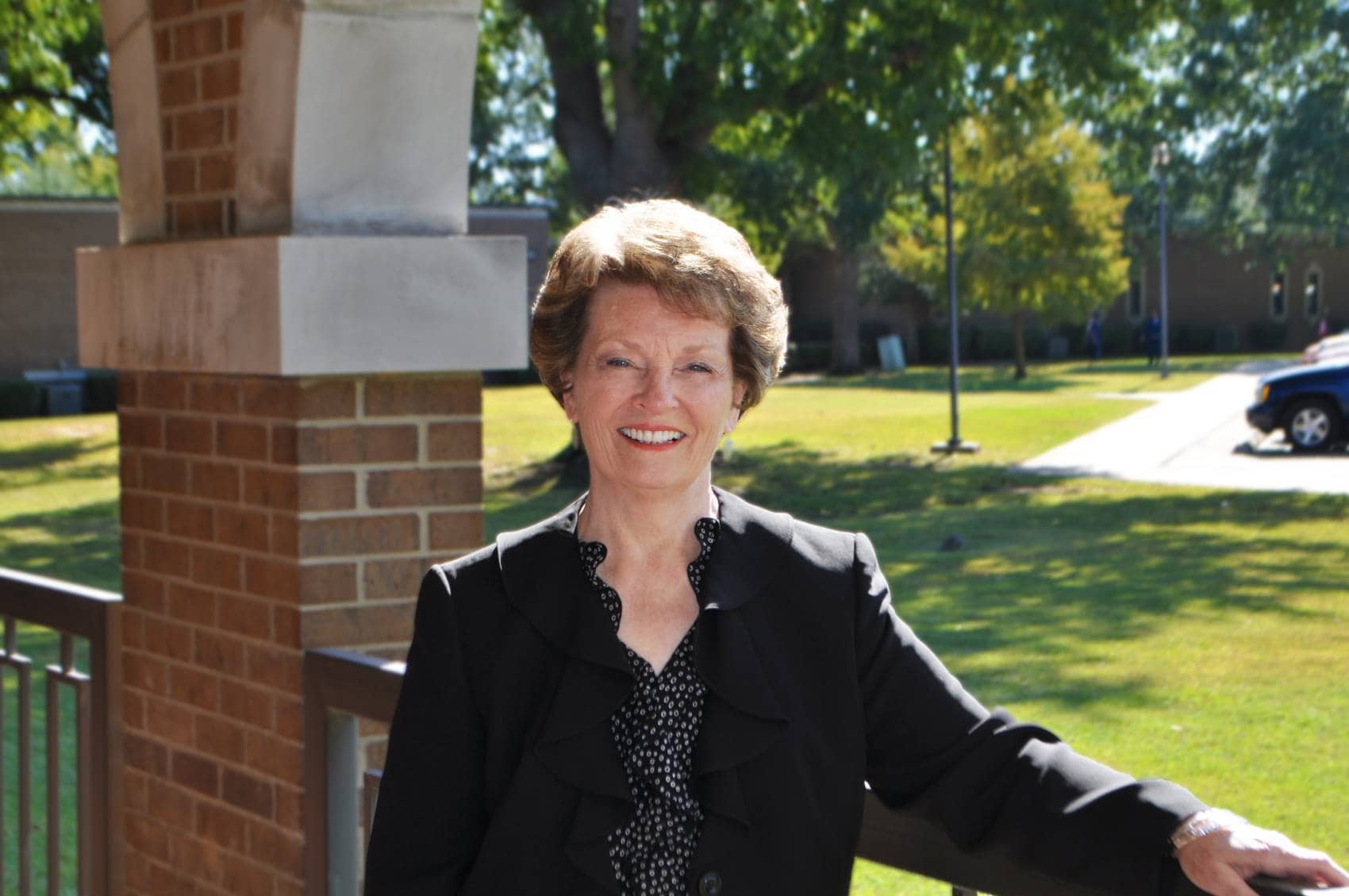 Beverly J. Rowe, PhD, was named the 2019 Texarkana College Endowed Chair for Teaching Excellence, the college's highest faculty honor voted on by peers. When asked about her success, Rowe credits Texarkana College in helping her start over with her education.
"At age 45, I needed a new lease on life," Rowe said. "I started college when I was right out of high school but dropped out without finishing a degree. At that time, I thought I was interested in nursing or a career in a medical field, but it just was not for me."
Without a focus, Rowe began working at jobs with little or no benefits and became discouraged about her future. Rowe said her decision to return to school as a middle-aged woman took courage she didn't know she had until she took her first steps toward starting over.
"When I finally took the leap to register for classes again, I learned I had been on scholastic probation for 27 years!" said Rowe. "I started completely over and pursued my passion for history and teaching."
Rowe, now a tenured professor at TC, earned her PhD. in American History in 1999 from the University of North Texas after earning her master's and bachelor's degree from East Texas State University at Texarkana (now Texas A&M University-Texarkana). To help her start the process over, Rowe first took classes at TC to get back in the swing of studying and to level up courses she needed to retake from years past.
"Starting over was hard, but I believe fate knows where you ought to be," said Rowe. "I feel that I am exactly where I need to be now in my life- I am supposed to be teaching."
Rowe has been a full-time faculty member at Texarkana College for 22 years teaching courses in history, sociology, and anthropology. Since earning her doctorate, Rowe adopted Texarkana USA as a field of historical study and has published several books on the topic including Once Upon a Time in Texarkana (2005), and Twice Upon A Time in Texarkana (2006), and Historic Texarkana: An Illustrated History (2009), among others. The information in the books have become resources for scholars, journalists and historians and are regularly quoted in other published articles and books throughout Texas and Arkansas. In her classroom, Rowe shares her knowledge of collecting and curating information for research and publication and involves students in the process.
"In many ways, I teach by example," Rowe said. "I am not a person who gives back only within the walls of TC, my students realize that I also teach my professionalism through community board participation, development of historic resources for the community, and professional consultation on community projects. I want my students to know they can 'pay it forward' in the same manner with their knowledge and skills."
As an educator, Rowe serves on the prestigious Texas Higher Education Coordinating Board's Field of Study Committee on History. She is one of nine members of the committee made up of university and college representatives from across the state.
"As a committee member, I am able to give my opinion on what history courses should be part of the degree curriculum for college students pursuing degrees in many fields," said Rowe. "History is part of core requirements for most degrees and it is important as a foundation for building professional skills."
Rowe invests in continuous improvement of her knowledge of the history and culture of world civilizations by coordinating and leading trips for students and the public to destinations abroad. Past trips have included England, Peru, Italy, Cuba, Scotland, Ireland, Costa Rica, Spain and Portugal. Future trips beginning in 2020 are planned for Scandinavia-Russia, Germany, Iceland, Egypt, New Zealand, and Australia.
"It is very important for TC students to be knowledgeable about global affairs and to see America as one of many countries around the world," said Rowe. "It is also important for them to know that their careers might take them overseas. They must be trained with a global world view!"
Although having a global mindset is a priority to Rowe, preserving and restoring her home base of Texarkana is equally as important to her. In 2005, Rowe bought 2 two-story buildings in downtown Texarkana with the vision to help restore the district to its Railroad Days Era. Rowe said she began work to create a townhouse in one of the buildings where she and her husband would live. Rowe also collaborated with the Texarkana Museum System, local railroad enthusiasts, and interested citizens to create the Lindsey Railroad Museum and the Old Town Museum in downtown Texarkana. Rowe's work has earned her great recognition including being honored in 2015 with the Preserve Arkansas "Award for Outstanding Achievement in Preservation Education for and Individual," and three separate awards from the local chapter of the Daughters of the American Revolution. As a result of these awards, two of her books were added to the National Daughters of the Revolution Library in Washington, D.C.
"When I received each of these honors, I brought the pictures, awards, and medals into my classroom to show my students that they could make a huge impact in any area without leaving home," said Rowe. "I believe it is important for our students to see faculty members being recognized for their contributions."
The honor of being named the recipient of the Texarkana College Endowed Chair for Teaching Excellence reflects Rowe's dedication to her courageous leap to achieve her dreams of earning a higher education credential and then mentoring her students to do the same. Dr. Dixon Boyles, TC's Dean of Business and Social Science, said Rowe's accomplishments as a professional educator and scholar cannot be overstated.
"Dr. Beverly Rowe demonstrates excellence in all she attempts," said Boyles. "She is a dedicated professor of history at TC where she continuously inspires students to fulfill their potential, she is a respected scholar within her field, and she is an incomparable ambassador for TC who goes far beyond her required job duties to promote its mission and purpose within the community. I can think of no person more deserving of the Endowed Chair for Teaching Excellence award."