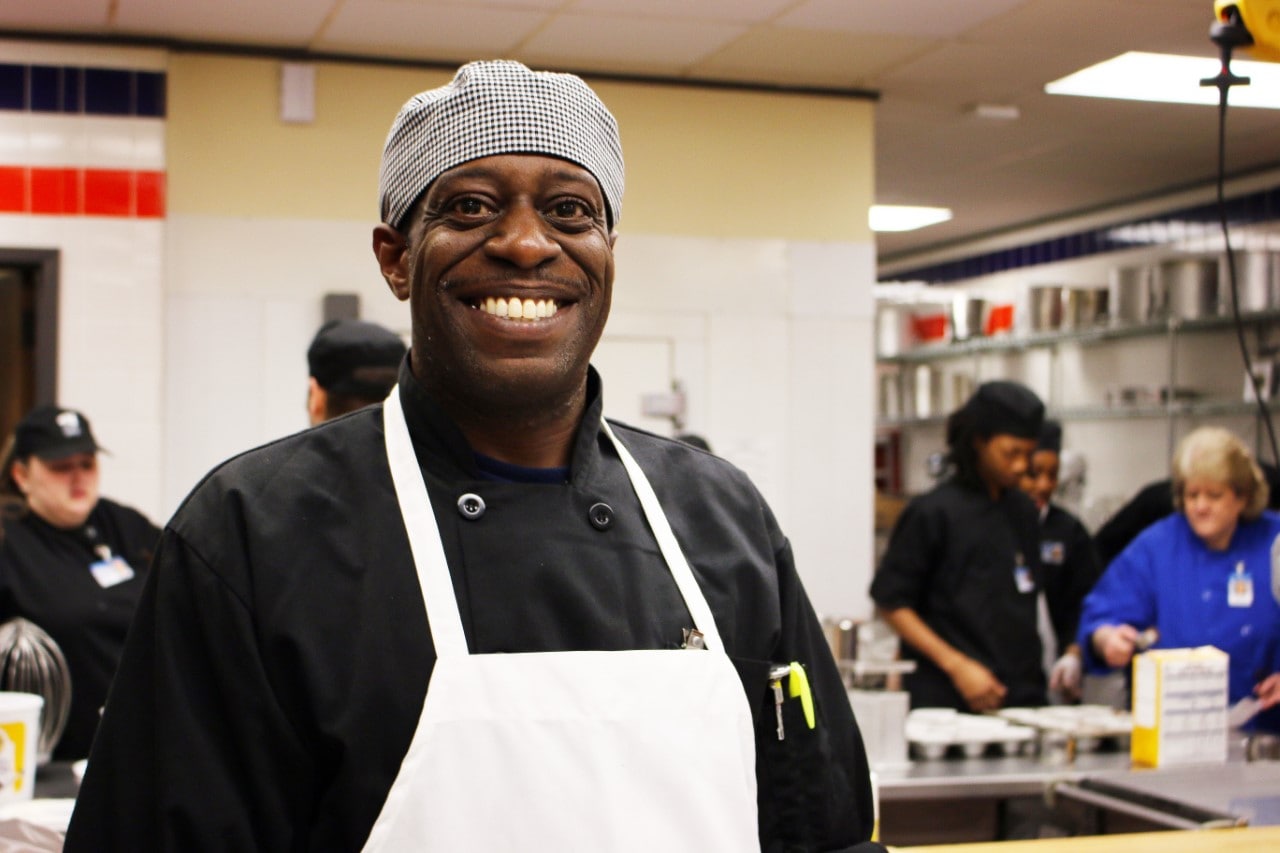 The Texarkana College Culinary Arts program has a tried and true history of taking raw talent and making seasoned professionals. In fact, more than 70-percent of TC's culinary arts graduates go into careers right out of the program.
For one student, in particular, the opportunity he has to achieve his dreams is right at his fingertips.
"I would love to cook on cruise ships because I want to see the world, but I really want to have my own restaurant and open a homeless shelter so I can feed them free food, gourmet style," said TC Culinary Arts student Juan Riley.
His passion to help others comes from his own life experiences. Riley is currently homeless and has been for most of his life. He is from Nashville, Tennessee but grew up in LaGrange, Georgia.
"When my brother, and sister and I were ages three, four, and five, my mother and dad couldn't take care of us, so they were going to put us up for adoption," Riley said. "My aunt in Georgia didn't want us to be split up so she took us in."
Riley ended up going to high school in Nashville, and there he met some friends who decided to throw a couple of darts at a map to determine where they would go next. One landed on Cincinnati, Ohio and the other, Jacksonville, Florida.
"The first place we went was Cincinnati and that's where I met my wife," Riley said. "We got married and found out our fifth year of marriage she couldn't have kids, but we continued to stay together."
Riley and his wife were married 18 years. Just three years ago, she passed away suddenly in her sleep.
"After my wife died, I got on drugs and alcohol really bad," he explained. "I always knew it was just an antidote to cover up the pain. I couldn't stay in our house because she was everywhere, she decorated and her smell. I ended up getting closer to God through all of it and I realized I had to go through this pain to take a look at my life. She loved me very much and I know she would want me to do the right thing."
Riley said he was at a gas station in Georgia when he met a man who was moving to Broken Bow, Oklahoma and offered to let him help with the move. Once he finished there, he said he Googled the nearest homeless shelter. That's how he ended up in Texarkana, Texas.
"I've always wanted to go to culinary arts school. When I was a teenager, I loved to cook," Riley said. "I just love everything about this school. Chef (Sheila Lynn) is just the bomb. She is a great teacher. I'm growing and learning every day. It has given me joy, peace, and strength to move on further."
Riley explained his childhood was busy and they were on the road most of the time, so his lifestyle is a pattern of that. While he finds it difficult to sit still, he said this experience at TC is teaching him to take life a little slower.
"I thank God I'm here because I've never had a lot of patience," he said. "I catch the city bus every day and sometimes I would get tired of waiting and I would just start walking. Here, I have to have patience with the other students, I have to have patience with Chef, and let's be honest, you can't rush good food."
Despite his grief and setbacks along the way, Riley said he is determined as ever to make his dreams a reality. He ended up reconnecting with his parents later in life and credits all of his family members for helping him keep a positive outlook on life.
"Eventually, I want to save up my money and get my own restaurant or food truck," he said. "I want to be able to hire people and help them live their lives a little easier, without worrying about food, clothing, and shelter. Those are my passions."
Next week, Riley will travel to Houston with Chef Lynn to attend the Texas Community College Teachers Association (TCCTA) General Session. He is a finalist for a $1,000 scholarship as a Burnside Scholar, which is named after Charles Burnside, the first Chief Executive Officer of TCCTA.