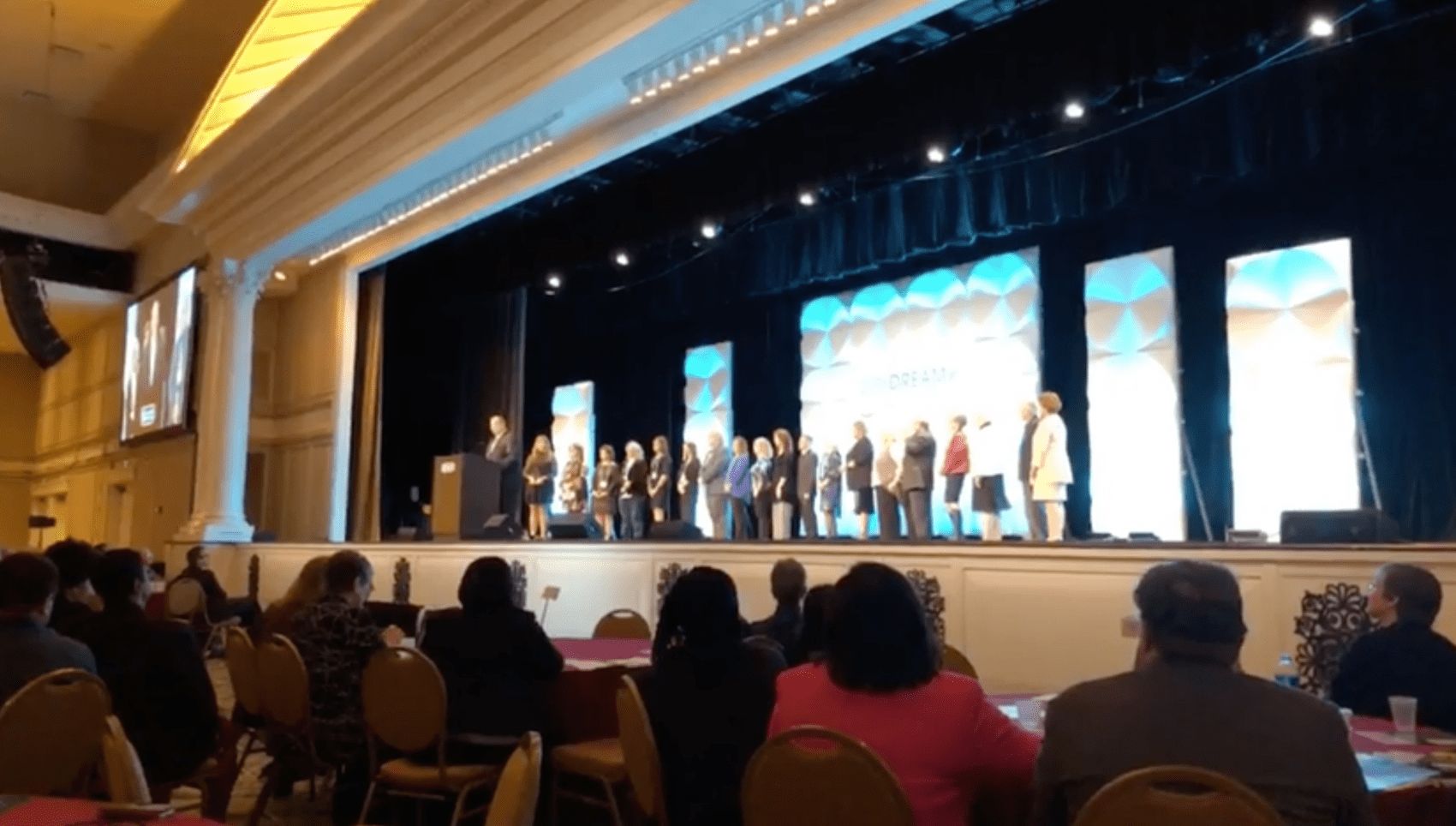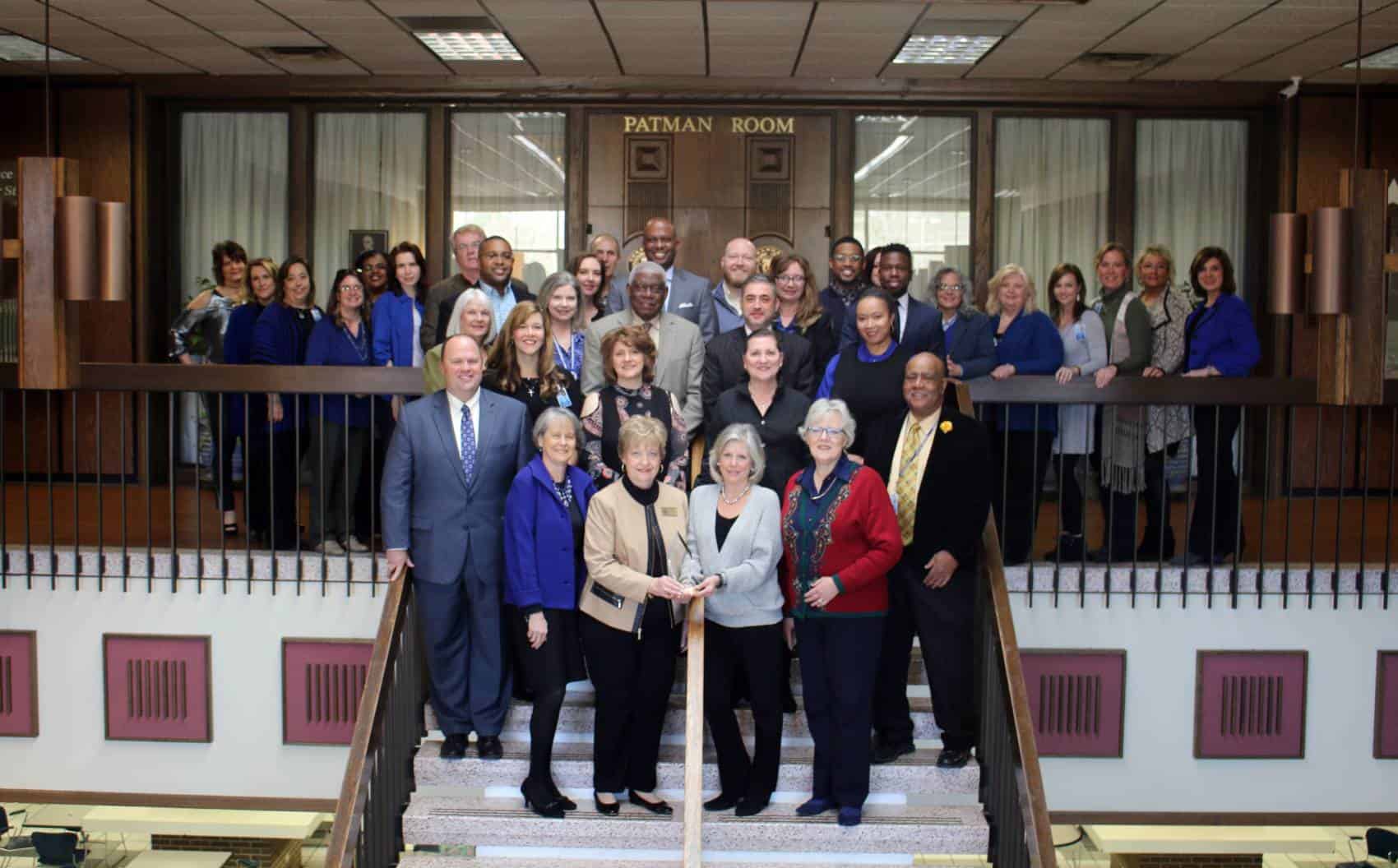 Rising from the brink of closure in 2011 to having the top graduation rate in the state of Texas in 2017, Texarkana College has made sweeping systemic changes to improve student success and completion that has earned the college a prestigious award among top community colleges nationwide. Texarkana College announced today that they are the winner of the national 2018 Achieving the Dream Leah Meyer Austin Award, the highest honor awarded to community colleges recognizing outstanding transformational change leading to greater student success and completion. The award was presented to college representatives at the annual conference of Achieving the Dream in Nashville, Tennessee. Along with this prestigious recognition, TC will receive $25,000 to support ongoing student success work. TC shared the honor with Odessa College.
Celebrating its 90th anniversary, Texarkana College ranks number one in the state among community colleges for student completion rates—an area that has seen exponential growth over the last six years.  TC President James Henry Russell attributes TC's culture of student success to widespread stakeholder buy-in on college reform efforts led by Achieving the Dream success coaches.
"In 2011, TC was at a critical turning point in its history and had to face hard decisions that would determine the future of the college," Russell said. "Our affiliation with Achieving the Dream helped us align our strategies with best practices from successful colleges nationwide and devise a plan to help us turn the corner toward recovery."
During one of the darkest times in the history of the college, TC faced significant struggles that included stagnant graduation rates, equity gaps in student success measures, and grave concerns about declines in state and local funding. In addition, the college needed realignment of technology and human resources to drive recovery efforts. All these factors led to a "perfect storm" and the threat of closure.
However, during this time of crisis, TC regained positive momentum through their new affiliation with the Achieving the Dream network.  Russell believes the support they received through their partnership helped TC navigate the tough times.
"One of the benefits of being selected as a member institution in the Achieving the Dream network is that your college is assigned two success coaches who are veterans in the field of higher education," Russell said. "Our coaches helped us learn how to look at critical data to evaluate student success and identify existing gaps. They gave us the tools we needed to boost our confidence that we could turn this place around and achieve great results for our students."
Together, TC faculty and staff along with the Achieving the Dream coaches began to implement new programs and processes based on evidence of need they found by studying data. The plan included redesigning developmental education courses to help students quickly advance to college-level courses thereby maximizing their financial aid, instituting a new student success course to help students discover how best to learn, and providing faculty with professional development on active and cooperative learning techniques to help increase students' critical thinking skills. Faculty advising was also instituted as part of the plan, along with the implementation of an early alert system that provided critical data to help monitor student success.
"The strides we've made toward increased student success and completion rates have been monumental," said Russell. "We have tripled our growth in first-time, full-time student completion rates since 2008, and we have six times as many African American graduates today as we did in 2008. We are so proud to receive the prestigious Leah Meyer Austin Award at today's annual Achieving the Dream Conference and are so grateful for the support our coaches have shown to our faculty and staff."
Along with strategies to help students reach their goals, Russell said the TC Board of Trustees took bold action as well by lending their strong names and credibility to the future of the college.
"The TC Board of Trustees has shown solid leadership since the first day I arrived on campus and has allowed us to make very tough decisions for transformational change," said Russell. "Their unyielding vision of excellence for the college set the stage for our success."
In 2012, the college's financial shortfall was severe—the college was losing hundreds of thousands of dollars each month. The TC Board of Trustees came forward to help by making the historical decision to undergo a tax annexation election and asking all of Bowie County citizens to vote in favor of joining the college's taxing district. The results were a win for the college and the residents alike, providing TC with a sustained revenue source and reduced in-district tuition rates for students residing in Bowie County. In addition, community organizations, alumni and friends of the college also provided generous one-time donations to help stabilize the institution.
Texarkana College's Vice President of Instruction, Dr. Donna McDaniel, said TC had to tackle a great number of reforms all at once to stay afloat, but faculty rallied up in support of the bold transformative changes.
"We took big swings and made sure that every decision we made was tied back to student success and completion," said McDaniel. "Even though during the course of the transformation it felt like the college had lots of balls in the air, we just kept pushing forward and studying our data trends. Trying to get all the problems fixed at once was a challenge, but we decided to go really big, and it has paid off for our students. We couldn't have done it without our amazing faculty who have gone above and beyond to care about our students and ensure their success. When asked what is the best thing about TC, our students unanimously respond- 'It's the faculty!'"
2016 TC graduate Sean Daniel, who was a student during the rebuilding years, said the most impressive part of his experience at Texarkana College was how smoothly everything went for him as a student – from start to finish.
"Communication is the big thing at TC—it's part of the culture," Daniels said. "When I was at TC, I felt like every person who worked there really wanted me to succeed. Last year, I graduated with my associate degree, and I'm now working toward my bachelor's degree at a university. TC gave me a solid foundation and the momentum I needed to achieve my dream of becoming a high school history teacher."
###
Achieving the Dream (ATD) leads a growing network of more than 220 community colleges committed to helping their students, particularly low-income students and students of color, achieve their goals for academic success, personal growth, and economic opportunity. ATD is making progress in closing academic achievement gaps and accelerating student success through a unique change process that builds each college's institutional capacities in seven essential areas. ATD, along with more than 100 experienced coaches and advisors, works closely with Network colleges in 40 states and the District of Columbia to reach more than 4 million community college students.