TC Celebrates National Nurses Week
In 1993, the American Nurses Association declared May 6-12 as the national week to celebrate the importance of the nursing profession. National Nurses Week is a time for everyone—individuals, employers, other health care professionals, community leaders, and nurses—to recognize the vast contributions and positive impact of America's four million registered nurses. Each year, the celebration ends on May 12, Florence Nightingale's birthday.
National Nurses Week is especially important to Texarkana College, which is home to the oldest accredited Associate Degree Nursing program in the state of Texas. TC's ADN program graduated its first class of registered nurses in 1962.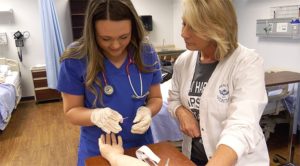 Registered nurses are the most trusted of healthcare professionals and are in high demand—that demand is projected to grow by 16% over the next decade. In the past five years, TC has graduated more than 470 ADN nursing students.
Many graduates who have chosen to pursue a nursing career cite personal experiences as their ultimate inspiration to enter the field.
"When I was five years old, I was diagnosed with Type 1 Diabetes, and that has shaped me into who I am today," said TC nursing student and soon-to-be graduate Kelsi Allen. "It has given me a sense of compassion for others and is the reason I've pushed this hard to get this degree."
Allen said the most difficult part about living with diabetes is balancing the everyday highs and lows.
"It's really hard to be your pancreas 24-7," she said. "There are always those nights where you are sweating and your blood sugar is low, so you can't sleep. There's also a fear of complications later on in life that you can't really control on your own."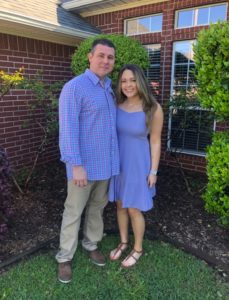 Despite those struggles, Allen said she has chosen to take hold of the strength living with health issues has developed within her. She is following in the footsteps of her father, a registered nurse who would often tell her stories about how his patients made an impact on his life.
"When I was in middle school, he went back to college to get his master's, and now he's a nurse practitioner," Allen said. "He worked really hard for us, and I've always looked up to him."
After graduating from Texas High, Allen moved away from Texarkana and enrolled at a four-year university with the intent of going through its nursing program. However, after she completed all of her basics, she did not get into the university's highly competitive nursing program after applying twice.
"I finally applied to TC and got in at the very last minute," Allen said. "I decided to go ahead and move back home, and I think that is the best thing that could've ever happened to me. I've met so many amazing people, and my instructors have been incredible. They all care so much about every single one of us, and you don't get that everywhere else."
Allen is one of 89 nursing students graduating from the ADN program this spring. She starts her dream career at CHRISTUS St. Michael Intensive Care Unit this summer.
"I'm super excited to be able to pour into people like many nurses that have poured into me throughout the years," said Allen. "If I become the nurse I think I'm going to be, it's because I started my nursing career at TC."
---
Related to #TXsuccess, Campus Life, College Wide, Community, Featured