Financial Aid & Business Office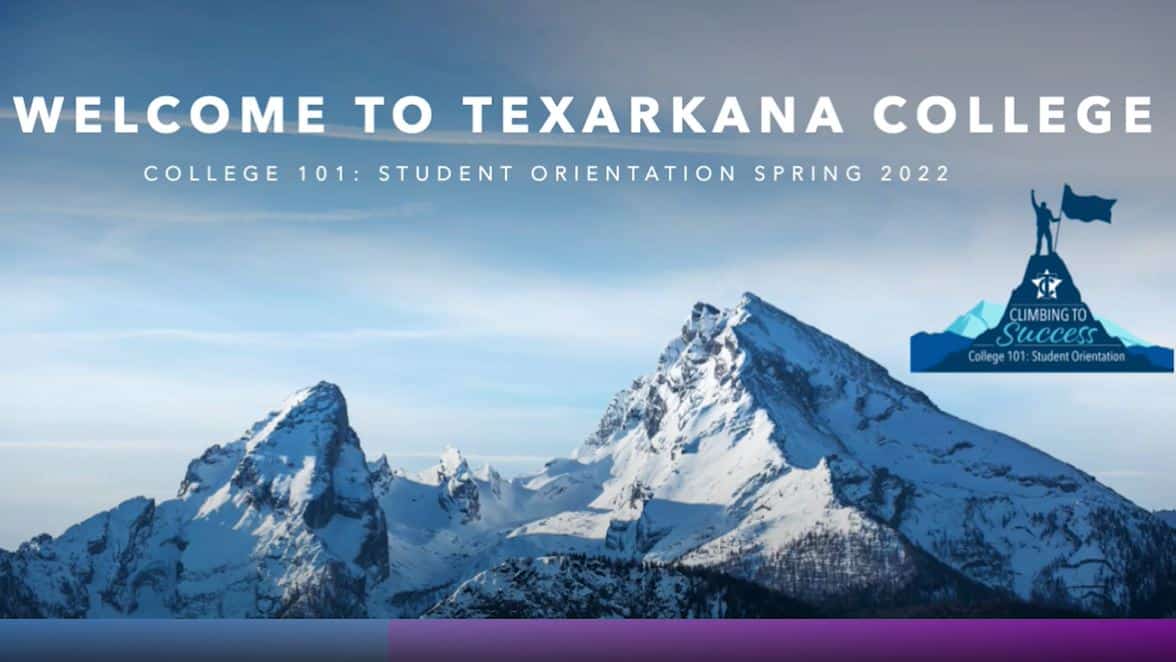 watch
Follow along as Pam Jefferson and Becky Fant provide contact information for the Financial Aid and Business Offices.
Hi, I'm Becky Fant with Texarkana College Financial aid office. We're going to visit with you a little bit about our financial aid and how that is impact you here at Texarkana College.
We are here Monday through Friday. We're on eight to five and eight to four schedule. Please know that you can always reach us and you can give us a call at 903-823-3267.
So to begin with, you're going to need to complete a FAFSA so you can go to the FAFSA Gov website and it is going to prompt you to create a student ID. If you've not done so before and you need to keep that in a safe place because you will need that again, just let you know that you're going to use the verification and sometimes about 50% of our students get selected, and so that means that you or the person next to you are going to be required to do some verification documents on your FAFSA.
It is always going to be in the future academic year, so depending on what time you're coming into the school process, you'll know which aid year you need to apply for. And it's also going to use what we call prior prior or two previous years tax returns. We also want to remind you that financial aid runs August to August, which is somewhat confusing. It is not an actual calendar year. It actually runs August to the next August, and if you have any requirements we are going to send that to your e-mail that you use when you create your FAFSA and one of the main things about that is that if you receive an award, you will need to accept your terms and conditions and accept your award.
OK, so how does Pell work? So with the Pell Grant that's the federal Pell Grant. A grant is something that you do not have to pay back. And when you are awarded Pell it awards based on a full time student status. So that's going to be 12 plus hours. Makes you full time and then it's going to prorate it. Depending on the number of hours that you're enrolled in. So if you're you know, going halftime taking six hours it will change the award to a halftime award. And we like to use the example that on our workforce students usually that go during the day. Those students are usually full time and then if they go at night then they are 1/2 time. And also a pale pays, fall, spring and summer. Now it is year round and so it will use the based on the number of hours that you're enrolled in is how your award is done and you can receive Pell each semester here at Texarkana College if you're eligible. One of the things that is impacted that impact Chappell is the satisfactory academic progress. What that means is you have to maintain a two point O cumulative GPA. Your completion rate. Needs to be at least the 67%. What does that mean? That means if something happens and you have to drop a class, it does allow for life happening and you can go down to at least a 67% and not be on bad academic progress. We also have maximum time frame here at Texarkana College and this is going to impact you if you change majors a couple of times. Or perhaps you get a certificate and then you change to another certificate. It's going to move your hours. Yeah. We do have several scholarships here at Texarkana College. You would need to go out to our website for Texarkana College and search for our scholarships. There is a platform now that we have that will launch you over to begin the application process and it will as you complete the application it will review and then once you're completed I'll tell you what you actually qualify for. Alright, well now Miss Pam from the business. Office is going to come visit with you about our outside scholarships. Hello, my name is Pam Jefferson and I am the student accounts coordinator here at Texarkana College and I just want to briefly let you know about some of the services that we in the business, Office and Student Accounts Office will be providing for you or your students here at the college now. Miss Becky was talking about internal scholarships. I'm going to actually start with external scholarships. And or outside scholarships. Meaning that if you are receiving any kind of a scholarship outside of Texarkana College, whether it be from your job, your church, and they're curious to know exactly where to send those fines, they're more than welcome to mail those checks to this address. Texarkana College attention Business Office 2500 N Robinson Rd Texarkana, TX 75599. Be sure that they include the attention. Business Office on their correspondence and that'll just expedite getting that scholarship check to our office as soon as possible. Now, if they decide not to mail it and they actually provide you with the check, please bring that check by the Student Accounts Office or the Business Office and what we'll do is we'll actually generate you a receipt for your scholarship check, and then we will notify the financial aid office that your scholarship is here so that you can get awarded to your account. Now, in addition to outside scholarships, our office will assist you with any kind of third party billing that needs to occur. Meaning if there's someone who's going to be providing assistance for you to go here, they need for us to generate a bill for you on your behalf like Arkansas Rehab, Texas Rehab, Texas Workforce Commission. Just a few of an example, our office will be taking care of that four years. Well, just communicate with us or have them communicate directly with our office and. We'll take care of transferring your student account balance from being your responsibility to their responsibility, and we will send them a bill after classes start, so we'll help you with that while you're here. One of the many frequently asked questions that we do receive in the Business Office is how can I use my financial aid to pay for my tuition and my books now. First of all, it's Miss Becky mentioned earlier. You will need to complete your fasfa and please be sure and accept your terms and conditions. That is very important. Your financial aid will not appear in your account until after you have completed that step, so be sure and accept your terms and conditions. OK so. Once you've accepted your terms and conditions shortly thereafter, your aid will appear on your student account and it will first be applied towards your tuition and fee charges that you owe here at the college. If you still have financial aid that's left over after your tuition and fees are taken care of, that extra amount it will feed over to the Texarkana College bookstore and you can actually use that extra financial aid to purchase your textbooks OK. Key thing to remember when you're going to the bookstore is you must present a photo ID in order to make any kind of charges over at the bookstore. So when you're going there, please be sure and take a photo ID with you, and in addition to that, take your student schedule with you. That'll actually assist the bookstore staff and pulling the correct textbooks that you're going to need for your particular class or classes. As a student, you are going to be responsible for making sure that your balance is paid in full. We do have students that automatically assume that once they complete their fasfa, that's all that they need to do. Sometimes your Pell Grant is enough to cover everything that you owe, and sometimes it's not. So please feel free and we encourage you to contact our office just to make sure that your balance is paid in full. If it's not, we can most definitely. That's what you what your payment options can be after your financial aid has been applied. And lastly, on this slide parking permit forms all students that are parked here on campus are required to have a parking permit on their vehicle or vehicles. Now your first parking permit it is included with your tuition and fees. We just need for you to complete the parking permit form. Take it by the student accounts window. They'll actually issue you your first sticker. Now, if you do have more than one vehicle that you're going to be driving here on campus, that's perfectly fine. Go ahead and pick up a form for your additional vehicles. Just know that after your first parking permit has been picked up, any additional parking permits, they will cost $2.00 each. Now our office is the office that actually takes care of student refunds, so that makes us very popular here on campus. I just want to briefly explain to you how our office determines what your financial aid refund is. OK, what we do is we take your total financial aid that you have been awarded. This could be your Pell Grant. It can be student loans. It can be scholarships. We consider all of that financial aid. We group it together and we get a total then. We look at what your total charges are for this semester. This is going to be your tuition and fees. Any bookstore charges that you've charged at the bookstore, any additional parking permits you may have charged your account. We'll look at those as items that you owe the college and we group those together as your charges. We take your total financial aid award. We deduct your total charges and that's the amount that you can expect to receive back in the form of a refund. Now, a lot of students do want to ask about what their refund choices are as far as here. TC just do know that you have the capability of actually customizing your refund choice. So if you've logged into your my TC account, you've already been prompted to actually make a refund choice. I do want to encourage you to please do that as soon as possible. You will notice that you have three options available. The first option is going to be to have your refund direct deposited. Into your personal checking or savings account, your second option is going to select the Herring Bank debit MasterCard. If you select that option, hearing bank will actually mail you out a herring bank debit card that you can use to upload your refund to and use just anywhere MasterCard is accepted. Now lastly, the third option if you do not select direct deposit or the Herring Bank debit card, you will be issued a paper check that will be mailed out. To the current address that we have on file for you here at Texarkana College. Lastly, the biggest question. A lot of students ask is OK. So when can I expect to receive a refund from Texarkana College? All of our refunds are issued out to students about one month after the first class day. So for the fall semester, those refunds are going to go out around the end of September for the spring semester. They'll guard around the end of February. Now for those of you students who are receiving student loans, just know that your refund is going to be handled a little bit differently. So at this time I am going to turn it back over to Miss Becky so that she can explain to you how your student loan refunds will be issued. So student loans here at Texarkana College, they're actually dispersed in two disbursements. If you have Pell Grant your Pell Grant is going to go on 1st and then you're going to get 50% of your student loan amount. Then obviously it's going to go against your balance and then you perhaps we'll get a refund in the first period and then the second disbursement. You're going to get the second-half of your loan if you have a remaining balance, it will cover that amount and then you'll get your second refund. This is a much better. Example, so you can actually see the amount. So let's say you get a $2000 loan. The first disbursement you're going to get $1000. Let's say you're chargers are 700, then your first refund net is 300. When you get your second disbursement, that's the $1000 and you don't have any charges. So you're going to get $1000 refund in that. So this is confusing because the student besides you may be saying, well, I got a refund and you didn't. So for example, if it's the same thing with $2000. Then a student loan, so you're going to get the first disbursement of $1000. And let's say perhaps your Charges are $1200, so the first refund. You're not going to get a refund because you still owe money. The second disbursement you're going to get the second-half of your loan. In this case, it would be $1000, and you still have a $200.00 remaining charges. That's going to come out of it, and then your refund for that second period is going to be $800. And the financial aid office here at Texarkana College also handles student loans. We do scholarships and we also do your veterans assistance here for educational purposes. So anytime that you need us, there's an e-mail for us that's good. There's a phone number you can always find us on Texarkana's website, and they can reroute it to our office. And then our business office is open the same time you can each reach them via e-mail at the business.office@texarkanacollege.edu. You can also call them at 903-823-3331. Or if you need to mail something to us again that address that you're going to college, please put attention to the business office and it's going to be 2500 N Robinson Rd, Texarkana, TX. And anytime you have a question here at Texarkana College, we will be glad to answer it for you. We're here for you and we're here to help you. And if it's not something that our area can assist you with, we will make sure that we route your questions to the person that can help you.