Mother & Navy Veteran Works Towards Career Goals using GI Benefits available at Texarkana College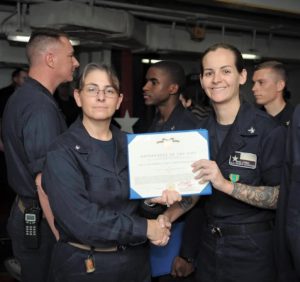 Navy Veteran and Texas native, Ariel Green, found her calling in the United States Navy. "I was E4 2010-2016 assigned to Mid-Atlantic Regional Calibration Center, USS Theodore Roosevelt CVN-71 AND USS George Washington CVN-73." she said. Serving as an Electronics Technician specializing in Electronics Calibration and a SPN-46 Radar Technician, Green enjoyed her time in the service, embracing the challenges with courage and determination. "I loved every moment spent in the Navy, the good and the bad," Green said.
After leaving the Navy, Green decided to take advantage of the benefits provided for veterans through the GI Bill, by continuing her education at TC. "I did not want to miss out on the opportunity for a free education," Green said. The GI benefits were not the only motivation for Green to continue her education. "Also, I want to set a good example for my son, Knox," Green said. She chose Texarkana College because of its friendly learning environment and helpful instructors. "I prefer a learning environment where the professors know and care about each of their students," she said.
Green is working towards an Associate of Arts degree in General Studies, planning to work her way up to the Department of Defense. "My dream job is to become a Chief at a Calibration Lab," Green said. "My goal for my future is to obtain my degree, advance to lead calibration technician, and then become the Chief at a Lab with the Department of Defense."
Though the path to completing an education can be a long one, Green is prepared to face the new challenges ahead of her. She shared, "As the Navy Seals say- the only easy day was yesterday."
Texarkana College's enrollment services and financial aid staff help Veteran students and military dependents plan their best path toward success by optimizing military education benefits. For more information or to get started on the registration process for Spring 2021, call 903-823-3012 to schedule an appointment with an advisor or visit TC online at https://www.texarkanacollege.edu/financial-aid/veterans/.
---
Related to Featured, News, Paying for College
Tagged with Veterans