Kim family presents first Annie Kim Memorial Scholarship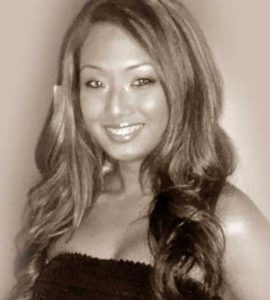 When the Kim family moved to the Texarkana area from Seoul, South Korea, they didn't have much—just each other.
"We came to this country with literally nothing," said Andy Kim. "We had three bags of clothes and maybe $40 to our name."
Andy, his sister Annie, and their parents Kwang and Hyang were determined to achieve the American dream.
"My parents worked so hard for so long, and they still do," Andy said. "As soon as we got to America, they told me, 'You can literally do anything you want in this country.'"
In 2008, Annie, then 21, died in a tragic car accident near Little Rock. While the family tried to cope with losing a beloved daughter and sister, they decided to pursue Annie's dream.
"It was her dream for us to open our own restaurant," Andy said. "We could either be constantly down and do nothing with our lives, or we could open one up in her memory."
Soon, Fuji Kim's Sushi & Grill opened.
"The first three or four years were really hard; we barely made it," Andy said. While they worked to fulfill Annie's dream and make their family restaurant successful, they decided they wanted to find another way to honor her: by naming a scholarship after her.
Both Andy and Annie attended Texarkana College after graduating from Pleasant Grove High School. Annie attended on a full Presidential Scholarship and had transferred to Henderson State University to study fashion merchandising shortly before her death, and Andy earned an associate of arts in business administration from TC. Both of the Kim children had started their higher education journey at TC, and the family decided it was the perfect place to start Annie's scholarship.
About seven and a half years after opening Fuji Kim's, they were ready.
"We were thinking that if we opened up a scholarship in her name, maybe we could help someone to achieve their American dream," Andy said. "After the hard point [at Fuji Kim's] passed, we started making money. Finally, at around the seven and a half year mark, we were like, 'Hey, we can actually afford to do this thing!'"
On Friday, the Kim family presented the first $1,000 Annie Kim Memorial Scholarship to nursing student Hyeri Oh, who is starting her second semester in the nursing program. She has completed 37 hours while maintaining a 3.89 GPA and earning a spot on the President's List—and she has never dropped a class.
The Kims, who became U.S. citizens last August, are serious about helping people who are willing to work hard to achieve their dreams, and they're excited to award the first Annie Kim Memorial Scholarship to Hyeri.
"We are planning to fund this scholarship for as long as we can, for years to come," Andy said. "I hope this will help someone achieve the American dream that we believe we achieved."
Hyeri says it will.
"I'm just so honored to be selected for this scholarship," she said. "Because I am an international student, there is very little financial assistance available. This scholarship will allow me to finish nursing school so I can make my family proud."
---
Related to College Wide, Community, Featured, News, Press Releases, TC Foundation