Important financial aid information for Fall 2014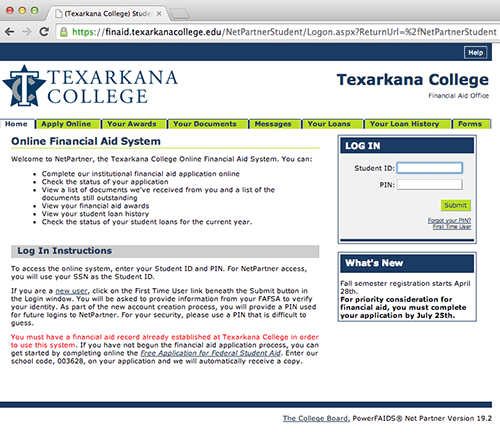 Texarkana College has a new system available for students to check their Fall 2014 financial aid status. Students can access their Fall 2014 financial aid information by going to http://finaid.texarkanacollege.edu or by logging in to myTC and viewing the Financial Aid tab, then clicking the link for Fall 2014 financial aid information.
To log in to the system (pictured) for the first time, enter your social security number in the Student ID area and click "First Time User." You will then be asked to enter some security questions and create a PIN to log in. Once you are logged in to the Financial Aid System, click on the green "Documents" tab near the stop of the screen. This will show you the documents Texarkana College has received, as well as any documents you may still need to turn in.
This system is only available for students who currently have a financial aid record established at Texarkana College. If you have not begun the financial aid application process, you can get started by completing the Free Application for Federal Student Aid online.
If you have any questions about accessing this system, please contact our financial aid office at 903-823-3267.
---
Related to Paying for College