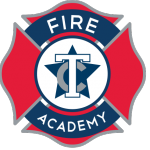 Texarkana College Fire Academy – Hybrid Presentation
Have you ever wanted to be a firefighter?  Are you interested in a career in the fire service?  Are you a volunteer firefighter who wants to improve your skills and elevate your certification level? Do your job or family obligations prevent you from attending a conventional 5-day per week fire academy?
Texarkana College Fire Academy is pleased to announce its new Hybrid Fire Academy.  This program, like the day academy, will prepare you for a career that provides great personal satisfaction and with good salaries, benefits and pension plans. However, this program is aimed at people whose jobs or other obligations preclude their attending a 5-day per week course.