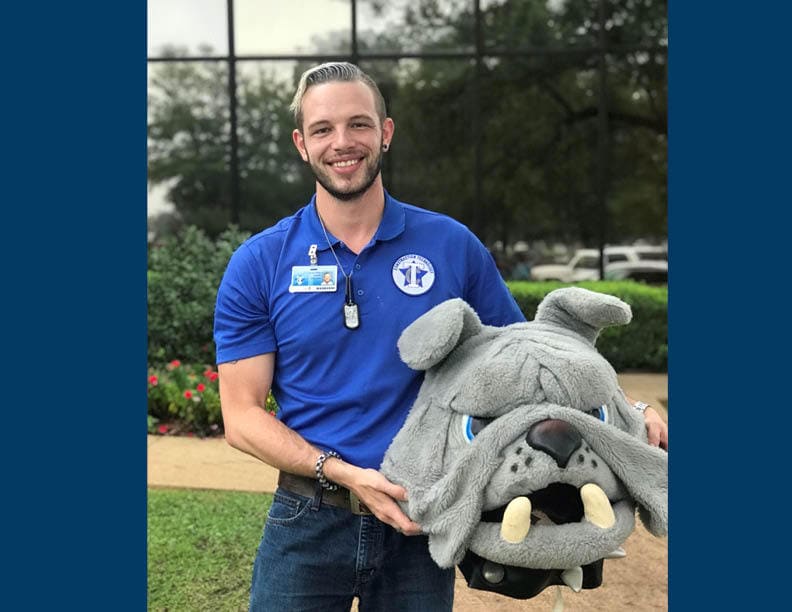 You see them everywhere – at schools, fundraisers, community events, games and even on social media. A mascot serves as the spokesperson for an organization or brand. At Texarkana College, a former military mascot is bringing Bo the Bulldog back to life with more energy than ever before.
Jesse Cook said he served in the Air Force for seven years as a combat medic and surgical technician. He was the mascot for two and a half years at the Keesler Air Force Base in Biloxi, Mississippi.
"My Chief Master Sergeant came to me and asked if I'd be interested, so I ended up as the first dragon mascot for the 81st Medical Group," Jesse Cook said. "The very first costume we came up with was a Godzilla head they found from Walmart, and they cut slits in it so I could breathe. They gowned me up in surgical attire so it looked like a medically inclined Godzilla."
He's currently a full-time student at TC, working toward a dual associate degree in construction technology and air conditioning and refrigeration technology. When he's not at school or inside the suit, Cook said he works in the kitchen at Benchmark American Brasserie in Nash, serving up French and American cuisine.
Most people associate mascots with sports teams, and Texarkana College doesn't offer athletic programs. Cook said that doesn't matter.
"There are so many other things the mascot can do," Cook said. "You really carry the spirit of the school. It seems like Bo got lost in the shadows over the years, and I'm excited to bring him back. I like to just bebop around campus to create a fun atmosphere."
Amanda Graham, TC's Executive Director of Academic Services, said she thinks TC really hit the jackpot when Cook came along to take on the role of Bo the Bulldog.
"I think because we don't have sports, the enthusiasm for TC's extracurricular events goes unnoticed," Graham said. "By bringing Bo's fun spirit to our community events, it shows Northeast Texas that we can have a good time too. Bo really unifies not only students, but people of all ages. Jesse's energy is contagious, and we are so happy to have him on board. His personality is what we envision Bo to be."
Cook spent his first weekend on the job at De Kalb's Saturday in the Park and Chili Cook-Off. The Texarkana College crew won first place, and Bo likes to think his support was a big help.
Cook said connecting with kids is one of the biggest perks of becoming Bo.
"It's really fun to watch when they are scared at first, but I'm able to make them see Bo isn't scary—he's actually really friendly," he said. "I love watching that breakthrough when they warm up and start to smile."
He will make his next appearance on Saturday, Oct. 6 at De Kalb's Oktoberfest. You can also keep up with Bo's antics on social media. He is on Twitter as @bo_bulldog and Instagram @bothebulldogTC.