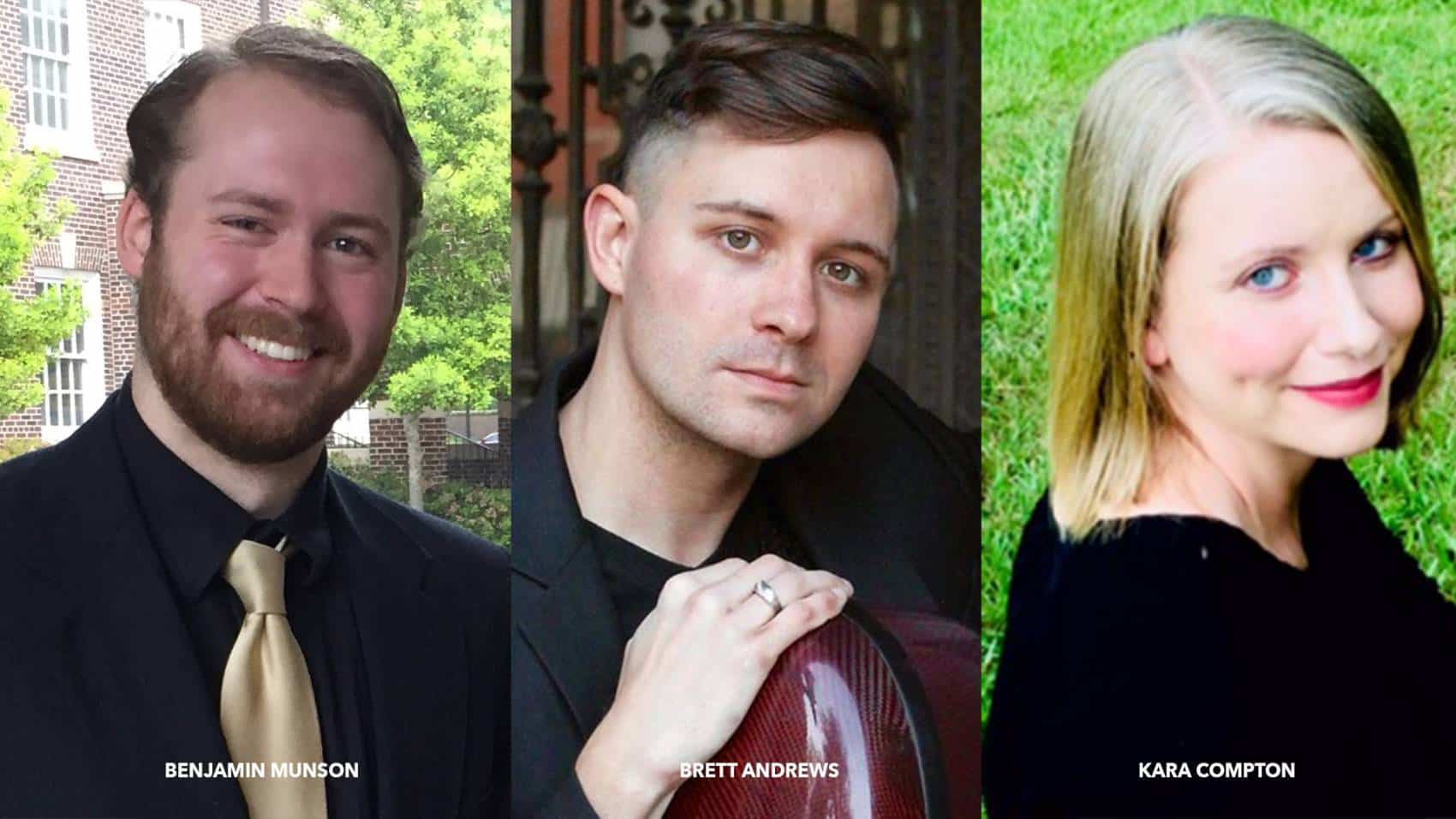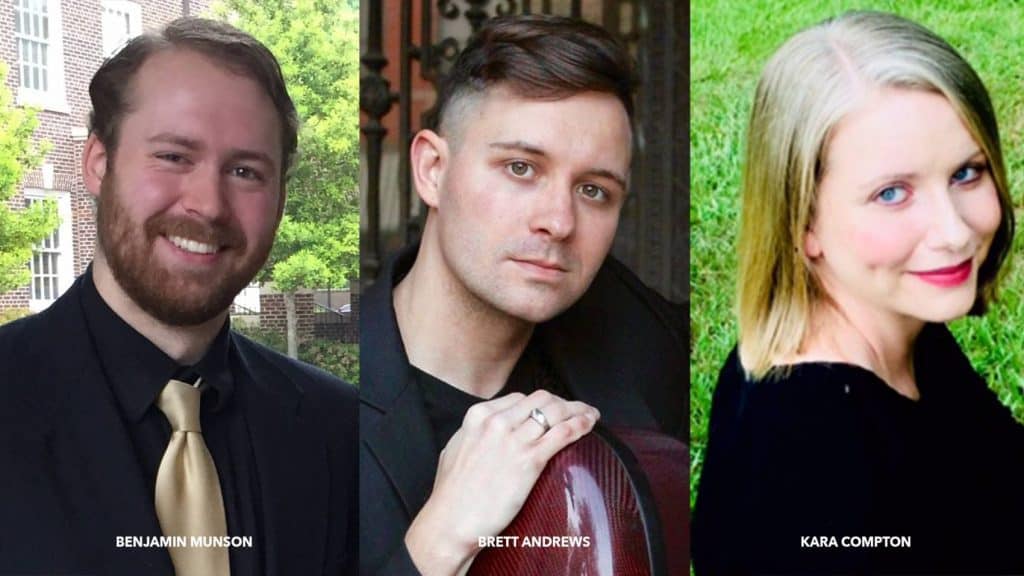 Texarkana College's Music Department is pleased to welcome Cellist Brett Andrews, Flutist/Piccoloist Kara Compton, and Guitarist Benjamin Munson as adjunct faculty members. Andrews will teach lessons in all string instruments including violin, viola, cello, and double-bass; Compton will serve as an instructor for all woodwind instruments including piccolo, flute, oboe, clarinet, & bassoon; and Munson will teach guitar lessons and guitar group class for beginners.  Marc-André Bougie, who serves as an Associate Professor of Music at TC and Music Director and Conductor for Texarkana Regional Chorale, said the addition of these faculty members firmly establishes TC as the regional leader in college-level music education.
"These new additions will provide a fantastic opportunity for growth in our music program, and they will fulfill a long-awaited need for specialized instrumental instruction in our region – especially in the areas of strings and guitar teaching," said Bougie. "Texarkana College is the leader in higher level music education in our community, and these hires further fulfill our commitment to providing quality instruction for years to come."
TC's current roster of music faculty includes soprano Janice Aiken teaching voice lessons; trombonist Steve Bennett teaching brass instruments including trumpet, French horn, trombone, and tuba; organist Larry Dymott teaching organ and harpsichord; and percussionist T. Jon Kelly teaching timpani and all percussion instruments.
Continuing full-time faculty include internationally acclaimed pianist, Mary Scott Goode  teaching piano, piano class, & music appreciation courses as well as world-famous Marc-Andre Bougie teaching music theory, ear-training, chorale, & music appreciation.
Mary Ellen Young, Dean of TC's Liberal and Performing Arts division said, "Together, TC's all-star faculty line up provides a wealth of professional experience that leads music students daily through the work and challenges of a college-level education. We are proud to be the leader in higher education music training that benefits both our students and our community."
TC Music Faculty will be featured in a recital in the Music Hall of the Stilwell Humanities Building on Monday, August 27 – at 7:30pm. Learn more.
---
Brett Andrews is currently principal cellist of the Texarkana Symphony Orchestra and is an active musician in the Ark-La-Tex area, frequently playing as a member of the Emerald Piano Quartet and Trio. He performs with orchestras across Texas, Louisiana, Colorado, and Wyoming, including Boulder Philharmonic, Shreveport Symphony, and Cheyenne Symphony Orchestra. Brett is also a founding member of Dynamix String Quartet, an innovative ensemble aiming to offer popular and new music for string quartet in venues outside of the traditional concert hall. Soon after beginning his cello studies in Kilgore, TX, he became an inaugural member of the Honor Orchestra of America at age 15, performing under the baton of Scott O'Neill and Benjamin Zander with many soloists including violinist Robert McDuffie and pianist Christopher O'Reilly. After receiving his Master of Arts and Bachelor of Arts in Music Performance from Northwestern State University of Louisiana studying with Paul Christopher, he continued to serve his alma mater by instructing courses in Fine Arts, and formerly directed the string programs at Parkway High School and Elm Grove Middle School in Bossier City, Louisiana.  As a soloist, he has performed with the Natchitoches-Northwestern Symphony Orchestra, placed second in the 2012 LMTA Young Artists Competition. Brett was a finalist in the 2015 Rocky Mountain Concerto Competition and the 2016 UNC Symphony Concerto Competition. He also competed as a finalist in the 2017 MTNA National Chamber Music Competition in Baltimore, MD, with the UNC String Quartet.  Brett is currently pursuing a Doctorate of Arts in Music Performance under the instruction of Dr. Gal Faganel.
Kara Compton, a native of Odessa, Texas, now calls Texarkana home. She graduated Magna Cum Laude from Texas Tech University with Bachelor's of Music degrees in Music Education  and Flute Performance. She continued her flute studies and graduated from the University of Cincinnati College-Conservatory of Music with a Master's of Music in Flute Performance. Upon graduation, Mrs. Compton had a desire to return to Texas and teach music. She is embarking on her tenth year as a band director with Texarkana ISD. In addition to her band director duties, Mrs. Compton serves as piccoloist with the Texarkana Symphony Orchestra, piccoloist with the South Arkansas Symphony Orchestra, and serves as a substitute flute/piccolo with the Shreveport Symphony Orchestra. She enjoys teaching privately and hopes to be a positive influence to her students as her teachers have been for her. Her primary flute teachers include Lisa Garner Santa, Martha Davis, and Bradley Garner. Mrs. Compton enjoys spending time with her husband Mark, stepson Mark, and daughter Elizabeth.
Benjamin Munson is a native of Texarkana, Texas and former student of Texarkana College.  He has distinguished himself throughout his time as a student at Texarkana College and, most recently, at Southern Methodist University where he studied Classical Guitar Performance, Music Theory, Music History, and Pedagogy.  In 2016, he received his Bachelors Degree in Guitar Performance from SMU with the high honor of Summa Cum Laude, and in 2018, he received his Master's Degree in Music from SMU.  He has been awarded membership into several honor societies for his excellent work in music and academics; these include Alpha Chi National College Honor Society's Texas Alpha Omega Chapter, Tau Sigma National Honor Society, Golden Key International Honour Society, Pi Kappa Lambda Honor Society, and Phi Theta Kappa Honor Society. He has been listed numerous times on the SMU Honor Role with Distinction, the SMU Honor Roll, and the Texarkana College President's List.  Before entering college, Benjamin studied guitar with Andrew Daniel, Christopher Carrington, and Robert Guthrie.  He competed in, placed, and won various guitar and piano competitions throughout Texas and the Eastern United States.