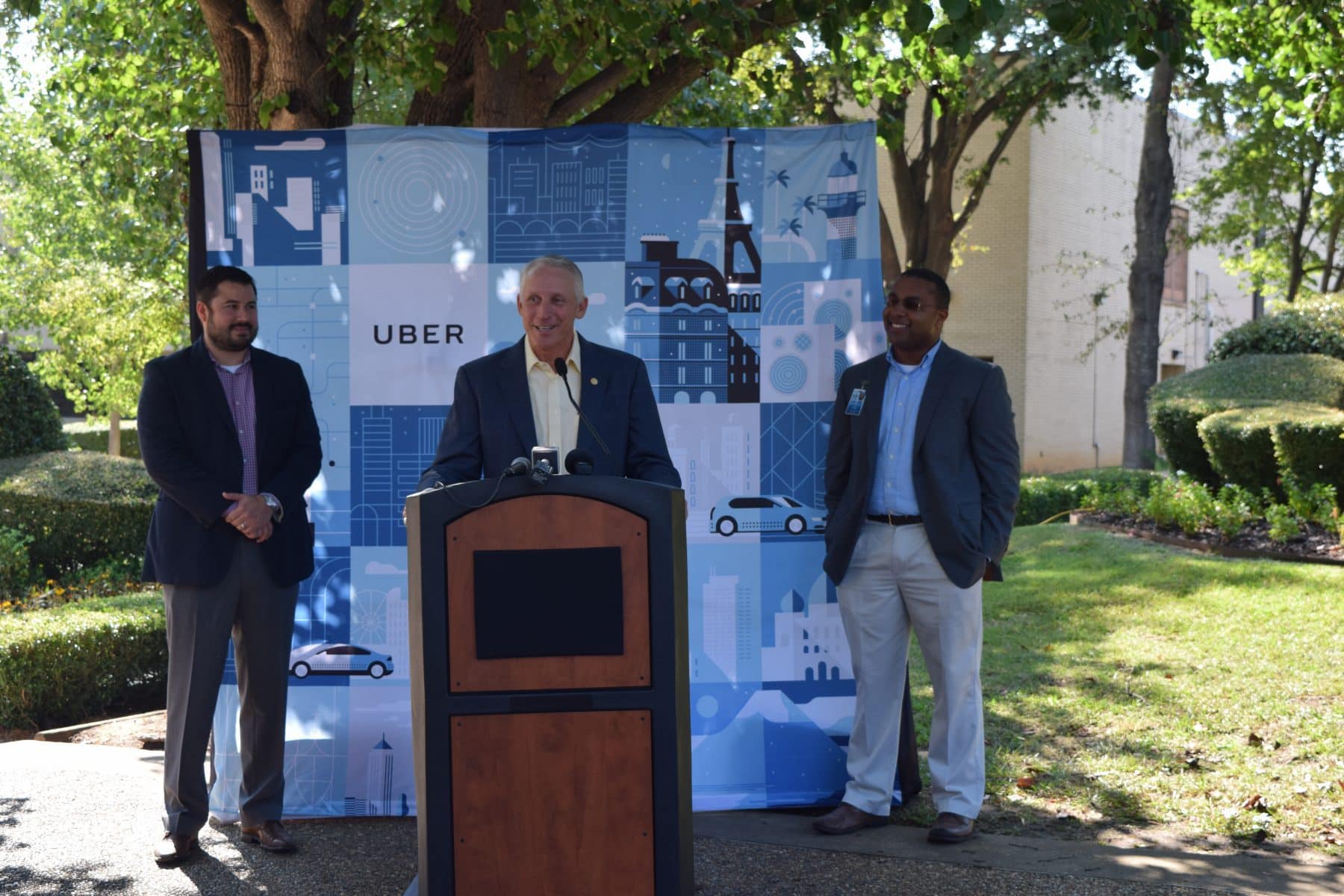 By Harper McKnight
The TC News Reporter
Texas State Rep. Gary VanDeaver took the inaugural ride around the Texarkana College campus today to celebrate Uber's services coming to Texarkana, Texas.
The launch was originally scheduled for August 29, but it was rescheduled because of Hurricane Harvey.
Uber is a ridesharing app that allows drivers to choose their own schedule and area to drive in. Drivers must be at least 21 years of age, have a valid U.S. driver's license, use an eligible 4-door vehicle, and pass the driver screening that reviews driving records and criminal history. Drivers are required to provide proof of insurance and registration, as well.
VanDeaver was a co-author on Texas State Representative Chris Paddie's House Bill 100, which established statewide Transportation Network Company (TNC) regulations allowing rideshare apps to spread to more communities throughout Texas. Before HB 100 was passed, TNCs had to conform to the regulations of each individual city, which made it difficult for companies to quickly set up their services for consumers in smaller cities to enjoy.
VanDeaver said that passing HB 100 "gave us a statewide playing field."
Chris Miller, Uber's Public Policy Manager for the state of Texas, spoke at the launch event on what the app can be for Texarkana.
"Uber is a great economic opportunity, but also a way to get around town," Miller said. "A lot of people think it's just for the larger, more condensed communities but that's just not true."
VanDeaver said, "It's always such an honor to be a part of the good things going on here at Texarkana College."
"Uber will have a very significant positive economic impact on the city of Texarkana…On the flipside, it gives you an opportunity to have a safe ride where you need to go," VanDeaver said.
Uber is expected to bring jobs to students, retired citizens, or anyone with a little free time. The services offered by Uber are great for the elderly, grabbing lunch, a safe way to get home after a night of celebration, or just for catching a ride around downtown.