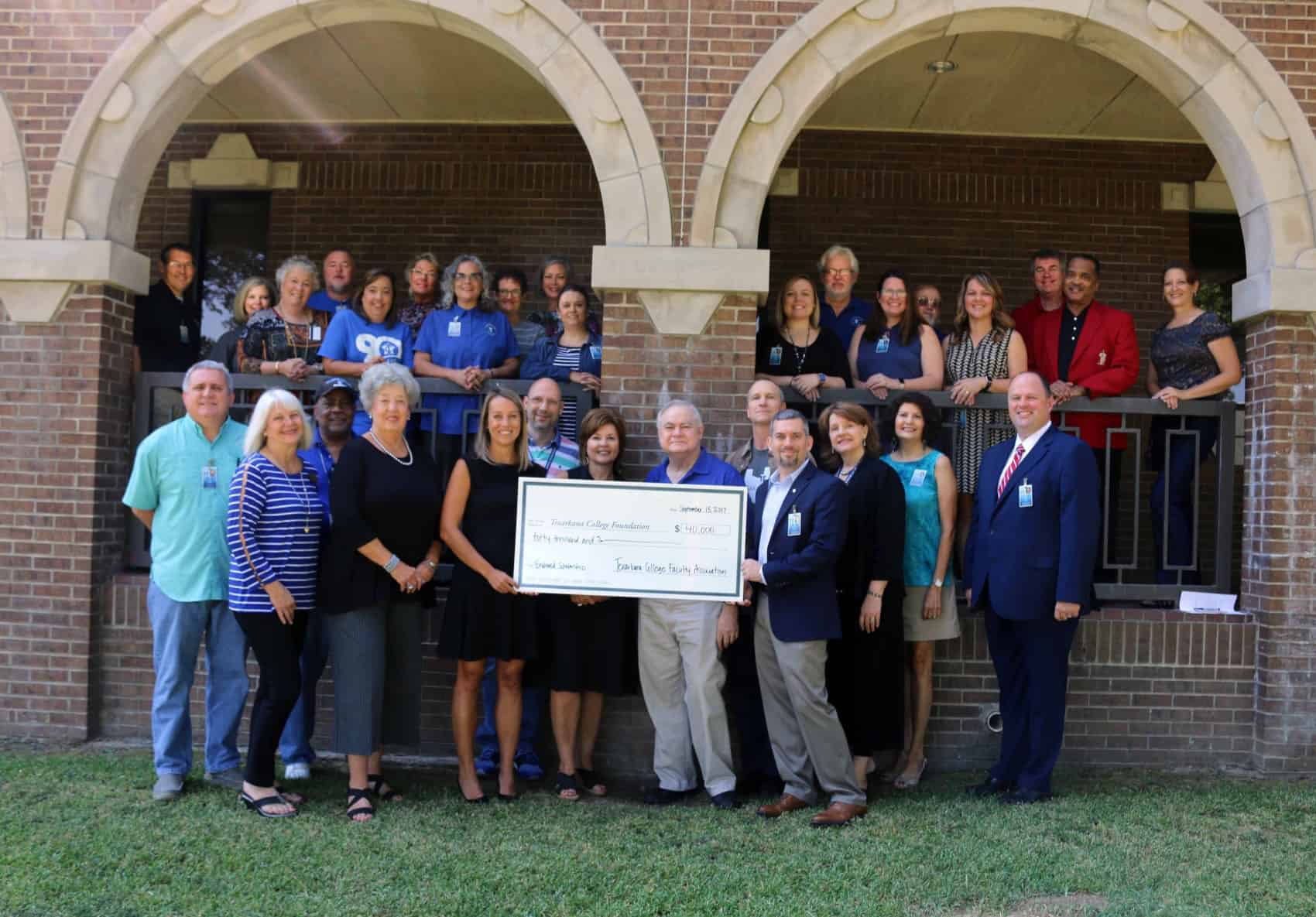 The Texarkana College Faculty Association presented a check for $40,000 to the TC Foundation today to establish an endowed scholarship fund. Members of the Faculty Association award up to ten student scholarships annually through funds acquired by faculty payroll deductions and memorial donations.  Now, as a permanent endowment, the fund can continue to grow through donations as well as through interest earned on the principal investment.
Kim Penney, TC Faculty Association President, said, "When the Faculty Association was established approximately 50 years ago, an important goal was to invest in our students. Collectively, TC faculty donate approximately $5,000 annually to Faculty Association scholarships for students."
Penney said faculty members recommended the establishment of the endowed fund to ensure scholarships in perpetuity.
"Members felt that investing our monies into TC's Foundation would increase sustainability and potential returns on our investment," said Penney. "TC faculty have been dedicated to meeting the educational needs of our community for 90 years and this endowed fund sets the stage for continued support in years to come."
TC's Faculty Association officers include Kim Penney- president, Ken Smith- vice president, Curt Langford- treasurer/campus representative, and, Dianna Kinsey- secretary. Doug Saffel serves as chairman of the Faculty Association Scholarship Committee.
"We are so fortunate to have caring faculty at TC who support our students not only through their time and effort, but also through scholarships," said Katie Andrus, TC Foundation Director. "We want to honor the Faculty Association today for supporting our students through their generous donations."
Andrus said the permanent endowment will ensure students continue to benefit from the faculty's generosity for many years in the future.  For additional information or to make a donation, please contact Katie Andrus at (903) 823-3125 or katie.andrus@texarkanacollege.edu.