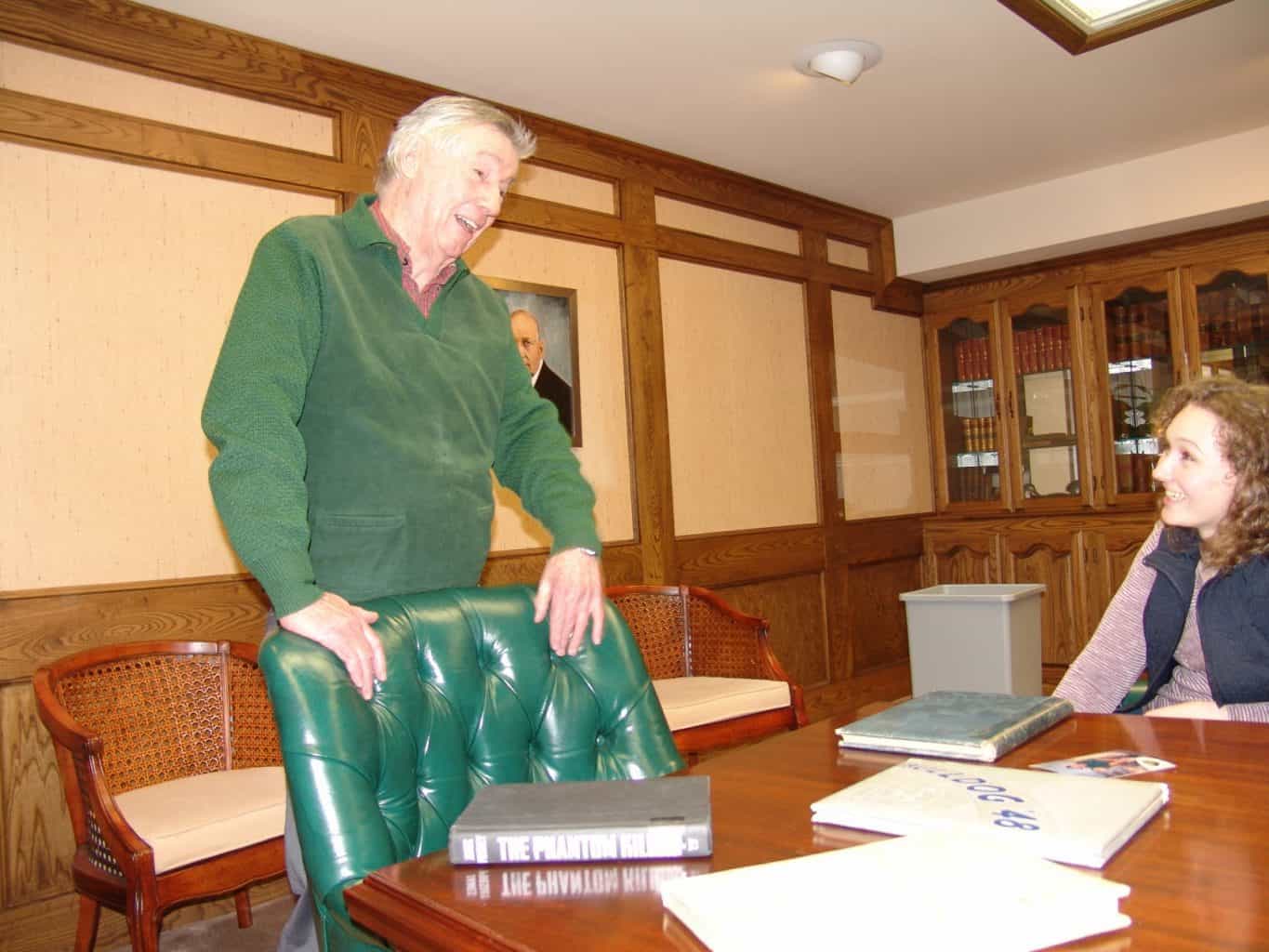 by Misty Jones
TC News Reporter
What was Texarkana College like back in the late 1940s? After an interview with TC alumnus and notable author James Presley, I got to find out.
Presley graduated high school from Redwater at the age of 16—having skipped a couple of grades. He enrolled in Texarkana College in the fall of 1946 as a journalism major.
"I may have been the youngest one on the campus," Presley said.
From TC, Presley continued his education at the University of Texas, where he received his Ph.D. in History. He also has won numerous awards for journalism, including the Anson Jones Award and the John H. McGinnis Memorial Award.
Presley went on to become a distinguished author. He wrote the book The Phantom Killer: Unlocking the Mysteries of the Texarkana Serial Murders: The Story of a Town in Terror.
"We have it here in the library. It's the only factual account there is of that," said Connie Brian, Administrative Assistant for the Palmer Memorial Library at Texarkana College. Presley also wrote A Saga of Wealth: The Rise of the Texas Oilmen, for which he was nominated for a Pulitzer Prize.
While attending Texarkana College, Presley said the school had its "largest enrollment ever" with about 176 students attending classes. The student population was as diverse in age then as it is now. Presley attended TC after World War II. There was a mixture of graduated high school students and war veterans, ranging in age from their 20s to their 40s.
"As I recall, they had the largest enrollment ever because you had this influx of veterans on the GI Bill," Presley said.
In the '40s, Texarkana College did not have a student center. Students walked across the street to a place called The Sweet Shoppe. Some also took a bus or walked downtown to Simmons Drugstore.
"A group of us gathered almost every day there after classes. And there was so many, that one day, one of the soda jerks said, 'Here come the lazy dozen'," Presley recalled.
Judging from the 1949 Texarkana College yearbook, the students in that era were not lacking in college activities. Much like TC today, they had something for everyone. They had clubs such as Blue Jackets, Phi Theta Kappa, Writer's Guild, Future Teachers of America, Radio Club, 103 Workshop, Delta Psi Omega, Chorus, The Kennel – TC Newspaper, and the yearbook, which was founded by H. Ross Perot. They also had basketball and tennis.
Social events were also organized for the students, such as Sadie Hawkins Day and the Presentation Ball. Today's TC still organizes social events for their students, such as Fall Fest, Halloween Bash, Spring Fling, and more.
In talking about his experiences at Texarkana College, Presley noted the lasting friendships he made here and the quality of education he received.
"A lot of them (the lazy dozen) were a lot older, but became very close friends. In fact, I think I even have given eulogies for many of them," Presley said.
"The bottom line is it was a simpler time, despite what people during that time believed," explained Presley.
"I think it (TC) gave me a good academic foundation," Presley said.