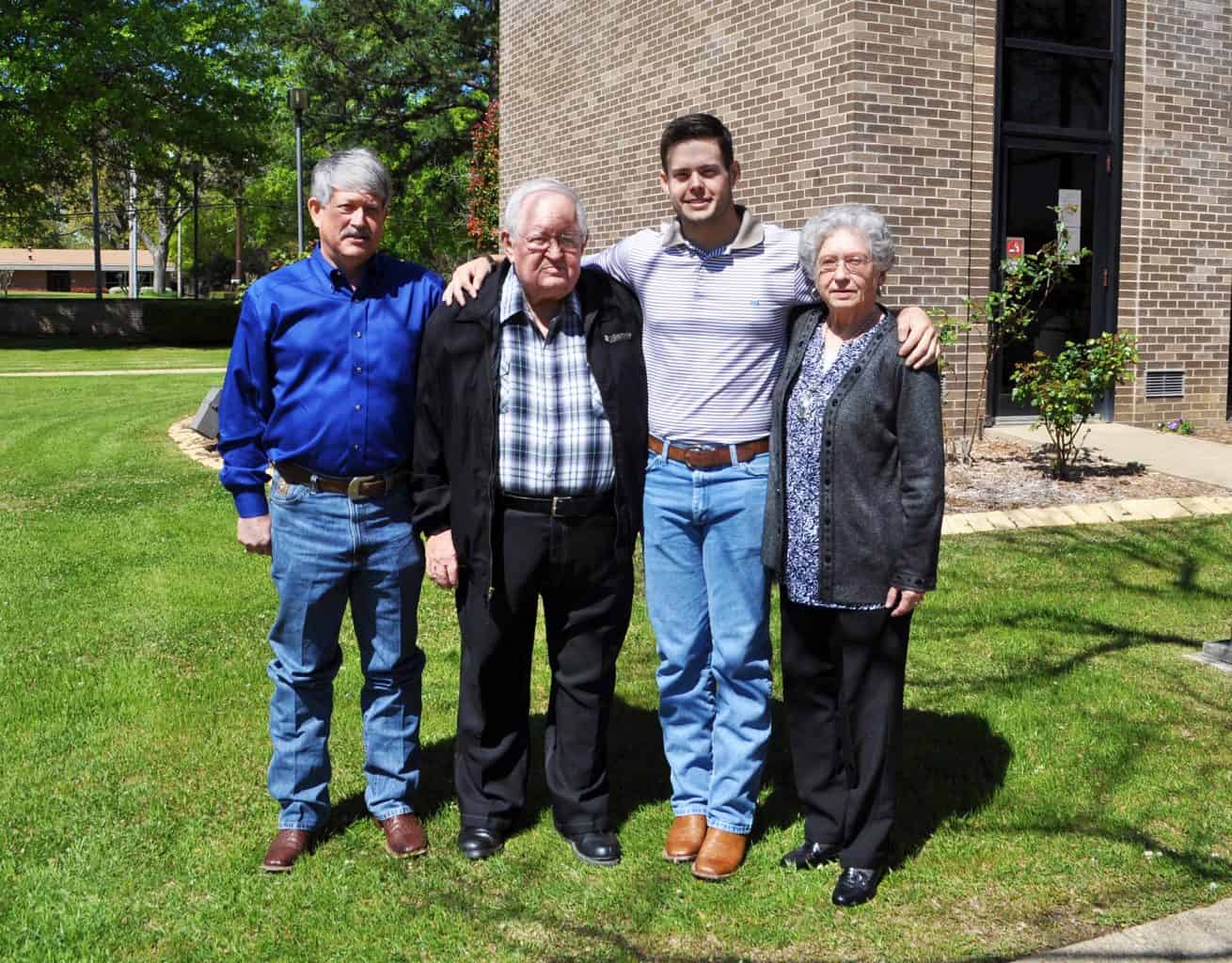 Three generations—that's how long Texarkana College has impacted the lives of the Hawkins Family.
In 1952, Jackie Hawkins worked for Red River Army Depot at night and started classes at Texarkana College's old Pine Street campus during the day.
In 1978, his son Greg graduated from DeKalb High School as valedictorian and enrolled at Texarkana College.
And in 2010, Greg's son Caleb started Texarkana College on a full Presidential Scholarship.
"I set an example," Jackie said.
That's an understatement.
As part of a family with seven children, Jackie couldn't afford veterinary school.
"I got a call to go to RRAD, and I got a job on swing shift," he said. "I'll tell you, it beat chopping cotton in the fields."
When he started at TC, his classes were upstairs in the old Texas High building. He didn't earn a degree at TC, but he transferred to East Texas State University in the '70s to finish his degree in business administration. Ten years before he retired from RRAD, he and his wife Mary started an insurance business out of their home. In the Hawkins family, education became an expectation and a priority.
"I encouraged them a lot," Jackie said. "I remember when Greg brought in a report card with a 104 on it. I said, 'Is that the best you can do?' He didn't tell me until he was grown how mad that made him."
Though he graduated as valedictorian, Greg wasn't sure college was a good fit for him.
"Lonestar Steel was blowing and going, and I had a couple of friends who graduated ahead of me and were making money hand over fist," Greg said. "I was told, 'You will go to college. If you don't, you will move out and find your own place and be on your own.'"
Greg chose college.
He started in TC's farm and ranch management program in 1978, and though he changed his major several times, he eventually transferred to veterinary school at Texas A&M University in College Station.
"Texarkana College gave me the opportunities to get my prerequisite courses for whatever I happened to be pursuing at the time, economically and locally," he said. "I was able to work part time while I was here and live at home with Mom and Dad. It just gave me that basic starting point to go from."
Greg went to work as a field veterinarian for the state and eventually became Region Director for the Texas Animal Health Commission. During his long veterinary career, he has worked to eradicate cattle Brucellosis (a bacterial disease that causes reproductive failure), responded to hurricanes and a space shuttle crash, and traveled to England to help with the foot and mouth disease epidemic of 2001.
"It has been a very colorful, exciting career," he said.
Greg recently purchased his dad's insurance agency and is now enjoying a second career as owner of Jackie Hawkins Insurance Agency in DeKalb, Texas. But during the tail end of Greg's veterinary career, someone was watching him.
"I was about 7 at my grandparents' place in Hubbard," said Caleb, Greg's son. "I didn't understand this at the time, but my dad had to do a rectal palpation of a cow, and I remember thinking, 'Why is my father doing this?'"
Caleb thought about following in his father's footsteps and becoming a veterinarian, but when he received a TC Presidential Scholarship and enrolled in Mark Storey's biology class during his first semester, he changed his mind.
"Even though it was very hard, he was a great teacher, I just thought, 'This is hard,'" he said. "On top of baseball, I decided that business sounded a lot better."
After completing two years at TC, Caleb transferred to the University of Nebraska at Lincoln to play baseball for former TC baseball coach Will Bolt. Now, Caleb works for Bechtel Corporation in the Houston area, where he works as a purchasing specialist for the first liquefied natural gas export project in the U.S.
Though Caleb said he never thought he'd come to TC, the opportunity to play baseball and receive a scholarship changed his mind—and he has never once regretted it.
"My two years in Texarkana were my favorite two years of college," he said. "You didn't have the nicest uniforms, the nicest facilities, but you had each other. That's what made those two years so memorable—you grew up together. You matured a lot. When you're 18 and 19, you don't know what to expect. You're away from home for the first time. You have to rely on each other and your coaches. It's something special."
From the 1950s to the 2000s, through three generations and three very different careers, Texarkana College has been a constant for the Hawkins family.
"My first day here was almost six years ago," Caleb said. "I'm still very thankful I went to school here. I'm constantly seeing where TC is still helping me along the way."