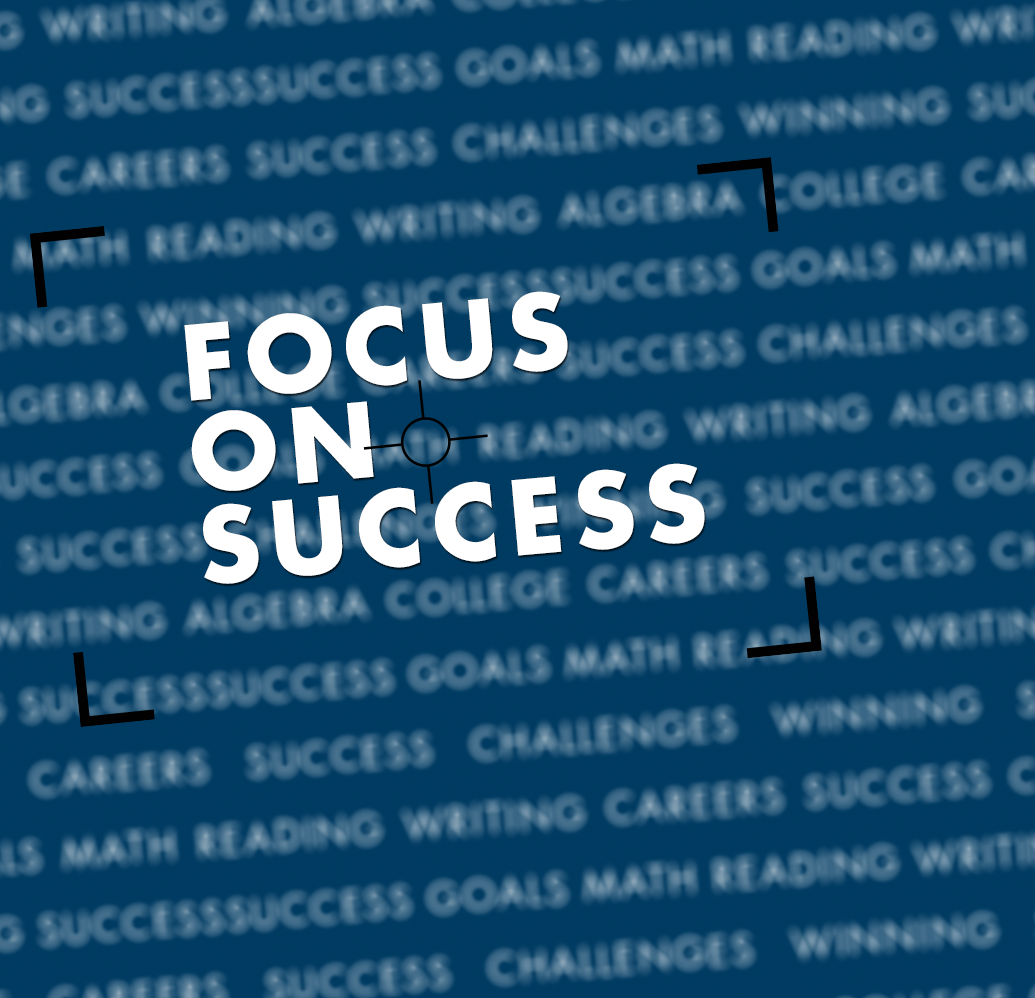 Ready to focus on your college completion? Texarkana College's two-week intensive FOCUS camp will help prepare you to meet TSI requirements and save hundreds on tuition and books. You can save time and money with FOCUS Camp, a 10-day refresher of math, reading and writing skills designed to help you improve your TSI test scores. As part of FOCUS Camp, you'll also get personal academic advising for Fall 2014, become familiar with the Texarkana College campus, and meet TC students, faculty and staff.
Focused Content
TSI/MyFoundationsLab by Pearson specifically targets TSI content, allowing you to work on the content areas where you need the most improvement.
Focused Learning
You'll spend two hours per day for eight days on instructor-facilitated mini-lessons and computer-based instruction targeting areas customized to your needs.
Focused Goals
The FOCUS of the camp is for you to advance one developmental course level or accelerate into college-ready status.
July 21-Aug. 1
Math: 8:30-10:30 a.m.
English: 11 a.m.-1 p.m.
COST TO STUDENT
$120 includes tuition, two TSI tests, and TSI/MyFoundationsLab access. Student must pay for course.
HOW TO ENROLL
1. Visit with the TC Advising Staff about 
 enrolling in FOCUS Camp
2. Enroll in the camp in the TC Office of Admissions
3. Pay for the camp in the TC Business 
 Office
DO I QUALIFY FOR FOCUS CAMP?
To qualify, you must fit either of the following criteria:
• Be a current TC student who has placed in the following developmental courses: English 0041, English 0042, Math 0031, Math 0032, Math 0033 or completed the following develop-
 mental courses: English 0041, Math 0031, Math 0032.
• Be a first-time college student whose TSI, TAKS or ACT scores do not place you into college-
level courses.
WHAT CHARACTERISTICS DO I NEED TO SUCCEED IN FOCUS CAMP?
• Be highly motivated
• Have a strong work ethic
• Keep a positive attitude
DOES ATTENDING FOCUS CAMP GUARANTEE I'LL ACCELERATE?
No. To accelerate, you'll need to master concepts within a certain subject in which you were previously deficient.
WHAT ARE THE BENEFITS OF FOCUS CAMP?
• Possibility of saving time and the money 
 you'd spend on tuition, fees, books and labs
• Increased proficiency in math
• Improved reading comprehension and 
 writing techniques
• TSI testing
• Academic advising for Fall 2014
• Become familiar with the TC campus
• Meet TC students, faculty and staff
WHAT IS THE TSI TEST?
As of August 2013, students entering a Texas institution of higher education who have not met college ready standards by means of other testing (TAKS, ACT, SAT) must take the TSI for placement into adult basic education, developmental education or college-ready courses.
FOR MORE INFORMATION, CONTACT
Lisa Jones, Coordinator for Developmental Education
903-823-3223
Mary Ellen Young, Division Chair of Liberal & Performing Arts
903-823-3369
Dr. Catherine Howard, Division Chair of Science, Technology, Engineering & Math
903-823-3285